Suggested
Listening

Symphonie fantastique, John Eliot Gardiner, Orchestre Revolutionnaire et Romantique


Requiem, Eugene Ormandy, Philadelphia Orchestra


La damnation de Faust / von Stade, Riegel, van Dam, Solti

Hector Berlioz
(1803-69)
Far more than previous composers, Romantic composers felt that one of the major functions of music was to express their own personalities. This was especially true of Berlioz, who possessed the quintessential Romantic character. He suffered from bouts of depression and he harbored extreme enthusiasms. Berlioz's romantic life was particularly tempestuous. As a young man, he fell violently in love with a woman whom he had never met, the English actress Harriet Smithson. His masterwork, the Symphonie Fantastique, musically depicts this obsession.


Provincial Childhood

Hector Berlioz was born on December 11, 1803 in La Côte-Saint-André, at the footsteps of the Alps. He was the first child born to his parents, Louis-Joseph Berlioz, a physician, and his wife Marie-Antoinette. They had five other children, of which only two girls survived childhood.

Louis-Joseph Berlioz, an intelligent and knowledgeable man, took personal charge of his son's education, with the exception of his musical training. Thus, starting at age twelve, Hector learned to play the flute and the guitar with local teachers and he relied on books, particularly Rameau's Traité de l'harmonie, to teach himself music theory. In his early teens he started to compose some small-scale works. These early pieces are now lost, with the exception of a few excerpts he reused in later compositions.


Paris and Rome

Berlioz became increasingly convinced that he should become a composer, despite his restricted training and his lack of familiarity with any masterpieces. This idea was anathema to his father, who wanted his son to become a doctor. For that reason, in 1821, Berlioz was sent to Paris to attend medical school, regardless of his disinterest in and disgust for the subject.

It took only a few years of exposure to Paris's rich musical life to cement the young man's devotion to music. Free of any familial control, Berlioz attended as many performances as possible, especially those at the opera. There he heard works by composers such as Spontini, Salieri, Boieldieu and Gluck.

In Paris, Berlioz also had the opportunity to further his study of composition. He worked at first on his own, by studying scores at the conservatory library. Then in 1822 he became a pupil of Jean-François Le Sueur. Le Sueur quickly noticed Berlioz's ability and encouraged him in his musical endeavors. At the same time however, Berlioz's neglect of his medical studies angered and disappointed his father, who soon deprived him of almost all of his financial support. In order to stay in Paris, Berlioz was obliged to take on several minor jobs, notably as a singer in the opera chorus and as a critic. Eventually, in 1826, Berlioz entered the National Conservatory, and joined the class of his tutor Le Sueur, as well as the counterpoint class of Anton Reicha.

The diary that Berlioz kept and eventually published as his Mémoires shows that his personal life, the performances he saw in Paris, and the many books he read were his sources of compositional inspiration. Among the events he attended, one in particular left a lasting impression. In 1827, he saw a performance of Shakespeare's Hamlet. Even though he had little knowledge of English and could not follow the dialogue, Berlioz was much influenced by the dramatic power of the play. From that point on, he often used Shakespearian themes in his work. These include the overtures to The Tempest (1830) and King Lear (1831), the dramatic symphony Roméo et Juliette (1839), and the opera Béatrice et Bénédict (1862).

The same night he discovered Hamlet, Berlioz also fell in love with the actress Harriet Smithson, who played Ophelia. Although he knew nothing of her, he became intensely interested in her and eagerly sought her out every time she came to Paris. It was Berlioz's obsession with the actress that was portrayed in his Symphonie Fantastique, completed three years later. Beyond Shakespeare, Berlioz was also highly influenced by Beethoven and Goethe.

In order to overcome his parents' disapproval and to gain recognition in Paris, Berlioz took part in the competition for a prestigious national award, the Prix de Rome. He competed every year between 1826 and 1829 without winning the award. Over time he learned to temper his personal style and to tailor the music for the jury, and, on his fifth attempt in 1830, it was the rather conventional cantata La mort de Sardanapale that brought him his long sought success. This success led to the performance of the cantata, the Tempest overture and the Symphonie Fantastique in the last months of 1830, the same year that Berlioz met Franz Liszt.

According to the guidelines of the Prix de Rome, Berlioz was required to stay in Italy for a period of time. But the satisfaction of seeing his works performed, as well as a sentimental affair with the pianist Camille Moke, made Berlioz reluctant to leave and he petitioned, unsuccessfully, to stay in Paris.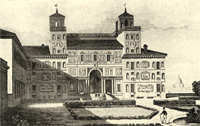 While in Italy, he spent as little time as possible in Rome, which he disliked. Instead he traveled throughout the country. This new setting inspired him. Nonetheless, he wrote no major work during that time, yet an Italian influence is found in several later pieces, such as the symphonies Harold en Italie and Roméo et Juliett, and the opera Benvenuto Cellini.

In Rome, Berlioz met Mendelssohn, and fondly mentioned his exchange with him in his Memoirs. Mendelssohn, however, could hardly tolerate Berlioz's excessive romantic temperament. In one temperamental outburst, for example, after having been in Italy for several weeks, Berlioz discovered that Camille was no longer faithful to him. Berlioz then left for Paris with the intent of killing her and her lover, after which he planned to take his own life. Tragedy was avoided due to the length of the train ride, which allowed Berlioz to recover his senses and to give up the plan.


Elusive Success

In November 1832, Berlioz was back in Paris and so was Harriet Smithson. Amazingly, Berlioz was able in less than a year to make the once out-of-reach actress his wife. The actress's success in Paris had been short-lived and she was now, like Berlioz, in debt. Against the wishes of both of their families, they married on October 3, 1833. Their only child, Louis, was born in August 1834. However, Berlioz's passion for Harriet was not a deep love. Knowing little of her, it was an Ophelia or a Juliet that he had, in a puerile way, tried to marry. Confronted with reality – conflicting tempers, financial difficulties, and language barriers – their happiness lasted only a few years.

In the meantime, financial success continued to elude Berlioz. His situation in Paris in the 1830s was scarcely different from that of the late 1820s. Instead of being a source of revenue, his music was a source of debt, as he generally had to pay for its performances himself. His source of income was his work as a newspaper writer; to his dismay, he was soon better known as a music critic than as a composer. Although he had a great deal of compositional output, his works were rarely performed. One of Berlioz's most severe blows was the fate of his second opera Benvenuto Cellini. While he was hoping its performance would be a decisive step in his career, the premiere turned out to be a failure after Berlioz had spent four years negotiating with and revising the work for the Opéra de Paris.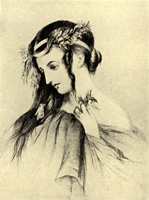 Nevertheless, not everyone in Paris was oblivious to Berlioz's talent and he was commissioned to write several major works. In 1834, the famous violinist Niccolo Paganini, who also owned and played a Stradivarius viola, asked Berlioz to write a piece for that instrument. Berlioz's response, Harold in Italy, was hardly the virtuosic concerto Paganini had anticipated; thus, he never performed the work. Berlioz also received a commission from the French government, for which he wrote the Grande messe des morts in 1837 and the Grande symphonie funèbre et triomphale in 1840. Both works made use of a large orchestra, a compositional choice that was associated with Berlioz, and for which he was mocked in many newspapers of the time.

Around 1835 Berlioz began to conduct performances of his works because on many previous occasions, he was annoyed by the poor interpretation of his music by others. It turned out that Berlioz possessed a natural ability for conducting. He soon became an early specialist in the emerging profession. His pamphlet on conducting, L'art du chef d'orchestre, published in 1855, is the most complete early technical reference on the subject.

In December 1838, Paganini sent a 20,000 francs gift to Berlioz (a substantial amount) after at last hearing Harold in Italy and realizing he had not treated the composer fairly. Berlioz decided to use it as a commission fee and, thanks to the financial relief it provided, was able to dedicate his time entirely to writing the dramatic symphony Roméo et Juliette. The composition involved much effort, but Berlioz was able to complete it in less than a year. Once again, the work generated no enthusiasm among critics, yet, the young Richard Wagner, present at the performance, was most impressed by it.


International Fame, National Disregard

The German Wagner's appreciation of Roméo et Juliette was an illustration of a growing phenomenon surrounding the works of Berlioz: neglected in Paris, they were increasingly admired abroad. This state of affairs prompted Berlioz to leave France for a time.

Another reason that he may have decided to leave was the growing awareness that his marriage was a failure. Although they did not divorce, another woman, the soprano Marie Recio, accompanied him on his tours and performed all his vocal works. After his first two concerts abroad in Brussels (September 1842), Berlioz engaged in extensive touring of Europe for the following twenty years. Everywhere he had the satisfaction of seeing his works performed and warmly received.

In the 1840s his productivity as a composer was somewhat reduced. However, since most of his music was yet unpublished, he could still, while on tour, present it as new. Over the years, he progressively worked on editing and publishing his major works to help with their distribution abroad.

Whenever he returned to France, Berlioz's bitterness grew as he could find little interest in his music at home. The Parisian public continued to receive his music coldly and only his work as a writer and critic was respected. Aside from his weekly contribution to the Revue et gazette musicale, Berlioz published a reference work on orchestration, the Grand traité d'instrumentation et d'orchestration modernes (1843), and Voyage musical en Allemagne et en Italie (1844), an account of his travels in Germany and Italy.

Throughout the 1840s and most of the 1850s the Société des Concerts du Conservatoire, Paris's oldest and most regular concert-giving body, continued to ignore his music. Therefore Berlioz established and conducted his own ensemble, the Société Philharmonique. This new group gave its first concert on February 19, 1850. After an initial success, the society was troubled by internal dissent and financial difficulties. It lasted only until May 1851.

Berlioz often traveled to Germany and England, where both his music and his talent as a conductor were highly appreciated. In Weimar, Germany, Liszt was a fervent supporter of his works. Liszt even successfully programmed, in 1852, a revised version of Benvenuto Cellini. There were other professional opportunities as well in the two countries. After his first engagement as a conductor in Baden-Baden, Germany in 1853, Berlioz conducted there every summer between 1856 and 1863.

In London, Berlioz was invited by the New Philharmonic Society to conduct its 1855 season, and was for a short time the colleague of Wagner, who had the Old Symphonic Society under his leadership. The two men esteemed one another, but their divergent opinions about music prevented any lasting friendship between them. Berlioz felt that Wagner, while of obvious import as a composer, was stretching the art form too far.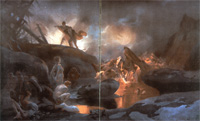 In the midst of his multiple engagements as a conductor and his activities as a writer, Berlioz was still able to produce a number of important works during these years, for which he wrote both the music and the texts. These include La damnation de Faust (1846), L'enfance du Christ and L'Impériale (both written in1854), all for soloists, chorus and orchestra.

In 1856 he began what was perhaps his most ambitious project, Les Troyens, a five-act opera based on Virgil's Aeneid. This work was so important to him that he gave up tours and journalism for it. But once the opera was completed in 1858, Berlioz had, again, to fight tenaciously for five years to see the work performed. When the work was finally staged at the Théatre-Lyrique in 1863, the two first acts were cut, probably because it was impractical for this company to stage all five acts. However, it was a popular success, and was repeated twenty-one times, albeit with numerous cuts. For the first time in his career, one of Berlioz's works was profitable.


Depression

Although Berlioz did find satisfaction in being appreciated abroad, his constant struggle to be acknowledged by his fellow countrymen as a great composer eventually took its toll on Berlioz's strength. Thus, the success of Les Troyens did little to erase the ordeals that had preceded it. Berlioz stopped composing altogether, and even refused to attend concerts anymore. Additionally, personal hardships wore him out physically and mentally; starting in 1854, he suffered from an increasingly painful condition, possibly some form of neuralgia. The loss of his father (1848) and sisters (1850 and 1860), of his first wife Harriet (1854), and of Marie Recio (1862), whom he had married after Harriet died, exacerbated his awareness of death and his feelings of isolation. In 1864, he wrote in his diary of his own desire to die.

Yet he continued to travel abroad when invited to conduct his works, but no success was able to ease the depression he suffered. In addition to his own conviction that he was a failure, the death of his son Louis in 1867 left him despondent. He died at his home in Paris two years later, on March 11, 1869.


References:


Barzun, Jacques. Berlioz and the Romantic Century. New York: Columbia University Press, 1969.

Berlioz, Hector. The Memoirs of Hector Berlioz, Member of the French Institute, including his Travels in Italy, Germany, Russia, and England, 1803-1865. Ed. and Trans. David Cairns. New York: W.W. Norton & Company, 1975.

MacDonald, Hugh. Berlioz. London: J.M. Dent, 1982.

MacDonald, Hugh: 'Berlioz', Grove Music Online ed. L. Macy (Accessed 3 November 2005), <http://www.grovemusic.com>