Johannes Brahms
(1833-97)
Johannes Brahms is usually exalted as one of the "Three Bs" of classical music: Bach, Beethoven, and Brahms. This accolade was heard even during Brahms's lifetime. While Brahms was probably flattered to be placed alongside these greats, there can be no doubt that it also stifled him. This is especially true when it came to Beethoven and Beethoven's symphonic legacy. In one of the most extreme cases of compositional writer's block ever recorded, it took almost fifteen years for Brahms to complete his first symphony.



Youth

Johannes Brahms was born on May 7, 1833 in Hamburg, Germany. His parents were married three years earlier when Brahms's father, Johann Jakob, was twenty-four years old and his bride was forty-one. Together they raised three children: Elise, Johannes, and Friedrich.

Johann Jakob was a musician who was proficient on several instruments, including the double bass, the violin, the flute and the horn. At the time of Brahms's birth he was without steady employment, playing wherever he could earn money; his jobs were mostly in taverns and in dance halls. Only later in life, after his children had left home, did he obtain more respectable positions, including one as a bass player with the Hamburg Philharmonie.

During Brahms's youth, his mother also contributed to the family income by working as a seamstress; nonetheless, money was still a constant source of worry. Yet the Brahmses were loving parents, and they provided their two sons with a proper general education and private music lessons. Initially Johann Jakob taught the young Brahms to play the cello and the horn, but his son insisted on learning to play the piano. Consequently, in 1840 he began formal piano lessons with Otto Cossel.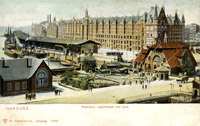 Three years later Brahms took part in a chamber music recital, after which Cossel recommended that he study with his own teacher, Eduard Marxsen, then considered to be one of the finest musicians in Hamburg. Brahms began study with Marxsen and, aside from piano, Marxsen taught the young Brahms harmony, counterpoint and theory. These studies were Brahms's only formal training in music. He later perfected his composition skills by carefully studying the music of leading classical composers, such as Beethoven, Mozart and Haydn, and also by examining music dating as far back as the Renaissance, which was a rare interest during an age in which even the works of Bach and Handel were neglected.

After receiving sufficient musical training, the young Brahms supplemented the family income. At first he played in various and possibly less-than-respectable establishments, and later he gave piano lessons and wrote arrangements for brass bands and the Alster Sextet. Then, at the age of fourteen he made his debut as a conductor with a local men's choir. Shortly thereafter, in September 1848, and again in April 1849, he appeared in public solo piano performances. The second performance included one of his early works.

In addition to his interest in music, the young Brahms was an avid reader, fascinated by folk tales, medieval legends, and other fiction. This enthusiasm for literature remained with him throughout his life and he accumulated a library of no less than 800 volumes. Among his favorite authors were Eichendorff, Goethe, Heine, Rückert, Geibel, and E.T.A. Hoffmann.


Trials of a Young Genius

Brahms's twentieth year was significant. For some time he had been working as a collaborative pianist, and through this work he had made the acquaintance of Ede Reményi, a Hungarian virtuoso violinist. In the beginning of 1853, the two left on a tour of Germany. On their journey, they visited another celebrated Hungarian violinist, Joseph Joachim, whom Reményi had met previously in Vienna.

Their next stop was Weimar, where they hoped to meet Liszt, then at the height of his fame. The two young musicians shared an initial excitement as they traveled to meet him, but, having arrived, Brahms quickly found himself ill at ease – he and Liszt greatly differed in their opinions on the future direction of composition. Brahms's desire to leave as soon as possible, although they had been graciously received, caused a definitive break with Reményi. Brahms, dismayed, decided to retrace his steps in order to see Joachim, with whom he had felt an immediate affinity. While his friendship with Reményi proved to be short-lived, the one he made with Joachim was life-long. It was Joachim who encouraged Brahms to meet with Robert and Clara Schumann in Düsseldorf, an event that had considerable impact on the course of Brahms's life.

In September 1853 Brahms presented himself at their home, where Schumann received him and listened to his works with the utmost interest. That evening Schumann wrote in his dairy, "visit from Brahms, a genius." Schumann saw a sort of musical messiah in Brahms, and he described him as such in an article published in the periodical Neue Zeitschrift für Musik. Brahms, who knew nothing about the matter, discovered the laudatory article and received it with some ambivalence. On the one hand, it undeniably helped his career, but, on the other hand, it was a source of great pressure at a time when Brahms did not necessarily feel ready for such publicity. Moreover, along with the positive expectations that the article created, it also generated some skepticism in musical circles: in the past, Schumann's predictions concerning young musicians had been undeniably wrong. Nonetheless, thanks to the help of Schumann, by the end of 1853 Breitkopf & Härtels had published six of Brahms's works.

Brahms felt indebted to the Schumanns, and in February 1854, when he learned of Schumann's suicide attempt, the young man rushed back to Düsseldorf from Hamburg to assist Clara, then expecting her seventh child. After this event, Robert Schumann himself requested that he be committed to an asylum; he subsequently died there in July 1856.

During that two-year period, Brahms devoted himself entirely to the Schumann family. Through his constant support of Clara, a close relationship developed between the two of them. He admired her courage, her devotion as a spouse and as a mother, her tremendous musical gift, and admittedly, fell in love with her. Clara was invigorated by his fresh spirit, his talent, and his complete dedication. Yet, no matter the exact nature of their relationship (subject to much scholarly speculation), they both remained loyal to Robert Schumann. After his death, they parted rather than growing closer to one other. Brahms probably felt the need to focus on his own work. As for Clara, celebrated since childhood as one of the most brilliant concert pianists of her time, she devoted herself to her career and to supporting her children. Nonetheless a special bond between the two artists endured throughout their lifetimes.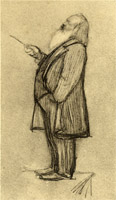 From 1856 to 1862, Brahms spent most of his time in Hamburg. Besides his family ties there, he also directed a female chorus. But what really kept him in Hamburg was the hope that the soon-to-be vacant position of Hamburg Philharmonie conductor would be entrusted to him. In the meantime, in 1857 he obtained his first regular appointment. The position, which he kept for three years, was at the court of Prince Leopold II in Detmold. There he served as piano teacher, pianist, and conductor of the amateur choral society. This new position was ideal for Brahms, not only because he could experiment with the ensembles there, but more importantly because it only required his presence three months out of the year, thus allowing him plenty of time to compose.

In the late 1850s Brahms wrote only a few pieces. Most of his efforts were devoted to the writing of a first piano concerto, which, unfortunately, suffered a complete failure at its premiere in Leipzig in 1859: it was hissed at by the audience and described by the critics in very harsh words. In the months that followed, Brahms was the victim of particularly cruel attacks in the press.

In 1860, infuriated by an editorial asserting that there were no serious composers in Germany, outside of the "New German School," Brahms attempted to retaliate by writing a manifesto against it. He had hoped to gather a number of signatures in support of the document, but it was leaked to the press and prematurely published, having been signed by only four names, and it became a major embarrassment for Brahms. This incident further hurt his reputation, and later that year Brahms received another blow when Breitkopf refused to publish a new group of his works.


Schumann's Prophecy Fulfilled

In a letter to Joachim following the debacle of his first piano concerto, Brahms expressed his firm determination to try harder, and so he did. He composed and performed a great deal. Clara Schumann and Joachim supported him greatly by using their status as leading performers to defend his works both within Germany and without. These efforts paid off and the press warmed towards Brahms again.

Brahms also met with some success and some new friends in Vienna where he spent the winter of 1862 to 1863. While he was there, Brahms was bitterly disappointed to discover that the much-coveted position at the Hamburg Philharmonie had escaped him. In the spring of 1863, his disappointment was mitigated by an offer to conduct the Vienna Singakademie. Brahms kept the position for only one season: he felt frustrated by his inability to communicate his enthusiasm for the vocal music of Bach, Handel, Schütz, and Gabrieli. The singers found his choice of repertoire difficult and the audience found it austere, and, though the season was successful enough for him to be re-hired, he resigned.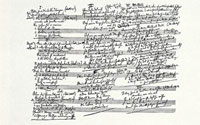 While Brahms was in Vienna, increasing differences between his parents led to their separation in June 1864. Brahms briefly returned home in order to support his elderly mother while his father was moving out. Only a few months later, in February 1865, learning from a telegram that his mother had suffered a stroke, Brahms again hurried back to Hamburg, but when he arrived she had already passed away.

Terribly affected by the loss, Brahms could find comfort only in his work. He appeared publicly numerous times, and, more importantly, began the composition of his largest work, the German Requiem. Three years later, in April 1868, the requiem was given its first complete performance at the cathedral of Bremen under Brahms' direction. Brahms' friends, family, and the general audience traveled from all over the country to attend. The performance was a resounding success. Over a decade earlier, Robert Schumann had written, "When he will lower his magic wand toward the powers of the masses, choir and orchestra, and make his their energy, then we will be allowed even more wonderful glimpses on the secrets of the world of spirits." For all present, the requiem had fulfilled this prophecy at once. The work propelled Brahms to the pinnacle of his career and his reputation as a leading composer was never again doubted.


Brahms, who before the requiem had composed essentially chamber music, solo piano works, and vocal music, afterwards started to write larger works involving chorus and orchestra. A new appointment in 1871 as the conductor of the Viennese Gesellschaft der Musikfreunde allowed him to perform these works with a full symphonic orchestra and the best choir in Vienna. With this ensemble, Brahms was able to successfully program early music and other challenging works. His concerts with the Gesellschaft became increasingly popular. They heightened his reputation and broadened Viennese musical horizons. Clearly his work was agreeable to him, but in order to devote more time to composition, he left his position at the end of the 1875 season.



The Great Brahms

Brahms's professional life after 1875 was divided between concert engagements and composing. The first three months of the year were typically spent on concert tours, and he devoted summers to composition. To compose, Brahms generally left Vienna and headed to the mountains or the lakeshores and surrounded himself with natural beauty.

During the last twenty-four years of his life, Brahms was honored with countless awards, prestigious titles, and concert series in his honor. Even his native Hamburg finally acknowledged his talent. Brahms, however, was embarrassed by public praise. Once, during a dinner given in Brahms's honor, when Joachim raised his glass and began a toast, "To the greatest composer," Brahms interrupted and said, "Quite right, here's to Mozart!"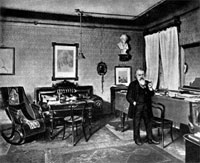 In 1876, at age forty-three, Brahms produced his first long-awaited symphony, the earliest sketches of which dated back to 1862. This first symphony was a great success and was even dubbed "the tenth symphony," a sign that the work was worthy of Beethoven himself. The second was completed the following year, and in less than ten years, all four were written.


It was Brahms's first symphony that gained him the respect of the eminent conductor Hans von Bülow. When, in 1880, von Bülow was given the direction of the Meiningen court orchestra, he generously allowed Brahms to try out new works with the orchestra before their official premieres. They also toured extensively together, exchanging the roles of soloists or conductors at will. Unfortunately, the collaboration ended in 1885 when Brahms unknowingly agreed to conduct a concert with another ensemble on the same night as a Meiningen orchestra performance. Thus, he was competing directly with von Bülow, and this incident led to a rift in the relationship.

If Brahms was still very active as a performer, it was no longer for financial reasons. He was now a rich man, yet, because of his impoverished upbringing, he continued to live frugally. "All I need is a washstand and a bed," he once told a female friend who had offered to help him furnish his apartment. However, he was not miserly with money. Even at a time when his resources were still scarce, he supported his mother and his sister. And, after his father's death in 1871, Brahms took care of his stepmother and stepbrother.

His only other expenses were his library and manuscripts collection, as well as holiday travels. In April 1878 he went for the first time to Italy, which he described in a letter to Clara Schumann as a "beautiful garden," and a "paradise." He appreciated the wealth of Renaissance and Medieval art he found there, and particularly enjoyed visiting the old buildings. He returned to Italy nine times, including the year of his sixtieth birthday, purposefully avoiding any public celebration of it in Vienna.

Starting in 1877, for the remainder of his years Brahms suffered the regular losses of those close to him: his siblings, his old teacher Marxsen, and many friends. These losses may explain why, in 1890, at only fifty-seven, he declared his G Major String Quintet to be his last work, seemingly pessimistic about his own life expectancy. Also during this period he sorted his works, destroying everything he did not judge worthy of posterity, and published a series of collected works: thirteen choral canons, fifty-one piano exercises and the forty-nine Deutsche Volkslieder. In 1891, he expressed his will in a letter to his editor Simrock. In its revised version of 1896, he left all his money, but more importantly, his music collection and library to the Gesellschaft des Musikfreunde.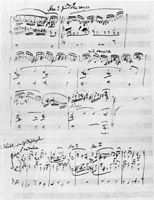 Thanks to the talent of a clarinetist with the Meiningen orchestra, Brahms, in fact, did not stop composing in 1890 and wrote several excellent pages of chamber music with clarinet. In 1895, the Meiningen orchestra played a festival of the "Three Great B's:" Bach, Beethoven and Brahms. In January 1896 he appeared for the last time as a conductor. In March 1896, Clara Schumann suffered a stroke. She never recovered and two months later she died.

After her passing, Brahms's typical good health seemed to progressively abandon him. By the summer it seemed that the composer had developed a cancer of the liver, the disease that had taken his father. To his friends, however, he simply mentioned jaundice, pretended his weight loss was voluntary, and kept up his usual good cheer. In March 1897, when he attended a performance of his Fourth Symphony at the Gesellschaft, every movement received applause, and the public made such a final ovation as to bring Brahms to tears. It seemed that all present knew his end was near. Later that month he became unable to leave his bed and died on April 3, at age sixty-four.

--Muriel Gibala-Maharidge


References:

Bozarth, Georges and Walter Frisch: 'Brahms', Grove Music Online ed. L. Macy (Accessed 7 September 2005), <http://www.grovemusic.com>

Drinker, Sophie Hutchinson. Brahms and His Women's Choruses. Merion, PA: Musurgia Publishers, 1952.

Frisch, Walter. Brahms and His World. Princeton, NJ: Princeton University Press, 1990.

MacDonald, Malcolm. Brahms. New York: Schirmer Books, 1990.

Musgrave, Michael. Brahms 2: Biographical, Documentary and Analytical Studies. Cambridge: Cambridge University Press, 1987.

Schumann, Clara. Letters of Clara Schumann and Johannes Brahms, 1853-1896. Ed. Berthold Litzmann. New York: Vienna House, 1971.