Clément Janequin
(c. 1485-after 1558)
Along with Claudin de Sermisy, Clément Janequin was one of the two great masters of the sixteenth-century French chanson. His most famous chansons evoke phenomena such as bird calls (Le chant des oiseaux), street noises (Les cris de Paris), or the sounds of battle (La bataille). Although these works were popular during his lifetime, Janequin never achieved much professional or financial success.


Early Years

Almost nothing is known about Janequin before 1505. His will points to the town of Châtellerault, near Poitiers in western France, as his place of birth. He probably studied music at the cathedral school there, as was common practice at the time. By 1505, he was a clerk for Lancelot Du Fau in Bordeaux. Du Fau held several church and governmental positions, including president of the court of inquests of the Bordeaux parliament, canon at the churches of St. Andre and St. Seurin, and vicar-general of the Bordeaux archbishopric. In 1515 Du Fau also became bishop of Luçon. Du Fau died in 1523, at which time Janequin found a position with the Bishop of Bordeaux, Jean de Foix.

Around the same time, Janequin completed the requirements to become a priest himself. He stayed in Bordeaux, where he was appointed to several poorly-paid church positions. In 1525 he became a canon at St. Emilion. The next year, he was placed in charge of anniversary masses at the same church and became curate of two other small towns in the Bordeaux area, St. Michel de Rieufret and Brossary. In 1527, he was also granted the position of chaplain of Angers Cathedral.

Despite the unimportant jobs he held, he achieved some success as a composer during the 1520s. His first song was published, oddly enough in an Italian anthology. Combined with the fact that Janequin wrote one song on an Italian text ("Si come il chiaro"), this publication has led some scholars to hypothesize that the composer spent time in Italy. No concrete evidence supports this assertion, however. Also in the 1520s, Parisian music publisher Pierre Attaignant devoted an entire volume to Janequin's chansons. This was the first of several Janequin collections that Attaignant ultimately produced.


Increasing Fame in Angers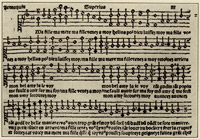 After his patron Jean de Foix died in 1529, Janequin was forced to find other work. In 1530, he earned the ceremonial title chantre du roi ("king's singer") from the royal court because of a chanson, Chantons, sonnons, trompettes, written to welcome François I to Bordeaux. The next year, he was master of the choirboys at Auch Cathedral for a short time before moving on to Angers.

Janequin was already chaplain of Angers Cathedral as well as curate of nearby Brossary. In addition, Janequin's brother, Simon, lived in Angers. Janequin became curate of another small town in the area, Avrille, in 1533, and finally earned the more prestigious title of maître de chapelle at Angers Cathedral in 1534. He stayed in that position only until 1537, however.

The 1530s brought not only the move to Angers but also Janequin's greatest triumphs as a composer. The publisher Attaignant printed four volumes of Janequin's chansons and perhaps one volume of his motets as well. Nevertheless, Janequin's finances did not thrive. He took a loan from his nephew but could not pay back the money. They quarreled, and Janequin seems not to have spoken to his family after that.


Lost Years and Move to Paris

For the eleven years after Janequin left the position of maître de chapelle at Angers, it is not known exactly where he was or how he was supporting himself. He may have stayed in Angers the entire time, since the next mention of him is in 1548 as a student at the university there. University degrees were often required for the most important church positions, so Janequin may have begun a degree for financial reasons.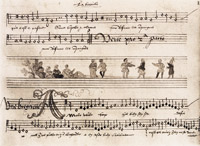 The following year, he continued his studies at the university in Paris. He achieved somewhat more recognition in the capital, becoming chaplain to the Duke of Guise around 1552. Also in the 1550s, the royal court granted Janequin the title of chantre ordinaire du roi, or "singer ordinary to the king." This was later upgraded to that of compositeur ordinaire du roi, or "composer ordinary to the king." Janequin was apparently only the second composer ever to receive this title.

Janequin's compositions took a turn toward the sacred during his last years. He began composing settings of the psalms in French translation, using Calvinist melodies as a starting point. Both the use of the vernacular and the reliance on Protestant hymn tunes has led some to speculate that Janequin became a Protestant. Unfortunately, there is no evidence either to prove or to disprove this theory. Even the songs themselves survive only as fragments.

In January 1558, Janequin made his will. He left what little money he had to his housekeeper (who had been serving him without payment) and to charity. His family received nothing. The exact date of Janequin's death is not known, but it was probably soon thereafter.


Reference:

Brown, Howard Mayer, and Richard Freedman: 'Janequin [Jannequin], Clément', Grove Music Online ed. L. Macy (Accessed 24 April 2006), http://www.grovemusic.com