William Byrd
(1540-1623)
Living in an age of conflict between Catholics and Protestants in England, William Byrd's loyalties were divided between the two religions. He and his wife were devout Catholics, as were most of Byrd's patrons. At the same time, he held positions in Anglican churches and wrote music for their services. After the sinking of the Spanish Armada in 1588, Byrd even set a poem by Queen Elizabeth I thanking God for defeating the Catholic Spaniards. Ironically, it is in the Anglican rather than the Catholic Church that Byrd's music is most often heard today.


Early Years

William Byrd was born in London sometime between the fall of 1539 and the fall of 1540, though his birth date is typically given today as 1540. His parents, Thomas and Margery, had seven children, including three sons, of whom William was the youngest. His older brothers, Symond and John, sang as choristers at St. Paul's cathedral in London, and it is clear that all the boys received a musical education starting around the age of seven.

Though the St. Paul's registry does not list William as a chorister, he may indeed have sung there. It is known, however, that he studied with Thomas Tallis at the Chapel Royal, and, as there was a close musical tie between St. Paul's cathedral and the Chapel Royal, Byrd may have begun training at the former and ended up at the latter.

With Tallis, who was the composer and organist at the Chapel Royal, Byrd most likely studied composition, served as assistant organist, and played for choral rehearsals. Byrd's surviving compositions from this student period, written in his teens, include two-part hymns and antiphons for organ, motets (vocal settings), and a collaborative work, In exitu Israel, produced with the composers John Sheppard and Thomas Mundy. Byrd's contribution, Similes illis fiant, was included as the middle section and this segment was later published on its own (1605).


Lincoln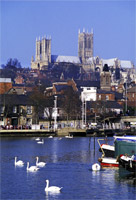 In 1563, Byrd was appointed organist and choirmaster at the cathedral in Lincoln. It seems that in order to secure his services, cathedral officials (the Chapter) offered him a rectory in Hainton, Lincolnshire, and a house (free of rent), as well as an impressive salary. While at this post, in 1568 Byrd married a woman from Lincolnshire named Julian Birley, and the couple had a son, Christopher, in 1569. Three years later a daughter, Elizabeth, was born. After that Thomas, the godson of Thomas Tallis, was born in 1576, possibly along with a twin who died in infancy, and several years later another two daughters, Rachel and Mary, completed the family.

For reasons unknown, in 1570 Byrd was briefly suspended from his duties. It has been suggested that, as Byrd was a Roman Catholic, his organ playing during services exceeded the acceptable Anglican limits as they concerned time and style. During this forced leave, he probably spent much time writing, and produced some of his most extensive keyboard fantasias, including the A minor.

At the same time, Byrd seems to have made an effort to preserve his music in collections, likely procuring copies of his choral, keyboard (virginal), and viol works written for use in the cathedral. His compositions at Lincoln probably included a number of English songs for voice and viol quartet (consort songs), as well as Clarifica me, Pater, for organ in four parts, The Hunt's Up for virginal, and the In Nomine settings for viol consort, which were a kind of instrumental fantasy built on the plainchant Gloria Tibi Trinitas.

Motets, such as Libera me, Domine, de morte aeterna, and Attollite portas, appear to date from Byrd's time at Lincoln as well, though these were published later. During these years, Byrd's motet writing was influenced by the Italian polyphonic style, particularly as heard in the works of Alfonso Ferrabosco, who composed at the court of Queen Elizabeth I. Lastly, The Short Service, a liturgical setting, was also written for Lincoln.


Byrd moved to London in 1572 to fill a post at the Chapel Royal left when composer Robert Parsons died. Thus, he became known as a "Gentleman of the Chapel." Armed with letters from influential members of the nobility, he was able to convince the Lincoln Cathedral to keep sending him a portion of his former salary, retaining his old position to a degree while working at court. This agreement, in which Byrd was obliged to continue providing music to Lincoln, was honored until 1581.

At court, Byrd apparently sang (possibly as a counter-tenor) in addition to playing the organ and composing. He continued to produce both sacred and secular works, including the keyboard pavans and galliards begun in the 1570s.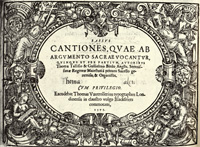 In London, Byrd formed important relationships with noblemen who later became his patrons. Most were fellow Catholics, and political difficulties made these alliances somewhat unstable; the Earl of Northumberland, for example, was executed, and Thomas, Lord Paget, ended up having to leave England in the aftermath of a supposed pro-Catholic plot against Queen Elizabeth I.

The queen herself also contributed to Byrd's career, conferring a twenty-one year patent and monopoly to Byrd and Tallis for music printing and for lined music paper. Their first endeavor was a collection of their own motets, together published as Cantiones quae ab argumento sacrae vocantur. In spite of good intentions and a dedication to the queen, the book did not do well commercially. Demand was generally lower than had been expected, printed music continued to be imported from sources abroad, regardless of the patent's stipulations otherwise, and printing monopolies themselves fell under increasing criticism.

Though it is not known when William or his wife Julian became Catholics (there is no evidence that any of Byrd's relatives were Catholic), it is certain that this affiliation had a significant effect on their lives. Anti-Catholic sentiment was rising in England, and from 1577 on, Byrd, his wife, their children, and members of his household were frequently cited as recusants. Under Elizabeth's law, recusants risked spiritual censure (exclusion) and fines, which were to be donated to charity. John Reason, a high-ranking servant and former musician in Byrd's household, was imprisoned more than once for religious offenses, and probably died in the Gatehouse prison of the plague in 1603.

Byrd's most subversive activities, however, took place in the context of his compositional choices. These included: Latin motets with texts specifically referring to those executed in the Catholic recusant cause (Deus, venerunt gentes), and a setting of a poem that had gained infamy as a protest of the execution of three Jesuits ("Why do I use my paper, ink, and pen"—later published without the most inflammatory passages). Though Byrd was cited often as a recusant, he was considered to be loyal to the crown, and was protected from the harshest punishments because of the esteem he was held in by the queen and by his noble patrons.

The queen's admiration was such that in 1588 she commissioned Byrd to set her poem "Look and bow down Thine ear, O Lord," in celebration of the defeat of the Spanish Armada. Byrd also protected himself by dedicating some of his printed scores to noted anti-Catholics, such as Queen Elizabeth I. Moreover he did not abandon composing for the Church of England, completing the Anglican Great Service sometime in the late 1580s.

Byrd retained the printing patent upon Tallis' death in 1585, and as he gradually retired from active service in the Chapel Royal, he spent more time collecting and publishing his own works. He may have already begun planning his withdrawal from the Chapel Royal at the time that he published Psalmes, sonets, & songs of sadnes and pietie (1588). It is thought to be the third book of English songs ever printed, and its success led to Byrd's next collection, Songs of Sundrie Natures (1589). These collections included consort songs for voice and viols, and various arrangements of such songs, as well as anthems and other song forms.

Other collections from this period include Cantiones sacrae (1589), which anthologized Byrd's motets for five voices (a second volume soon followed) and a manuscript of 1591 titled My Ladye Nevells Booke, in which a number of keyboard works are compiled. In the 1590s, he also published three masses and corresponded with Philippe de Monte, the Kapellmeister of the Holy Roman Emperor, the two participating in a kind of compositional conversation through the texts of their successive, biblically-based motets.


Byrd's Final Years

In 1605, the first of two volumes called Gradualia, ac cantiones sacrae appeared, containing sixty-three vocal compositions for Catholic worship, and dedicated to Catholic sympathizer Henry Howard, Earl of Northampton. That same year, a plot by Catholics intending to kill King James I and to blow up the Houses of Parliament led to a resurgence of anti-Catholic activity. This conspiracy against the Protestant government was known as the Gunpowder Plot, in which Guy Fawkes was famously involved.

Subsequently, Byrd had to withdraw the volume Gradualia I, and there is even evidence that someone found in possession of the music was arrested. But the book was re-released in 1610, along with a reissue of the second volume, first printed in 1607, which contained forty-six pieces. Later, some keyboard pieces were included in a multi-author anthology, Parthenia (1612 or 1613), along with the composers Orlando Gibbons and John Bull. In 1614, four sacred songs were included in a collection overseen by Sir William Leighton (Teares or Lamentacions of a Sorrowfull Soule), and these were Byrd's final publications.

In his dedication of the Gradualia II, Byrd sadly noted the passing of many of his own friends and students. One of these would have been his pupil, the noted composer Thomas Morley, who died in 1602—other significant pupils, who were to live much longer probably included Thomas Weelkes, Thomas Tomkins, and John Bull.

In his Gradualia dedication, Byrd seemed to express some guilt at having lived so long himself, and he was to go on to outlive others dear to him as well. His wife may have died in 1608 or 1609, their son Christopher died around 1615, and Byrd's brother John died in 1622. Records at the Chapel Royal, which commemorate Byrd as "a father of Musick," indicate that his own death occurred on July 4, 1623, in Stondon Massey, Essex.


References:

Harley, John. William Byrd: Gentleman of the Chapel Royal. Aldershot, England and Brookfield, Vermont: Scolar Press and Ashgate Publishing Company, 1997.

Kerman, Joseph: 'Byrd, William', Grove Music Online ed. L. Macy (Accessed 21 March 2006), <http://www.grovemusic.com>