Suggested
Viewing

Handel - Giulio Cesare / Connolly ˇ Kirchschlager ˇ De Niese ˇ Dumaux ˇ Bardon ˇ Maltman ˇ Ben Abdeslam ˇ Ashworth ˇ OAE ˇ Christie ˇ McVicar [Glyndebourne Opera 2005]


Handel - Messiah - The 250th Anniversary Performance / Marriner, Academy and Chorus of St. Martin in the Fields (1992)

George Frideric Handel (Georg Friedrich Händel)
(1685-1759)
Unlike most composers of the Baroque era, George Frideric Handel has never fallen out of fashion. In the late eighteenth century, his admirers included Mozart, who arranged four of Handel's oratorios, and Haydn, whose own oratorio The Creation pays homage to the earlier master. Nevertheless, Handel's works in genres other than oratorio were largely forgotten. Particularly neglected were Handel's operas, even though Handel spent much of his time and energy as an operatic composer. Since the 1950s, however, such operas as Giulio Cesare and Alcina have joined Messiah among Handel's most beloved works.


A Career in Music


On February 23, 1685, George Frideric Handel was born in the town of Halle in central Germany. His father Georg, a physician (barber-surgeon) at the court of the Duke of Saxe-Weissenfels, lost his first wife in 1682 and remarried when he was sixty. With his second wife, a pastor's daughter named Dorothea Taust, he had three surviving children. Handel was the second of these and the only son to live past infancy.

According to Handel's early biographical sources, Handel's father meant for him to enter a career in law, but the boy was drawn to music instead. When Handel was around nine years old, his father was convinced by the Duke to allow him to work with Friedrich Zachow, the organist at Halle's Liebfrauenkirche (Church of Our Lady). With Zachow, the young Handel studied organ technique and composition. In addition, Zachow introduced his pupil to both German music and to music from abroad, notably Italian music.

After his father's death in 1697, Handel was able to dedicate himself fully to the pursuit of a career in music. In 1702, at seventeen, he began to attend the University of Halle, but just weeks later he obtained the post of organist at the Cathedral Church of Halle. Though Handel was Lutheran and the church was a Calvinist institution, he remained there for the year-long appointment. At the church, he played the organ and assembled a choir. During this period, he also developed a lifelong friendship with the composer Georg Philipp Telemann, who was employed in nearby Leipzig.


First Operas

In 1703, Handel relocated to Hamburg and secured employment playing violin and harpsichord at the opera theater. When the composer-in-residence, Reinhard Keiser, had to leave Hamburg to escape his debtors, Handel had his first opportunity to compose an opera. He was given a libretto that had been intended for and already set by Keiser; when composing the opera, Handel was greatly influenced by Keiser's general musical output. This first opera, Almira, premiered in January 1705.

Before its opening however, Handel developed a rivalry with his friend Johann Mattheson, a theorist, composer, and singer at the opera company, and at the end of 1704, when Almira was already in rehearsal, they engaged in a duel. The duel was precipitated by an incident during a performance of Mattheson's own opera, Cleopatra. Mattheson had finished singing his role and had gone as usual to take up his position at the harpsichord. However, Handel, seated there, did not allow the other man to play, and a challenge ensued. Later in his life, Mattheson recalled that the duel's potentially fatal outcome was averted only because a button on Handel's coat shattered his sword. The two were reconciled shortly after, and Mattheson sang the tenor role in Almira.

Almira was a success, though the libretto by Friedrich Christian Feustking received a fair amount of criticism. Handel wrote another opera without delay, and Nero (now lost) opened in February 1705, just one month after Almira. Keiser returned to his theater that summer, and Handel's contributions were no longer as necessary as they had been in Keiser's absence. However, two more operas by Handel were staged in Hamburg, though they were likely written when he was already in Italy.


Italy

Handel first traveled to Florence before arriving in Rome in early 1707. In Rome, he began by writing music for the Catholic Church, patronized by Cardinals Colonna, Pamphili, and Ottoboni. The three Vespers psalms titled Dixit Dominus were his most significant compositions from that first year in Italy; he also wrote a pair of solo cantatas, one of which set a text by Pamphili. Another contribution by Pamphili became the libretto for a secular oratorio, Il trionfo del Tempo e del Disinganno (The Triumph of Time and Truth). The Italian composer and violinist Archangelo Corelli conducted the orchestra when the oratorio debuted in the spring of 1707.

Shortly after, Handel began to receive commissions from Prince Francesco Maria Ruspoli. At this time, staged opera was still banned in Rome, and Handel's compositional repertoire focused on Italian cantatas. These included Diana cacciatrice (Diana the Huntress) and Clori, Tirsi, e Fileno. He did manage to have a new opera, now known as Rodrigo, produced in Florence in October 1707 – his first opera completely in Italian.

1708 and 1709 offered Handel much opportunity for work and travel. It is probable that toward the beginning of 1708 he returned to Hamburg for the production of his two operas Florindo and Daphne. Then, in Rome, he completed an Easter oratorio, La Resurezzione (The Resurrection), for Ruspoli. Though it could not be acted, the work was performed on an elaborately decorated stage, and Corelli conducted it. Another voyage soon followed, this time to Naples, where Handel composed the one-act dramatic cantata Aci, Galatea e Polifemo.

Late 1709 saw the premiere in Venice of his opera Agrippina, produced for the Carnival season to a text by the Venetian Viceroy Vincenzo Grimani. Much has been written of the musical borrowings apparent in this opera, including the recycling of some of Handel's own music and some references to Keiser. The opera attracted the attention of a cosmopolitan audience, leading to further opportunities for the composer.


Italian Opera in London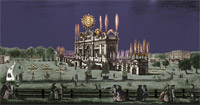 Handel visited Innsbruck in the spring of 1710 and then moved on to Hanover. There, he was given the distinguished position of Kapellmeister (music director) at the court of the Hanoverian elector, a situation that allowed him to travel. During the summer, he journeyed first to Düsseldorf and then to London.

While England had been importing Italian singers and music for some time, no one had yet staged a complete Italian opera there. This was Handel's first task in London. The result of his efforts was Rinaldo, sung in February 1711 for the birthday of Queen Anne. England was unaccustomed to through-sung opera, having primarily seen semi-operas or masques with spoken dialogue. The craze for Italian material and singers had begun in 1708 when acclaimed castrato Nicolini sang in a production of Alessandro Scarlatti's Pirro e Demetrio, performed partially in Italian and partially in English, depending on the nationality of each singer. Members of the audience at Handel's Rinaldo followed the libretto, by Giacomo Rossi, in translation. The music borrowed heavily from Handel's own previous compositions, among them Almira and Agrippina.

In the summer of 1711, Handel returned to Hanover, but little more than a year later, he petitioned the elector for leave to travel once more to London. His next opera, Il pastor fido (The Faithful Shepherd) used a pastoral style that was not received as well as his former opere serie were. He revisited the grander form with Teseo in 1713 and Amadigi in 1715. At the same time Handel was becoming increasingly interested in writing choral music. He received commissions from the royal court for special occasions, and produced such works as Te Deum and Eternal Source of Light Divine, both written in 1713.

That same year, Handel was dismissed from his employment in Hanover, but when the Hanoverian elector became England's George I in 1714, the composer received a raise in his pension. In the later years of the decade, Handel also wrote a Passion oratorio in German, and the famous orchestral suite known as the Water Music (1717). It is likely that the latter, assembled for a passage King George I made down the Thames, contained a variety of movements written for other occasions as well.




Handel was invited in the summer of 1717 to live as composer-in-residence at Canons, the newly constructed Middlesex estate of James Brydges, Earl of Carnarvon and soon to be Duke of Chandos. Among the most significant works composed there were eleven choral pieces called collectively the Chandos Anthems, and a Te Deum. Additionally, Handel completed two through-sung masques, one sacred (Esther) and one secular (Acis and Galatea).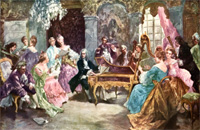 In 1719, he was sent as a scout to the European continent to recruit singers for the newly established Royal Academy of Music, intended to support Italian opera in London. Eventually, several renowned singers appeared in Academy operas, including the castrato Senesino, the tenor Francesco Borosini, and the sopranos Francesca Cuzzoni and Faustina Bordoni. Handel's first opera for this project, Radamisto, opened at the King's Theatre in April 1720. For a time, he had a rival in Giovanni Bononcini, who was also engaged at the Academy, but anti-Catholic sentiments following the Jacobite conspiracies soon cost the Italian composer some English support.

The Academy seasons featured numerous Handel operas: Ottone and Flavio in 1723, Giulio Cesare and Tamerlano in 1724, Rodelinda in 1725, Scipione and Alessandro in 1726, and Admeto in 1727. Many of these productions showcased Cuzzoni and Bordoni as rival sopranos, but by 1727 the pairing proved disastrous. When they and their supporters in the audience resorted to raucous catcalls and name-calling during a performance of Bononcini's Astianatte, the season was abruptly ended.




While writing for the Academy, Handel also composed music for the Chapel Royal, where he was given an official appointment in 1723. He wrote exercises for Princess Anne, and produced several sonatas and trio sonatas, possibly for private royal concerts.

George I died in June 1727 at Osnabrück in Germany. One of his last official acts had been to naturalize certain foreign employees, including Handel. Handel was commissioned to compose the music for George II's coronation service, obliging with four anthems: "Zadok the Priest," "My Heart is Inditing," "Let Thy Hand be Strengthened," and "The King Shall Rejoice." Of these, "Zadok the Priest" was the most successful. Handel's next three operas, Riccardo Primo, Re d'Inghilterra; Siroe; and Tolomeo, were successively less well received, and the end of London's Italian opera phenomenon was near. The triumph of John Gay's The Beggar's Opera cemented this decline.


Mixed Success in Opera

In the hopes of forming a new company, Handel returned to Germany in 1729 to look for singers. He also stopped in Halle to visit his mother, who died soon after. On his return, the success of The Beggar's Opera prompted Handel to write a lighter opera, Partenope, but this was not especially well received.

A London performance of Esther on Handel's forty-seventh birthday generated new interest in the oratorio as a form and in Handel's work in particular. In 1732, unauthorized performances of Handel's oratorio Esther and of the masque Acis and Galatea provoked him to respond with newly expanded versions of each. In 1733, he produced the opera Orlando and a new English oratorio, Deborah.

Shortly thereafter, he became the center of some political controversy, as his association with the King's government angered those who opposed it. Frederick, Prince of Wales, and his supporters backed a new opera company, the Opera of the Nobility, and stole away many of Handel's principal singers. Handel's own new venture suffered from the competition and the controversy. The rival company, which retained Nicola Porpora as chief composer, produced Porpora's Arianna in Naxo in 1733, and Handel retaliated with Arianna in Creta at the beginning of 1734. In the midst of this battle, Handel also found time to compose the successful serenata Parnasso in festa.

When Porpora's company took over the King's Theatre, Handel was able to move to a new theater at Covent Garden. There he produced Ariodante and Alcina in 1735 and Atalanta in 1736. Eventually the Opera of the Nobility failed, but by that time Handel was exhausted and unwell. He traveled to Aix-la-Chapelle (the French name for the German city of Aachen, then in common use) to recuperate.

Upon his return to London in the winter of 1737, he wrote Faramondo and Serse for performances at the King's Theatre. The ode Alexander's Feast was published in the spring of 1738, around the time that Louis Roubiliac was commissioned to create a marble statue of Handel for the Vauxhall gardens (public gardens created around 1661). The next opera season at the King's Theatre was thwarted by a lack of subscribers, and Handel began to turn in earnest toward oratorio as his primary genre. His last Italian operas included Imeneo, produced in 1740, and Deidamia, in 1741.


Oratorio Years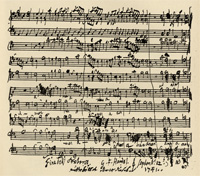 Between the end of 1741 and the summer of 1742, Handel was to present a number of oratorios and other choral works in Dublin. In preparation for this venture, he composed an oratorio, Messiah, on a text taken directly from scripture by Charles Jennens. Jennens had meant the work to be premiered in London during Passion Week. However, Handel completed the score very quickly before he left for Dublin, where Messiah had its first performance. It did not receive its London premiere until March of 1743.

The Dublin performance, on April 13, 1742, was at a charity concert, arranged to raise funds for a hospital, a charitable infirmary, and a debtor's prison. In the announcement appearing in the Dublin Journal before the performance, women were requested to attend "without Hoops" (as Christopher Hogwood relates), so as to allow room for more audience members. It was a critical success in Dublin, but its premiere in London the following year garnered less positive reactions. Handel initially presented Messiah in a series of oratorio concerts at Covent Garden, along with the more enthusiastically received Samson. The issue with the piece lay primarily in the performance of scriptural texts inside a theater, an objection tied to well-established anxieties in England over the religious appropriateness of theatrical pursuits.

Nevertheless, Handel revived his oratorio in subsequent years. Its performance at a 1750 event for the Foundling Hospital, of which Handel was shortly to be elected Governor, became an annual tradition. Today Messiah commonly receives annual performances, often during the Christmas season; though the work was originally associated with the Easter season, the text addresses scripture related to Christmas themes.


Other oratorios presented during Handel's annual Lenten performance series included Joseph and his Brethren and Belshazzar. A 1744 production (not staged) of Semele, a secular oratorio-like work with an English libretto, caused some new controversy. It was seen as a kind of half-oratorio, half-opera amalgam, unsatisfactory to those desiring either oratorio or opera.

Handel seems to have been unfazed by this disquiet, and went on to write other secular oratorios, such as Hercules (1744) and Judas Maccabeus (1746). The latter was composed for the victory, led by Prince William, Duke of Cumberland, over a second Jacobite revolt. It was given in April 1747 to much acclaim. The biblical oratorio Joshua and the more operatic oratorio Alexander followed in 1747. Susanna and Solomon debuted in 1749 and Theodora in 1750. Handel also provided music for the Chapel Royal's official thanksgiving service in 1749, for which he wrote the orchestral suite The Music for the Royal Fireworks.


Impaired Sight; Last Years

Handel traveled to Germany in the summer and fall of 1750, stopping also in the Dutch cities of The Hague and Haarlem. He was delayed by a carriage accident, but he soon recovered and returned to London. At the beginning of 1751 he began work on Jephtha, another oratorio, but was forced to stop when he found that his eyesight was deteriorating. He managed to complete Jephtha over the next year, and it was given early in 1752 as part of Handel's Lent concert series.

Over the next few years, as his eyesight worsened to the point of blindness, he was somewhat able to compose with the help of an assistant, John Christopher Smith. Mostly these years saw revivals of Handel's oratorios, with newly added arias or other movements, dictated to Smith or possibly composed by the younger man on Handel's themes.

For his 1759 oratorio season, he was able to revise and produce Solomon, performed in March, but by the time Messiah was given in April, he was seriously ill. He intended to journey to the southwestern English city of Bath to partake of its curative waters, but in the end he was unable to travel. After amending his will and speaking with several old friends, he died on Saturday, April 14, 1759. Though he had requested a private funeral, a very public one was given. A reported crowd of three thousand attended as he was buried at Westminster Abbey.

–Katherine Meizel


References:

Hicks, Anthony: 'Handel [Händel, Hendel], George Frideric [Georg Friederich]', Grove Music Online ed. L. Macy (Accessed 23 October 2005), <http://www.grovemusic.com>

Hogwood, Christopher. Handel. London: Thames and Hudson, 1984.