Alessandro Scarlatti
(1660-1725)
One of the best-known musicians of his day, Alessandro Scarlatti would have been all but forgotten after his death had he not fathered one of the most famous keyboard composers of the eighteenth century, Domenico Scarlatti. Nevertheless, the elder Scarlatti deserves to be appreciated for his own contributions. These include some of the most popular operas of his day, among them Gli equivoci nel sembiante (1679) and La Griselda (1721). Scarlatti's secular cantatas also merit recognition, as they are often considered the final flowering of the genre.


Childhood and Early Success in Rome

On May 2, 1660, Alessandro Scarlatti was born in Palermo to Pietro Scarlata (an older form of the family name) and Eleonora d'Amato. Pietro was a tenor, and Eleonora came from a musical family. In 1672 a devastating famine hit Palermo, and the family left for Rome. Pietro died before they left or soon thereafter, but Pietro's friend Marc' Antonio Sportonio offered them support, probably finding Alessandro an instructor with whom to continue his musical studies, which he had begun earlier.

On April 12, 1678, when he was only eighteen, Alessandro Scarlatti married a Roman girl named Antonia Maria Vittoria Anzaloni. The young couple lived in the palace of Gian Lorenzo Bernini, the great Baroque architect and sculptor. A Cosimo Scarlatti, possibly a relative, had been working for Bernini since 1660 and may have brought Alessandro to Bernini's notice. When Alessandro and Antonia had their first child, Pietro, on January 11, 1679, Filippo Bernini, son of Gian Lorenzo, was the godfather.

Scarlatti earned his first documented position, as maestro di capella (director of the chapel) at San Giacomo degli Incurabili, on December 16, 1678, just a few months after his marriage. Soon thereafter, his first opera, Gli equivoci nel sembiante, was performed privately. It could not be performed publicly, since Pope Innocent XI had closed down the theaters in 1676. Nevertheless, it was successful enough to be staged in several other cities, including Vienna, Naples, and Venice.

Scarlatti seems to have had a knack for finding prominent patrons: he wrote oratorios for the Duke of Paganica and set some of Cardinal Pamphili's poetry to music. His biggest coup, however, was becoming maestro di capella to Queen Christina of Sweden in or just before 1680. Queen Christina, who had converted to Catholicism and abdicated the Swedish throne, dominated Roman cultural life after she arrived in 1655.

In November 1682, Scarlatti accepted a position as maestro di cappella at San Girolamo della Carità. Around this time, he also attracted the attention of two important Neapolitan noblemen: the Duke of Maddaloni and the Marchese del Carpio (soon to become the viceroy of Naples). One or the other of them must have urged Scarlatti to leave Rome for the more exciting musical opportunities available in Naples. There, Scarlatti's operas could be performed publicly. He could also aspire to become maestro di capella of the Neapolitan royal chapel, since the incumbent maestro, Pietro Andrea Ziani, was in poor health.


Naples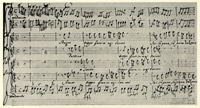 After Ziani died on February 12, 1684, Scarlatti was appointed maestro di cappella. However, from the moment they arrived in Naples, the composer and his family, including several of his brothers and sisters, faced problems. Neapolitan musicians were jealous of the newcomer who had won the best job in the city; some of them alleged that one of Scarlatti's sisters, a singer, had had an affair with a member of the Viceroy's court, a rumor which may have forced her to retreat (albeit temporarily) to a convent.

Scarlatti nonetheless enjoyed great success, musically speaking, but he also endured some financial difficulties. His operas were performed both at the royal palace and at the Teatro San Bartolomeo, and his cantatas were much in demand. He commanded large fees but quickly found them to be insufficient, having fathered another five children while in Naples. (Domenico Scarlatti was the first of these, born on October 26, 1685.) An additional problem was that Scarlatti's salary as maestro di cappella was reduced when a new viceroy, the Marchese di Villena, arrived. Furthermore, his fees were often paid late.

Scarlatti visited Rome occasionally during his time in Naples. When Pope Innocent XI died and Pope Alexander VIII was installed, Scarlatti found the situation in the papal city to be somewhat more welcoming. Queen Christina had died recently, but Scarlatti cultivated new patrons, the most important of whom was Cardinal Pietro Ottoboni. In 1690, Scarlatti even managed to have an opera performed publicly in Rome.

There was also interest in Scarlatti from other quarters, notably Florence. In 1688, Ferdinando de' Medici, crown prince of Tuscany, sent Scarlatti a libretto to be set to music. The prince was pleased with the results but did not offer Scarlatti a permanent post, as Scarlatti seems to have hoped.

Scarlatti worked at cultivating the musical abilities of his large family. Pietro, the oldest son, also became a composer, and it was clear that Domenico, although young, was remarkably talented. Scarlatti's daughters were gifted singers, but he only allowed them to sing in private concerts, not on the public stage.

Growing frustrated with Naples, and perhaps also feeling threatened by the outbreak of the War of the Spanish Succession in 1701, Scarlatti decided to undertake a trip to Florence and Rome, partly so that he himself could find a new position and partly so that his children could find patrons. Because the new king of Spain, Philip V, was about to visit, however, the viceroy would not allow them to leave. When the king visited in early 1702, Scarlatti entertained him with a serenata (Clori, Dorino e Amore) and an opera (Tiberio Imperatore d'Oriente).


Florence and Rome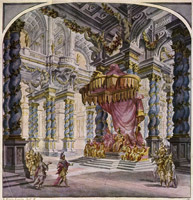 The trip to Florence and Rome was undertaken after Philip's departure. Things in Florence did not go well: Ferdinando de' Medici was not willing to offer Scarlatti a position. Rome seemed more promising, and Scarlatti decided to move there even without a guaranteed income. He wrote to Naples to resign his post, but the viceroy refused, allowing him instead to stay away for two months longer. Scarlatti did not respond to this message, yet the viceroy waited another seven months before deciding to replace the absentee maestro di cappella. Domenico, meanwhile, had returned to Naples on time.

Unfortunately, Scarlatti had misjudged Rome. Pope Clement XI did not allow opera, and Scarlatti could only win a modest position as assistant to the maestro di cappella at the Congregazione dell'Oratorio di San Filippo Neri. This work began on January 9, 1703. At the end of that year, he also became the assistant to the director of the choir at Santa Maria Maggiore. Scarlatti seems not to have been happy in either post, performing his duties to the minimum extent possible. This attitude led to an ultimatum from Cardinal Ottoboni, who had helped win Scarlatti the job, and Scarlatti's resignation from San Filippo Neri in May 1705.

While Scarlatti was unable to write operas for Rome, he did produce several for Ferdinando de' Medici between 1702 and 1706. Ferdinando, however, wanted the operas to be in a more "cheerful," popular style, as they were for a public theater rather than courtly entertainments. Scarlatti said that he was willing to rewrite the operas to please his patron, but the prince ultimately decided not to award Scarlatti the commission for 1707.


Travels to Venice and Urbino

Scarlatti still had hopes that Ferdinando de' Medici would do something, if not for him, then for Domenico. He sent Domenico to Florence, but nothing materialized other than a recommendation to a Venetian nobleman.

Scarlatti had also decided to take a leave from Santa Maria Maggiore and to visit Venice himself, as there was no better place for an opera composer in all of Europe. With the help of his patron Ottoboni, Scarlatti managed to have two operas staged at the theater of San Giovanni Grisostomo, Il trionfo della libertà and Il Mitridate Eupatore. Neither was particularly successful, however.

Scarlatti set off for Rome once again, stopping at Urbino to visit his son Pietro. While there, Scarlatti asked Ferdinando de' Medici for help once more. According to his letter, his financial situation was desperate. Ferdinando offered sympathy but no concrete assistance.


Temporary Return to Rome

While Scarlatti was in Urbino, Antonio Foggia, the maestro di cappella at Santa Maria Maggiore, died, giving Scarlatti the opportunity for advancement. Given Scarlatti's previous laxity in performing his duties, the chaplains of the church were unwilling to promote him. With the help of Ottoboni, however, Scarlatti was granted the post. He returned to Rome in December 1707.

Once again, Scarlatti found himself disappointed by the opportunities available in the city. He had a few private commissions and the position at Santa Maria Maggiore, but the income was nowhere near sufficient for his needs. He must have regretted leaving his prestigious post in Naples when, unexpectedly, it seemed that he might have a chance to reclaim it.

Cardinal Vincenzo Grimani, Austrian ambassador to the Vatican, had enabled Austria to take over Naples through diplomacy rather than war on July 7, 1708. Three months later, Scarlatti wrote him, claiming that he had abandoned the royal chapel in Naples because of threats against his life. Grimani, a music lover eager to outdo the Roman nobility, seized the opportunity to take Scarlatti back.


Return to Naples

Grimani granted Scarlatti a salary equivalent to that he had earned under the first viceroy, and found a position as an organist for Pietro Scarlatti. Even though Scarlatti had only been away from Naples for five years, the musical atmosphere had changed: comic operas in Neapolitan dialect, not the serious operas in which Scarlatti specialized, were all the rage. Scarlatti did not attempt to keep up with this trend, choosing instead to compose his usual serious operas, serenatas, and cantatas. He also continued to write sacred music.

In 1718, however, Scarlatti decided to try comic opera, albeit not in the Neapolitan dialect. For the Teatro dei Fiorentini, he wrote Il trionfo dell'onore, which was musically similar to his serious operas. He wrote his last opera for Naples, Il Cambise, the following year.

After 1719, Scarlatti continued to spend most of his time in Naples, but he wrote all of his operas for Rome. The papacy no longer frowned upon opera; in fact, Pope Clement XI even awarded Scarlatti the title of "cavaliere" (knight) in 1716. His Roman operas include Il Telemaco (1718), Marco Attilio Regolo (1719), and his last, La Griselda (1721).

Scarlatti had written about 115 operas, at least 600 cantatas, and many important works of sacred vocal music. Even though he had achieved fame and respect, his last years were marked by financial difficulties. Ten days before he died, he wrote to the viceroy and begged him to pay his salary, which had been withheld for four months. He died on October 22, 1725, leaving his family in poverty.


References:

Pagano, Roberto, and Malcolm Boyd: 'Scarlatti: (1) (Pietro) Alessandro (Gaspare) Scarlatti', Grove Music Online ed. L. Macy (Accessed 24 April 2006), <http://www.grovemusic.com.>

Vidali, Carole F. Alessandro and Domenico Scarlatti: A Guide to Research. Garland Composer Resource Manuals 34. New York: Garland Publishing, 1993.