Suggested
Listening

W.A. Mozart: Cosi Fan Tutti


Mozart Concert Arias with Edita Gruberova


Don Giovanni / Dawson, Ainsley, Finley, Halgrimson, Miles, A. Schmidt, Yurisich; Norrington [LIMITED EDITION] [ORIGINAL RECORDING REISSUED] [IMPORT]

Suggested
Reading

Mozart's Letters, Mozart's Life: Selected Letters


Mozart In Vienna 1781-1791 by Volkmar Braunbehrens


The Cultural Context of Mozart's Magic Flute by Judith A. Eckelmeyer

Wolfgang Amadeus Mozart
(1756-91)
Mozart's death has long been a source of rampant speculation. The most widespread story is that Mozart was poisoned by his rival, composer Antonio Salieri, but there is almost no evidence for this charge. The symptoms of Mozart's illness do not match those of any known poison, and the relationship between Mozart and Salieri was almost always a friendly one. The main evidence against Salieri is his own testimony when he lay dying in 1825, but he was suffering from senility and bouts of delirium at the time and accused himself of many unlikely crimes. In his lucid moments, Salieri vehemently denied harming Mozart.
The Wunderkind

Mozart was born in Salzburg, then part of the Austro-Hungarian Empire, on January 27, 1756. He was christened Joannes Chrysostomus Wolfgangus Theophilus, though the fourth of these names is now more familiar to us in its Latin translation, "Amadeus." Mozart's father, Leopold, was himself an accomplished composer and musician in the court of the Archbishop of Salzburg, and very early on noticed Wolfgang's talent for music. Clavier lessons with Leopold began at the age of three, and the boy's first compositions date from 1761, at the age of five.

Wolfgang began his famously prodigious career when his parents took him, along with Wolfgang's older sister Maria Anna, known as Nannerl, on a succession of concert tours throughout Europe, beginning in 1762. At the performances both children played the harpsichord and the young Mozart also played the violin. These first expeditions took the family to Munich and Vienna, and over the next few years the Wunderkinder were also heard at the courts of France, England, Holland, Italy, and Switzerland. Along the way, the young Mozart brushed elbows with Europe's most renowned musicians and its highest nobility. In Vienna, Wolfgang had the occasion to play at the Imperial court, where, at the age of seven, he is said to have proposed marriage to the little archduchess who was later known more infamously as Marie Antoinette.

On his travels Mozart was exposed to a great range of current Western European musical forms and styles. In between these tours Leopold continued his son's musical education. With his father's supervision, Wolfgang supplemented his talents at the keyboard with new and remarkable skills as a violinist and organist, and also began serious efforts in composition. A set of clavier sonatas, written in 1764, was published in London the following year. Shortly thereafter he completed his first two symphonies.

During a visit to Vienna in 1768, the Emperor Joseph II suggested that Mozart compose and conduct an opera. The result was the comic opera La Finta Semplice (The Feigned Simpleton), but unfortunately it was not staged in Vienna. The reasons for not staging the opera included the fact that performers resented that the work was written by a child and further, there were misgivings about the authenticity of the work. Thus Leopold was advised not to have the work debuted, otherwise the young Mozart might have faced an unfriendly audience. When the composer was twelve, he did manage to stage his little Singspiel, titled Bastien und Bastienne, in the private Viennese theater of Dr. Franz Anton Mesmer. This was a one-act work based on Jean-Jacques Rousseau's pastoral opera Le Devin du Village (1752).

Multiple trips to Italy between 1769 and 1773 deepened Mozart's understanding of Italian musical forms, and his further efforts included the three successful operas Mitridate, rè di Ponto, Ascanio in Alba, and Lucio Silla, produced in Milan. In addition, there were also several symphonies and a Divertimento for Wind Ensemble (K.166). A subsequent return to Vienna similarly advanced his attraction to German forms, in particular the string quartet as epitomized in the works of Franz Josef Haydn.


Searching for Employment

Between 1774 and 1777, Mozart maintained a position as violinist and Konzertmeister with the Prince-Archbishop Colloredo's court at home in Salzburg. During this time he wrote his first important piano concerto, no. 9 in E-flat (K. 271), several violin concertos, masses, and symphonies, and traveled to Munich for the production of his opera La Finta Giardiniera. In 1777 Leopold and Wolfgang had a disagreement with the Archbishop regarding the musicians' plans to travel in order to facilitate the younger composer's career. In the end, Wolfgang left the Archbishop's service, and embarked upon a quest to find solid employment elsewhere. His mother accompanied him this time, stopping in Munich and then in Mannheim. Though his performances were well received, and he was able to acquire several students, none of these efforts led to a long-term position anywhere.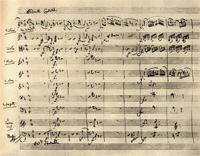 In spite of this disappointment, however, Mozart postponed plans to go on to Paris in early 1778 when he fell in love with the young singer Aloysia Weber. As he taught her singing, he became close to her family as well, and was anxious to alleviate their miserable financial situation. Hoping to promote Aloysia's talent, he intended to write an opera for her and to travel with the Webers to Italy. In the end, however, he deferred to Leopold's insistence that he continue on to Paris as previously planned. The older Mozart had been horrified by what his son had proposed in a fervent letter in early February and thoroughly chastised Wolfgang for entertaining such romantic and rash notions.

By late March Mozart and his mother were in Paris. There he wrote the Concerto for Flute and Harp (K. 299) for the Duc de Guines and his daughter, taught a few pupils, and composed his "Paris" Symphony (K. 297). But in Paris, as in Mannheim, he was unable to secure any steady employment. Then, in July, Mozart's mother fell gravely ill and died. Unable to bring himself to give his father the terrible news, he wrote a letter informing Leopold only of the illness, but not of its fatal result. In another letter the same night, he begged a friend to prepare his father for the news of Madame Mozart's death, and nearly a week later at last told his father what had happened.

Mozart finally returned to Salzburg in the beginning of 1779, when he was twenty-three, to again take up a position as Konzertmeister and organist. Theatrical companies in Salzburg at the time seem to have provided him with some inspiration, and he worked on two operatic pieces-- redressing his 1773 composition Thamos, and beginning the unfinished piece now called Zaide-- for the impresario and actor Emanuel Schikaneder. His friendship and collaboration with Schikaneder continued until the end of his life. In Salzburg Mozart also completed his "Coronation" Mass, two more symphonies, the Sinfonia Concertante for Violin and Viola, and a concerto for two pianos.


Vienna

Through the efforts of friends, Mozart was commissioned to write an opera for the 1781 Carnival in Munich. Idomeneo, rè di Creta premiered in Munich at the end of January, to strong public approval. It is this opera that is often considered to be Mozart's first truly mature work for the stage.

Soon after this success, Mozart was summoned to join the Archbishop Colloredo in Vienna. For a time, this situation acutely restricted the composer's professional mobility, as he was limited by his employer to performing only at the Archbishop's own private concerts. Though bitterly unhappy with this arrangement, Mozart endured through the beginning of May. Then, after a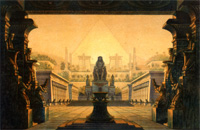 vicious quarrel with the Archbishop, he attempted to resign and was summarily ejected from the household. He found refuge in the home of his old friends, the Webers, now living in Vienna.

Mozart's break with the Salzburg court, his decision to stay in Vienna, and his insistence on living with the Webers all led to a change in his relationship with his father. Whereas he had formerly abandoned plans involving the Weber family at his father's insistence, he now disregarded Leopold's increasing concern about his situation. After the patriarch of the Weber family died, Mozart obtained room and board from the mother, Cäcilia, and three of her daughters (Aloysia, the former object of Mozart's affections, had recently married and left her mother's house). This left Mozart living with a widow and her three unmarried daughters, and the gossip quickly reached Salzburg. Leopold demanded that his son find other lodgings, but Mozart refused, that is, until he and Aloysia's nineteen-year-old sister Constanze Weber began to consider marriage. At this point Mozart procured his own apartment, not far from the Webers' residence. The marriage had to wait, however, until Mozart was paid for his Turkish-themed opera Die Entführung aus dem Serail (The Abduction from the Seraglio), and so did not take place until August 4, 1782.

In his first years in Vienna, Mozart was mostly employed as a concert pianist, though he also continued to teach. A well-publicized virtuoso competition with the Italian-born English composer Muzio Clementi in 1781 was arranged by the Emperor Joseph II, and earned Mozart some badly-needed income. He returned to Salzburg in the summer of 1783 for a performance of a new mass, with Constanze singing the soprano part. Relations with his father were somewhat repaired during this visit and during Leopold's reciprocal trip to Vienna in 1785. Mozart's works were earning him widespread acclaim at this point, and Haydn himself, upon hearing a set of Mozart's quartets, told Leopold that his son was the greatest composer he knew. Honored by this praise, Mozart dedicated the quartets to Haydn.

Around this time Mozart and Imperial court composer Antonio Salieri were commissioned to write short pieces for a celebration, and Mozart's contribution was the one-act comedy Der Schauspieldirektor. In addition, a performance of Idomeneo attracted attention and brought about one of Mozart's most significant collaborations. The dramatist Lorenzo da Ponte suggested to the composer that they adapt Pierre-Augustin Caron de Beaumarchais' play Le Mariage de Figaro. The Emperor Joseph II reluctantly granted permission, apprehensive about the play's political insinuations. In spite of such concerns, Le Nozze di Figaro opened in triumph on May 1, 1786.

Soon after, Mozart at last received an official post, as Imperial Kammerkompositeur, but this was almost an honorary position and did not provide a generous salary. Deeply in debt, Mozart had nearly made up his mind to leave for England, when he was invited to go to Prague for another production of Le Nozze di Figaro. Prague had been taken with Figaro fever, and Mozart was much lauded during his visit. He was pleased to accept a commission for another opera there, and went to da Ponte again for the libretto. He had most of this commissioned work, Don Giovanni, completed by his return to Prague in September 1787. Difficulties with the theatrical company postponed the premiere, but, when it finally opened, the opera was a smashing success.

Even so, at thirty-one, with an often unwell wife and persistent financial worries, Mozart was suffering. His father's death in 1787 compounded the bleak conditions. To pay his debts, he had to appeal to his friends and patrons for loans while he continued to write prolifically; compositions from this time include his last three symphonies. A brief tour of prominent German cities in 1789 did nothing to relieve his situation. Finally, after a revival of Figaro in Vienna, the Emperor requested a new opera, and the Mozart-da Ponte team obliged with Così Fan Tutte. It was staged in 1790, but the production was interrupted by Joseph II's illness and eventual death.


The Magic Flute, Requiem, and Mozart's Death

Changes at the Imperial court were not favorable for Mozart, as his Imperial benefactor had been replaced by a ruler with little interest in opera. However, Mozart's friend Emanuel Schikaneder, now running a theatrical company outside of Vienna, asked the composer to collaborate on a Singspiel for which he had written a libretto. This was Die Zauberflöte (The Magic Flute). Mozart was also approached to write an opera for the coronation of the new Emperor (Leopold II) as King of Bohemia. This opera, La Clemenza di Tito, experienced difficulties at its premiere in Prague, among which were the fact that Mozart was ill and the opera was not wholly completed until the night before its first performance. It was not immediately successful, though later it earned public favor. Die Zauberflöte, on the other hand, was an instant sensation when it debuted on September 30, 1791.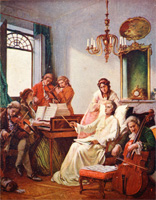 The commission of Mozart's final work, the Requiem, is surrounded by a great deal of mythology. Legend holds that the request was presented anonymously, but it was in fact made by Count Franz von Walsegg-Stuppach, in memory of his recently departed wife. Mozart had not finished his work on the Requiem when he became ill in November 1791. As his condition worsened, he explained to his student and assistant Franz Süssmayr precisely how the work should be finished.



Early on December 5, fifteen days after he first took to his bed, Mozart died at the age of thirty-five. Despite centuries of speculation and poisoning theories, it is now widely believed that the composer died from an attack of rheumatic fever. It seems that he was buried in a common grave, following Viennese custom as set forth by Joseph II during his reign. Mozart left behind his wife, Constanze, who eventually remarried, two surviving sons, and over six hundred compositions.


References:

Braunbehrens, Volkmar. Mozart in Vienna, 1781-1791. Trans. Timothy Bell. New York: Harper Perennial, 1990.

Eisen, Cliff, Eva Rieger, Stanley Sadie, Rudolph Angermuller, C.B. Oldman, and William Stafford: '(Johann Chrysostom) Wolfgang Amadeus Mozart', Grove Music Online ed. L. Macy (Accessed 9 September 2005), <http://www.grovemusic.com>

Mersmann, Hans, ed. Letters of Wolfgang Amadeus Mozart. New York: Dover, 1972.