Antonio Salieri
(1750-1825)
Much has been made of the supposed rivalry between Mozart and Salieri, particularly since the production of Peter Shaffer's stage play Amadeus and the subsequent Academy Award winning film. However, if such an intense rivalry did indeed exist it probably only served to drive a healthy output of compositions from the two men. There is no evidence, for instance, that Salieri poisoned Mozart or that he regularly tried to sabotage his career. Salieri was in fact a respected and successful composer in his own right. It is interesting to note that during his tenure as Hofkapellmeister at the Hapsburg court, Salieri regularly programmed masses that were written by Mozart. He also served as a pallbearer at Mozart's funeral.


Youth and Early Career

Antonio Salieri was born near Verona in Legnago, Italy on August 18, 1750. His brother and a local organist provided his early musical education. Sometime around 1765, after both of his parents had died, Salieri traveled to Venice where he continued his music studies. One year later he met the Viennese-based composer Florian Leopold Gassmann who immediately recognized Salieri's talent and who urged him to move to Vienna where he could further his music education under Gassmann's guidance.

In Vienna Salieri learned not only from Gassmann, but also from the Italian poet and librettist Pietro Metastasio and from the Bohemian-born composer Christoph Willibald Gluck. Known for being politically savvy, Salieri benefited both from their tutelage and from his connections to them and the Hapsburg emperor, Joseph II. With the support of these men, Salieri was easily able to have his operas staged and to find prestigious positions within the court structure. The first opera that he completed was Le donne letterrate (1769), an opera buffa. Two years later he turned to the composition of serious opera and wrote Armida.


Imperial Appointment in Vienna and Success in Italy

With Gassmann's death in 1774, Salieri found himself in the honored position of Kammerkomponist for the Viennese imperial court. His duties included composing, conducting and serving as music director for Italian opera in Vienna. The appointment was made directly by Emperor Joseph II who actively promoted Salieri's career.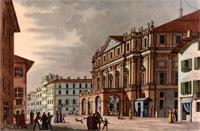 During the mid-1770s, Salieri was paired with Giovanni de Gamerra, the court appointed theater poet, and they collaborated on several operas. Their efforts did not result in any popular successes and, at the same time, the court theaters began to focus on spoken drama.

As Salieri had fewer opportunities to compose opera in Vienna, he turned to composing for Italian theaters. From 1778 to 1780 his works opened in Milan, Venice and Rome. Almost all of these operas were comic and the most successful was La scuola de' gelosi (1779), the libretto of which had been provided by Caterino Mazzolà. This opera brought him fame throughout Europe. Interestingly, from the operas of this period, the single serious opera that he wrote, L'Europa riconosciuta, was commissioned for the opening of La Scala.

While Salieri was engaged in writing for Italian theaters, in Vienna there was an attempt to promote a specifically German style of music theater; this official program began in 1776. Resulting from this project was the increased production of Singspiel. Salieri himself wrote Der Rauchfangkehrer in 1781 in response to a request by Joseph II. Overall however, this project to forward German theater was not successful and it was ended in 1783.


Composing for Paris and Italian Opera in Vienna

Just prior to that however, in 1782 Salieri assumed responsibility for a work originally intended to be written by Gluck. Gluck, who was ailing, could not fulfill a commission for the Paris Opéra and called on Salieri to compose the opera. Salieri's style as a composer of serious opera was considered similar to that of Gluck. As such, he was readily accepted in Paris since at that time Gluck's style was the preferred one.

This opera, Les Danaïdes, was staged in 1784 and its popularity prompted the Paris Opéra to commission two more works from Salieri. The first of these was not well-received but the second, Les Horaces, was. It was the third that he wrote, however, that was considered a great achievement at the time. This work was Tarare (1787) and was on a libretto by Pierre Augustin Beaumarchais. Tarare reflected the prevailing spirit of pre-Revolutionary France, in that its plot concerned the justifiable overthrow of a king, which therefore very much engaged French audiences, who in just two years were to be fully embroiled in the French Revolution.

When Joseph II replaced his German troupe with one that concentrated on Italian comic opera in 1783, Salieri's revision of La scuola de' gelosi was the premiere work. From 1784 on, the composer was occupied with writing comic operas at the Burgtheater in Vienna. His contemporaries, such as Giovanni Paisiello and W.A. Mozart, were also commissioned by Joseph II to write comic operas. The house librettist at the time was Lorenzo Da Ponte. There is evidence that Salieri's guidance of Da Ponte on his first libretto, Il ricco d'un giorno, for which the composer required extensive revisions, shaped the young librettist and honed his talents.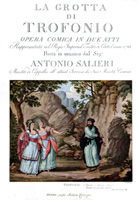 In 1787 Salieri revised Tarare for the court in Vienna. Lorenzo Da Ponte reworked the original piece so that it only loosely followed Beaumarchais's plot; in general, the revisions toned down the political allegory of the libretto in its first incarnation. The first performance took place in 1788. Like the work that inspired it, and despite the substantial alterations, this work, now titled Axur re d'Ormus, was just as successful with its audience in Vienna. What Salieri effectively managed to compose was drama tragicomico that defied being classified as any of the eighteenth-century music styles (it combined elements of opera buffa, tragédie lyrique, and opera seria). Also in 1787, Gluck died and Salieri, being both respected and well connected, conducted Gluck's work De profundis (Out of the Depths) for his funeral.


Final Years in Vienna

In his final years, Salieri served as Hofkapellmeister for the Hapsburg court. Appointed by Joseph II, he devoted most of his time to managing the court chapel and to writing sacred music for services. The 1790s brought about other significant changes in his life. Emperor Joseph II, his long-time patron, died in 1790 and was succeeded by Leopold II. After the death of Joseph II, it appears that Salieri requested to have less responsibility in terms of rehearsing and conducting the opera at court. In lieu of performing these duties, he instead agreed to compose a new opera every year; the last one he wrote was Die Neger in 1804.

Along with his duties at the court chapel, in his later years Salieri was sought after as a teacher of both singers and composers. He was particularly adept at coaching coloratura sopranos and his students included the famed Catarina Cavalieri. Among his composition students were Ludwig van Beethoven, Franz Schubert, Franz Liszt, and Carl Czerny. Having enjoyed a long and distinguished career, Salieri died in Vienna on May 7, 1825.


References:

Anthony, James R. "Opéra-ballet and Related Genres." History of Opera. Ed. Stanley Sadie. New York: W.W. Norton, 1989. 112-14.

Borowitz, Albert I. "Salieri and the 'Murder' of Mozart." The Musical Quarterly 59.2 (1973): 268-79.

Donnington, Robert. The Opera. San Diego: Harcourt Brace Jovanovich, 1978.

Freeman, John W. "The Real Salieri." Opera News 62.14 (1998): 26-8.

Schatkin, Jane Hettrick and John A. Rice: 'Salieri, Antonio', Grove Music Online ed. L. Macy (Accessed 8 December 2005), <http://www.grovemusic.com>

Stolba, K Marie. The Development of Western Music: A History. Dubuque, IA: Wm. C. Brown Publishers, 1990.