Carl Maria von Weber
(1786-1826)
Known for such operas as Die Freischütz and Oberon, Carl Maria von Weber was one of the first composers to create German operas with lasting appeal and influence. Richard Wagner considered Weber's works an important forebear of his own music dramas. In fact, he once said, "If I had never had the experience of Weber's things, I believe I should never have become a musician." Showing his respect for the older composer, Wagner helped arrange for Weber's remains to be brought from London to Dresden, where Weber was reinterred in 1844.


Childhood, Music and Printing Studies


Weber was born in 1786 in Eutin, Germany. While his precise birth date is uncertain, he celebrated it variously as December 18 and November 19. He switched to the November date as an adult when he discovered records indicating that his baptism had occurred on November 20.

The Webers were an exceptionally musical family. Among his first cousins, Weber counted the talented sisters Aloysia and Constanze Weber, singers who were the first love and eventual wife, respectively, of Wolfgang Amadeus Mozart. Weber's father, Franz Anton, alternated between careers in music and imperial service. He had been employed as an opera director in Mannheim, a soldier, a financial counselor to the Elector of Cologne in Hildesheim, a Kapellmeister (music director) in Eutin, and a violinist, composer, and conductor in Lübeck.

When Weber was born, Franz Anton was working in Eutin. The following year, however, the father took Weber's mother Genovefa, Weber, and four of his other children on tour as the Weberschen Schauspielergesellschaft, or the Weber Theatrical (Actor's) Company. The other four children were from Franz Anton's previous marriage to Maria Anna von Fumetti, who had died two years prior to his second marriage.

Franz Anton saw in his young son the opportunity to mold a great musician, and Weber's education began early and was aggressively undertaken. His first music teacher was his older half-brother, Fridolin. In 1796, when Genovefa's ill health required the family to settle in Hildburghausen for a while, Franz Anton secured lessons for his son with Meiningen musician Johann Peter Heuschkel. Heuschkel provided Weber with instruction in piano, music theory, and composition, setting a solid groundwork for the future composer's art.

After a year, the family moved again, this time to Salzburg. There the Weber family theatrical business was unsuccessful, and Genovefa died in 1798. However, Weber had by then made significant progress toward fulfilling his father's dreams, becoming a chorister and student of Michael Haydn (brother of Joseph Haydn). Soon after Genofeva's death, Franz Anton took his family to Munich, where Weber studied piano and composition with the German composer and organist Johann Nepomuk Kalcher. He also took voice lessons with a renowned German singer, Johann Evangelist Wallishauser (known during his performing career as Giovanni Valesi).

Franz Anton wanted his son's early compositions published. When the first operatic endeavor, Die Macht der Liebe und des Weins, was rejected for publication, he insisted that Weber learn to print his own compositions. This education was accomplished in the studio of the printer Alois Senefelder, where, unfortunately, a fire soon destroyed Weber's early works.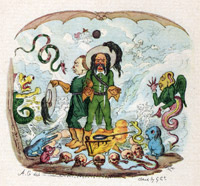 Continued Studies and Early Performances

By 1800, the Webers were based in Freiberg, although they still traveled to promote the young Weber's prodigious talent at the piano. In Freiberg, he made the acquaintance of a theater impresario, the Chevalier von Steinsberg, who commissioned the fourteen-year-old Weber to set an opera libretto called Das stumme Waldmädchen (The Mute Forest-Maid). It was presented at Chemnitz and Freiberg, and its unenthusiastic reception was mitigated only by reviews noting the composer's clear potential. However, despite its inauspicious beginnings, the opera was soon staged in Vienna, St. Petersburg, and Prague (in a Czech version).

Returning to Salzburg, Weber produced another opera, the Singspiel Peter Schmoll und seine Nachbarn (Peter Schmoll and his Neighbors), and the four-hand piano work Six Petites Pièces à quatre mains (Six Little Pieces for Four Hands). The latter was published by Gombart of Augsburg, where the family stopped next. Weber's half-brother Edmund conducted a theatrical orchestra there, and undertook the staging of Peter Schmoll. While waiting for the theater to start work on the opera, the Webers traveled around northern Germany. In Hamburg, Weber wrote his first songs, including "Die Kerze" (The Candle).

After Peter Schmoll was less than successfully premiered in 1803, Weber went on to Vienna for studies with Abbé Vogler, who also taught the composer Giacomo Meyerbeer. Weber produced a piano arrangement of Vogler's opera Samori and wrote piano variations on music from two of his teacher's other operas. Around this time, the young Weber is said to have experienced his first love affair, memorialized in his song "Jüngst sass ich am Grabe der Trauten allein" (Recently I Sat at the Beloved's Grave Alone).


Breslau

In the summer of 1804, at the age of eighteen, Weber arrived in the Prussian city of Breslau to take up a position as conductor at the opera house. During the two years he spent there, he conducted a number of operas by Viennese composers, as well as German-language productions of Italian and French works.

While he worked hard at his post and enjoyed the thriving nightlife of Breslau, Weber also composed his Overtura chinesa (Chinese Overture), a piece to which he returned later when he wrote music for Schiller's version of the play Turandot. He also completed, for a local flutist, a Romanza siciliana for orchestra and flute. He began an opera but never finished it.

At the Breslau Opera, Weber instituted a number of changes in order to improve the quality of the performances. Among these changes were the spatial rearrangement of the string section, the enlargement of the orchestra, and the programming of more demanding repertoire. In the face of bitter opposition to his ideas from other musicians and from the Breslau public, he stayed the course.

A near tragedy soon ended his work at the opera house and almost ended his life. An accidental ingestion of nitric acid, which Franz Anton used in his attempts as an engraver and had inadvertently left next to a bottle of wine, took a serious toll. After a friend found him unconscious, the composer was revived with the help of physicians. However, the combination of his long recovery, the loss of his singing voice, outstanding financial obligations, and the actions of some opportunistic opponents at the theater led to Weber's resignation. These troubles, along with the approaching Napoleonic conflicts, made another move prudent.


Financial and Legal Troubles in Stuttgart

From late 1806 to early 1807, Weber stayed in Karlsruhe at the palace of Duke Eugen Friedrich, who had been impressed with the composer upon seeing him play and conduct in Breslau. At Karlsruhe, Weber had time to produce Kleiner Tusch von zwanzig Trompeten (Fanfare for Twenty Trumpets) and Sechs Variationen für Alt-viola und Orchester (Six Variations for Viola and Orchestra), as well as his two symphonies, one of which was apparently intended to showcase the duke's accomplishments as an oboist. For the duke's wife, he composed a song, "Ich denke dein" (I Think of You), and for a horn player in the duke's orchestra, he composed a concertino.

After the duke was called to military duty against Napoleon, Weber, his father, and his aunt had to think yet again about relocating. The duke secured a position for Weber as secretary to his brother, Duke Ludwig, in residence at the Stuttgart court of another brother, King Friedrich of Württemberg. Weber did not take to his job at Stuttgart, neglecting it somewhat during the two and a half years he spent there and in Ludwigsburg, where the duke kept another home. Weber did, however, make some important acquaintances in Stuttgart, including the violinist and composer Louis Spohr, the Royal Opera's conductor Franz Danzi, and the librettist Franz Carl Hiemer. With Danzi's encouragement, Weber and Hiemer wrote an opera titled Sylvana, finished in 1810 and produced at the court opera. Danzi also helped Weber to procure commissions, such as the composition of music for Schiller's Turandot. Because of this support, Weber dedicated his cantata, Der erste Ton (The First Tone), to Danzi.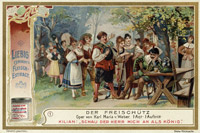 During this time, Weber's lifestyle, his romance with a singer named Margarethe Lang, and his father's own financial situation when he joined Weber in 1809, indebted Weber to an inextricable point. His borrowings in order to pay some of this debt resulted in a public scandal. Weber had borrowed from a man who hoped that Weber could help his son avoid military conscription by finding a position for him at the court, but when this did not occur and the son died at war, a complaint was registered. This complaint, which exposed the practice of monetary transaction in the evasion of military service, led to Weber's arrest in February 1810 during a rehearsal of Sylvana.

Both Weber and his father were tried in the king's court, and subsequently, the civil court. At the end of the month, the Webers were summarily banned from the kingdom of Württemberg and escorted to the border. This situation returned to haunt Weber about a year later, when he was arrested and briefly detained attempting to pass through Württemberg on his way from Munich to the town of Constance.


Travels, Years in Prague and Dresden

After their expulsion from Württemberg, Weber and his father spent a year in Mannheim, where the composer performed and taught. He then went on to Darmstadt alone to begin working once more with Vogler. Their warm relationship led the older composer to choose Weber as his biographer.

In Darmstadt, Weber completed his Piano Concerto in C major, two pieces for voice and orchestra (a rondo for soprano and a duet for two altos), and a group of cello variations with orchestra. Sylvana finally premiered in Frankfurt in the fall of 1810. Weber's next opera, Abu Hassan, set a libretto by Hiemer and was based on a story from The Arabian Nights. It was finished by the beginning of 1811 and opened in Munich, where Weber stayed in the spring and summer of that year.

Just before this event, Weber came across a collection of ghost stories that included one by the German writer Johann August Apel, entitled "Der Freischütz" (The Freeshooter). He made plans with a friend, the student Alexander von Dusch, for an opera on this story, but the project was temporarily set aside due to other concerns.

After the debut of Abu Hassan in Munich, Weber traveled to Switzerland for a festival given by the Helvetian Music Society, making concert stops in several cities following the festival. Upon his return to Munich, he embarked almost immediately on another concert tour of northern Germany.

In the spring and summer of 1812, Weber took some time in Berlin in order to secure a production of Sylvana at the Berlin Opera. He stayed with the parents of his friend Meyerbeer while he worked and waited. The opera's directors were initially uninterested in the young composer's work, but royal and public support soon changed their minds. After overcoming continuous criticism and undergoing a thorough revision, the opera was staged successfully. Sadly, it was at this time that Weber received news of his father's death.

Before leaving Berlin, Weber composed a piano sonata, op. 24, and four songs, op. 23, along with the piano score to Sylvana. A stay in Gotha yielded his Second Piano Concerto and several other works. After a successful concert at which he played the Concerto in E-flat major, Weber found himself in Prague at the beginning of 1813. Though he had hoped to make a journey to Italy at the time, he remained in Prague when he received the offer of a position as music director at the Estates Theater. The theater was to be entirely reorganized by Weber as the new director, so he went in March to Vienna to search for new singers and orchestral musicians. While in Prague, Weber also turned to music criticism, writing reviews in the Prager Zeitung.

The political events of 1814 and 1815, in which Napoleon was defeated and Germany was freed, inspired the first compositions that helped to establish Weber's reputation. These included the six patriotic songs for male chorus, op. 42, as well as the cantata Kampf und Sieg (Battle and Victory) in commemoration of the victory at Waterloo. Several of the pieces were written while he was on a health-related leave from his theatrical duties. Not only did he have to recover from illness but he had also received news of Vogler's death in May 1814 and endured the disintegration of his relationship with singer Therese Brunetti.

Weber was not lonely for long, however. One of the singers he had engaged for the reformulated opera company was a soprano named Caroline Brandt, who had debuted the title role in the Frankfurt premiere of Sylvana. Weber and Brandt began a troubled courtship, which endured a tentative engagement and a subsequent separation, but ultimately resulted in reconciliation by the end of 1815.


Dresden and Der Freischütz

Weber had been asked to participate in the creation of a new German-language opera company in Dresden, and he was based there from 1817 until 1821. His tenure was marred by the limited skills of the singers and by political difficulties owing to tensions between proponents of Italian opera and supporters of German opera. Weber felt strongly about the value of German opera, and he even went so far as to criticize (in print) his friend Meyerbeer for what he perceived as Rossinian musical characteristics in that composer's Emma di Resburgo. In spite of these troubles, Weber made great strides in Dresden.

After Weber and Caroline were married in November 1817, he began work on the opera he had planned years before with his friend Dusch. The librettist was the dramatist Friedrich Kind, and the result was Der Freischütz. Other work, illness, and family tragedy (the death of the Webers' infant daughter), postponed the opera's completion until May 1820. Another year passed before its premiere in Berlin. It was an instant success, heralded as a paragon of German opera. The opera, immediately added to the repertories of all major city companies, catapulted Weber into great national fame.

Following this success, the impresario Domenico Barbaia, at the Kärtnertortheater in Vienna, commissioned Weber to write a new opera. At the time, Weber was suffering from the tuberculosis that eventually killed him. He was also distracted by family obligations, as Caroline gave birth to a son, Max Maria, in April 1822. Nonetheless, he decided to set a libretto by Helmina von Chézy, titled Euryanthe. The opera opened in Vienna in October 1823, with the composer conducting. In general it earned mixed reviews, never attaining the wild popularity enjoyed by Der Freischütz.


Weber the Conductor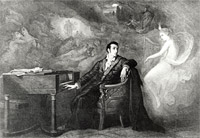 As Weber's health continued to deteriorate, he composed little but conducted many great works, including Haydn's The Seasons and Beethoven's Third Symphony. After traveling for a futile "cure" in Marienbad, and with Caroline expecting their second son, Alexander, Weber agreed to write an opera for the 1825 season of Covent Garden in London. His poor health delayed completion of the score, but he traveled alone to London in February 1826 to conduct the first performances of Oberon. Between his arrival in March and the opera's premiere on April 12, he finished the overture, the piano score, and two extra arias for the leading tenor.

Weber conducted a number of concerts in London. He also planned a concert of his own music to be held in May, and to that end wrote his last work, the Song of Nurmahal for soprano, with words from Thomas Moore's "Oriental romance" Lalla Rookh. It was received very well as Weber played it, but he collapsed after the performance.

When Weber's illness forced him to refuse prospects for a production of Der Freischütz in London, he made plans to return home. The day before he was to leave, however, he died. Weber was buried at St. Mary Moorfields Chapel with a grand funeral service during which Mozart's Requiem was sung.


References:

Spitta, Philipp, Joachim Veit, Thomas Bauman, Patricia Lewy Gidwitz, Jaohn Warrack, and Micael C. Tusa: 'Carl Maria (Friedrich Ernst) von Weber', Grove Music Online ed. L. Macy (Accessed 16 February 2006), <http://www.grovemusic.com>

Saunders, William. Weber. New York: Da Capo, 1970.

Wagner, Cosima. Cosima Wagner's Diaries. Ed. and Annot. Martin Gregor-Dellin and Dietrich Mack. Trans. and Intro. Geoffrey Skelton. 2 vols. New York: Harcourt Brace Jovanovich, 1978-80.