Franz Lehár
(1870-1948)
Franz Lehár's most famous work is undoubtedly Die lustige Witwe (The Merry Widow). This beloved operetta, a worldwide smash success, also provided Lehár's family with a measure of protection during World War II, when the composer remained in Vienna with his Jewish wife. Because of Hitler's great admiration for Lehár's works, particularly Die lustige Witwe, Sophie Lehár was spared deportation to a concentration camp. Despite such official intervention, however, Lehár's wife was hardly out of danger. At one point, she was nearly taken away by the Gestapo, but the raid was canceled after Lehár pleaded with a higher official to stop it. In case of such a deportation, however, Sophie nonetheless carried a cyanide capsule on her for the war's duration.


Youth

Franz Lehár was born on April 30, 1870 in Komáron, Hungary, then part of the Austro-Hungarian Empire. He was born one year after the marriage of his parents, Franz Lehár and Christine Neubrandt. His father was a horn player and a military bandmaster and, as such, while the family was originally from eastern Sudetenland, they moved frequently as his father's work demanded.

This work eventually brought them to Budapest in 1880, but the younger Franz did not accompany them there. Instead, in order to improve his German (at home primarily Hungarian was spoken), he went to Sternberg where his uncle was the town music director and played the violin in an orchestra.

At the age of twelve, Lehár began his formal musical education when he entered the Prague Conservatory. At the conservatory he studied violin and music theory and took private composition lessons. Among the people he met while in Prague and who provided him with some guidance was the Czech composer Antonín Dvořák.


Military Service and Early Music Career

His professional music career began in 1888 when he became a theater violinist in Barmen-Elberfeld in the German Rhineland. Not long after starting this position, he began his compulsory military service and, like his father, he served as a musician. His first assignment was as a member of the 50th Austrian infantry regiment band, of which his father was the bandmaster.

In 1890 he himself became a bandmaster and moved as his assignments dictated. At the same time he continued to compose and four years later his first opera, Kukuška, was produced in Leipzig. In anticipation of this production, Lehár left his position as a military bandmaster but returned to the post when the opera failed. After several more assignments, in 1899 he was appointed as the 26th infantry regiment bandmaster in Vienna.


In Vienna, his compositions, which mainly consisted of social dance forms and marches, earned him a measure of success. This was particularly true of his two waltzes Asklepios (1901) and Gold und Silber (1902). In 1902 he officially left military service and devoted himself to conducting and composing in Vienna.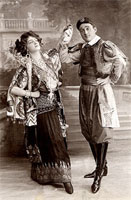 During these years his early operettas were first produced. Compositionally his major influences were Richard Strauss, Antonín Dvořák and Giacomo Puccini, with whom he was friends. In general, the main compositional forms that Lehár relied on in his operettas were social dances – particularly the waltz. Unlike many other operetta composers, Lehár orchestrated his own works and, as a violinist himself, he especially liked setting solo violin sequences.

While some of these early operettas succeeded, others failed. However, in 1905 he was asked to set Die lustige Witwe, and his setting subsequently brought him tremendous international success. It was so popular during those years that in Buenos Aires it played in five separate theaters at the same time. The international acclaim received by Lehár's operetta led to the overall increased popularity of the genre and Lehár's contemporaries Oscar Straus, Leo Fall and Emmerich Kálmán also enjoyed international success as composers of operetta.


Collaboration with Richard Tauber and Giudutta

Lehár's reputation as a well-liked composer continued in the years prior to World War I. In the 1909-10 season alone, three of his operettas were produced, two of which, Der Graf von Luxemburg and Zigeunerliebe, were particularly popular. However, after the war his popularity waned as new styles of music arrived from the American continent.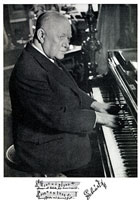 He managed to revive his career through his association with the tenor Richard Tauber, whose starring roles in Lehár's later operettas brought the composer renewed public acclaim. From their collaboration, Lehár's 1929 operetta Das Land des Lächelns was the most popular and included the beloved song "Dein is mein ganzes Herz." This operetta received its premiere in Berlin – Berlin had by this point supplanted Vienna as the center of operetta production.

At this same time, Lehár was also busy preparing his compositions for film and was working on his final work, Giuditta, which he began writing in 1928. This work was produced in 1934 at the Vienna Staatsoper and its production at an opera house may have represented two developments. First, that the border between operetta and opera was becoming increasingly ambiguous in terms of popular perception. And second, that Lehár, who had for years aspired to expand operetta to a form suitable for the opera house, had finally succeeded. Whatever the case, this operetta was his last and, in large part, due to the growing influence of musical theater, the genre was losing its preeminent position in the world of musical drama.

After the premiere of Giuditta, in 1935 Lehár turned his attention to the publishing house Glocken Verlag, which he founded in order to assume the rights of his compositions. He succeeded in gaining the rights to most of his works, with the notable exception of Die lustige Witwe, which was of course the most lucrative one.


The Post-War Years

During World War II Lehár remained in Vienna where he maintained a tenuous position under Nazi rule: his wife was Jewish but, at the same time, Hitler greatly admired Die lustige Witwe. Moreover, Lehár's conduct at the time was questionable. As he was an "Aryan" composer, his music was still played regularly, but his works' Jewish librettists were conveniently un-credited for their contributions. He continued to profit from performances of his works and sales of the music, as did the Reich. He even presented Hitler with a leather-bound souvenir of the fiftieth anniversary performance of the operetta.

While he may have cultivated such ties to the Nazis as a way of sparing his wife, nonetheless, after the war, these actions made him suspect in international circles; thus he chose to move to Zürich in 1946 with his wife. One year later his wife died. After her death he relocated to Bad Ischl where he died on October 24, 1948.


References:

Baker, David J. "The Merry Mogul: Franz Lehár Modernized Operetta with 'The Merry Widow' – and Created a Financial Empire for Himself." Opera News December 2000: 48-51.

Grout, Donald J. A History of Western Music. 7th edition. New York: W.W. Norton, 
2006.

Lamb, Andrew. 'Lehar, Franz', Grove Music Online ed. 
L. Macy (Accessed 25 August 2005) <http://www.grovemusic.com>

Sadie, Stanley, ed. A History of Opera. Basingstoke: Macmillan, 1989.

Stolba, K Marie. The Development of Western Music: A History. Dubuque, IA: Wm. C. 
Brown Publishers, 1990.

Traubner, Richard. "Widow's Peaks: A Century's Worth of Famous Hanna Glawaris." Opera News March 2000: 18-23.