Suggested
Listening

J.S. Bach: St. Matthew Passion / Rolfe Johnson, Bonney, von Otter, Chance, Crook; Gardiner

Suggested
Reading

Evening in the Palace of Reason: Bach Meets Frederick the Great in the Age of Enlightenment

J.S. Bach
(1685-1750)
No other composer in the history of Western music quite compares to Johann Sebastian Bach. With the sole exception of opera, he mastered every existing genre of music and helped create several new ones, such as the keyboard concerto. It is no wonder that contemporaries held him in such high esteem. Soon after his death, however, he was all but forgotten, regarded only as a writer of impenetrably difficult keyboard music and some useful exercises for students. It was left to later musicians, notably Mozart and Mendelssohn, to rediscover Bach.


Childhood

Born in Eisenach, Germany, on March 21, 1685, Johann Sebastian Bach was one of Johann Ambrosius Bach and Maria Elisabeth Lämmerhirt's eight children. Even before J. S. Bach's career began, the Bach family was well-known for its connection to music. In fact, people in and around Eisenach used "Bach" as a synonym for musician until the end of the eighteenth century. Johann Ambrosius had begun his musical career as a player in the Erfurt wind band but, after moving to Eisenach, had advanced to town music director.

Like Martin Luther, also an Eisenach native, Bach went to the Lateinschule (Latin School). The school offered a general education rather than a musical one. Little is known about Bach's early musical education, but it probably began with a member of his family. His father, who played violin as well as winds, presumably taught him how to play a stringed instrument. Bach is also believed to have sung soprano in the choir of St. Georg, where he had been baptized and where his relative Johann Christian Bach served as the organist. One notable deficiency at this stage of his musical development was his apparent inability to play a keyboard instrument; according to Bach's son Carl Philipp Emanuel, Bach learned keyboard after leaving Eisenach.

Bach's mother died in 1695, and about six months later his father married Barbara Margaretha Keul Bach Bartholomaei (among her two previous marriages was another Bach musician, Johann Günther). Three months after the wedding, on February 20, 1696, Bach's father died as well. Rather than staying with his stepmother, who apparently could not afford to support him, Bach was sent to live with his recently-married older brother, Johann Christoph Bach, who lived in Ohrdruf.

He and his brother Jacob attended the Lyceum in Ohrdruf, and Bach was first in his class for part of the time that he was there. Johann Christoph continued his younger brother's musical education, teaching him how to play (and presumably to repair) organs. He is not, however, believed to have taught Bach composition. There is a famous story about Bach copying a manuscript by moonlight and having it taken away from him by his brother. Bach thus probably taught himself how to compose around this time.


Final Years as a Student and Early Career

In 1700, when he was fifteen, Bach left the Lyceum and Ohrdruf. His departure probably took place because his brother had no room for him, having had three children since Bach's arrival. Bach went north, to Lüneburg, where he became a member of the choir at the Michaeliskirche (St. Michael's Church). This position gave him a small stipend and the right to continue his education for free at the Michaelisschule. Before long, his voice broke, causing him to sing and speak in octaves for eight days. Nevertheless, he continued at the church as an instrumentalist. Bach must certainly have learned from the church's cantor, August Braun, and organist, F. C. Morhard. In addition, very recent scholarship points to Bach having also studied with the composer Georg Böhm, organist of the Johanniskirche (St. John's Church).

Although he had very little money, Bach managed occasionally to visit Hamburg, where his cousin Johann Ernst was living. His visits gave him the opportunity to make the acquaintance of J. A. Reincken, organist of St. Katharinen. At that time, north German organ technique was more virtuosic than its southern counterpart and must have been intriguing for the young Bach. While in Hamburg, he may also have attended its famous opera, then under the direction of Reinhold Keiser.

It is not known exactly when Bach left Lüneberg, but in the summer of 1702, he won the audition to be organist of a church in Sängerhausen and was only prevented from taking the post because the patron, the Duke of Weissenfels, intervened in favor of another candidate (possibly because he considered Bach too young). By 1703, however, he had found another position at Weimar. His official post was a lowly one, but the court organist, Johann Effler, seems to have given Bach some of his own duties.

Testing the new organ at the Neue Kirche (today the Bach Kirche) in Arnstadt, Bach impressed his listeners, and he was offered the position of church organist on August 14, 1703. From this auspicious start, however, Bach's relationship with the town council (his official employers) deteriorated. On August 4, 1705, he was scolded for dueling with a bassoonist whose playing he had said reminded him of a nanny goat. Then, in October 1705, he asked for and was granted a month's leave to go to Lübeck in order to hear the great organist and composer Dietrich Buxtehude. Many have speculated that he, like fellow composers Johann Mattheson and G. F. Handel, hoped to succeed to Buxtehude's position. In order to do so, however, he would have had to agree to marry Buxtehude's thirty-year-old daughter. This condition appears to have deterred most would-be candidates.

In any case, Bach overstayed his leave by three months, resulting in an angry communiqué from the Arnstadt town council. They also complained about Bach's overly difficult chorale arrangements, his continued quarrels with the students, and his allowing a "stranger maiden" (still unknown) to sing in the choir loft. These issues were resolved by Bach's leaving Arnstadt for Mühlhausen on June 29, 1707.

That same year, Bach inherited some money from an uncle and was able to marry his cousin Maria Barbara Bach, who lived in Arnstadt. By the next year, Maria Barbara was pregnant, which is probably part of the reason that Bach switched jobs yet again. Another factor may have been the opposition of his own congregation and pastor to the type of music Bach cultivated. This time, he accepted a place in Weimar again, at the court of Duke Wilhelm Ernst, older brother of his previous Weimar employer. He asked the Mühlhausen council to accept his resignation on June 25,1708, and was in place as the Weimar court organist by July 14, 1708.

Whereas in his earlier church positions Bach had concentrated on composing cantatas, a large number of Bach's organ works seem to have been written while he was at Weimar. He also composed secular cantatas for the Duke's birthday and other such occasions. Bach's growing prestige can be seen by the fact that he had a steady stream of pupils during this time.

Bach's time in Weimar was further occupied by the fact that he and his wife had six children while there, including the future composers Wilhelm Friedemann and Carl Philipp Emanuel. Since the composer Georg Philipp Telemann stood as godfather to the latter, it is likely that Bach got to know Telemann during this time, while Telemann was working in Bach's nearby hometown of Eisenach.

Bach visited several other cities in order to inspect and repair organs, a task for which he was becoming quite well-known. In one case, that of Halle, this led to the offer of a permanent job. The salary was somewhat less than that at Weimar, but the organ on which he would play was a much more impressive one. The Halle search committee must have believed that he would accept the post, for they sent him a formal contract on December 14, 1713. He replied, however, that he had not been released from his service in Weimar, nor did he know whether the incidental fees in Halle would make up for the smaller salary. The Halle committee did not offer to increase his pay, so Bach approached the duke of Weimar and asked for a promotion, which he received on March 2, 1714. As court Konzertmeister, he was third in the hierarchy of court musicians.

Once Bach became Konzertmeister, he embarked upon a new project: composing sacred cantatas for every important event of the church calendar. Officially, he was only responsible for a new cantata every four weeks, but he apparently hoped to complete a cantata cycle within four years. However, he seems not to have produced any cantatas for almost the whole of 1716, and not a single cantata can be dated to 1717. This dry spell may be connected to the fact that he left Weimar in 1717. The duke seems to have tried to lure Telemann to Weimar (albeit unsuccessfully), and Bach may have gotten wind of this plan and refused to compose in consequence. At any rate, he found a new position with Prince Leopold of Cöthen on August 5, 1717. Duke Wilhelm, however, refused to let Bach go.

The situation did not come to a head until early November 1717. Bach must have demanded his release again, but Duke Wilhelm threw the composer into jail rather than grant it. Bach stayed in jail almost a month, from November 6 to December 2. When the sentence ended, he was finally dismissed from the duke's service.

Bach's new employer in Cöthen was a music lover who could sing and play violin, viola da gamba, and harpsichord. Bach must have been a highly valued member of the prince's entourage, for he was paid more than all other court officials except one. The court organ at Cöthen, however, was not in good shape. It is thus not surprising that Bach focused more on composing secular cantatas for court celebrations.

Bach also cultivated other patrons from time to time. One such nobleman, the Margrave of Brandenburg, was the recipient of Bach's Brandenburg Concertos. Despite the dedication, these six concertos seem to have been designed with the resources at Cöthen in mind. Bach never received payment or even thanks for these, probably because there were not enough musicians at the Brandenburg court to perform them.

In May 1720, Prince Leopold went to the renowned spa of Carlsbad, taking Bach with him. While Bach was away, his wife Maria Barbara died and was buried on July 7. Thereafter, he seems to have considered a change of scenery, namely the job at St. Jacobi in Hamburg, for which he was one of the leading candidates. Bach ended up refusing the position, however, possibly because he could not or did not want to pay four thousand marks to the church as the eventual appointee did.

Not long after his first wife died, Bach met his future second wife, Anna Magdalena Wilcke (or Wilken). Daughter of one trumpeter and sister of another, she was also employed by the court at Cöthen, either as a singer or as an instrumentalist of some sort (records differ). It is not known when Anna Magdalena arrived in Cöthen, but she must have been there by September 1721. She married Bach just three months later, on December 3, 1721.

This wedding was followed in December by the marriage of Prince Leopold and Princess Friderica of Sachsen-Anhalt. This was an unfortunate occurrence for Bach, since his employer's new wife was not interested in music. Bach probably began looking for a new position soon thereafter.

Six months after the prince's wedding, in June 1722, Bach's next opportunity arose. In Leipzig, the cantor of the town's most important school, the Thomasschule, had just died. The duties of the position included instructing the students in both vocal and instrumental music as well as directing the music of the city of Leipzig, principally the music of the city's four major churches. Despite the enormous responsibilities, the title of cantor was not as prestigious as that of Kapellmeister. An additional drawback was that the cantor had to teach the students Latin.

Several eminent musicians were interested in the job. At first, the town council appointed Telemann, who was so highly esteemed that the requirement to teach Latin was waived. Telemann's employers in Hamburg, however, did not give him permission to leave. The Leipzig council next chose Christoph Graupner, the Kapellmeister at Darmstadt and himself an alumnus of the Thomasschule. After getting a pay increase from Darmstadt, however, Graupner too declined the position.

The council was left to choose among three candidates it considered "mediocre": among these, it selected Bach. Bach accepted the position, although he stipulated that he would pay someone else to teach Latin in his place. He and his family moved to Leipzig on May 22, 1723.

Early Years in Leipzig

Bach's first years at Leipzig were largely spent composing cantatas for the church services he oversaw. He is said to have written five complete cycles for the church calendar, with each cycle consisting of about sixty cantatas. Only a few cantatas from the last two cycles survive, however.

The cantata occupied about thirty minutes of a three-hour Lutheran church service. In general, the cantatas came between the reading from the Gospel and the sermon. Some cantatas were divided into two parts, in which case the second part would follow the sermon. The other musical components of the service were organ-playing, the singing of hymns by the congregation, and the performance of a motet (accompanied only by harpsichord) near the beginning of the service. Although Bach wrote some motets himself, most of the motets performed in his services dated back to the sixteenth century.

An important difference between the Leipzig services and those at Bach's previous churches was that Leipzig feast days featured substantial choral pieces sung in Latin. Bach wrote the Magnificat BWV 243a for one such occasion. He also composed his most important large-scale German choral works while in Leipzig: namely, the St. John Passion (1724) and St. Matthew Passion (1727). Both of these were performed on Good Friday (just before Easter) and were reused for several subsequent Easters.

Although church duties were more than enough to keep him busy, the cantor of the Thomasschule had traditionally provided occasional music for the university in Leipzig for an additional fee. In the summer of 1723, Bach began composing music for the university. The university, however, soon made a move to make its occasional music the province of J. G. Görner, organist at the Nikolaikirche (St. Nicholas Church), who already composed the university's music for Sundays and feast days. Bach protested against this innovation and petitioned the Elector of Saxony when the university still refused to pay him his full fee. After writing three letters to the Elector, Bach was finally allowed to retain his university duties and extra paycheck.

Bach probably needed every penny he could get, as he already had seven children and was soon to have thirteen more. (The last, Regina Susanna, was born in 1742.) Despite the financial burden, however, his children were a source of joy to him. He boasted in 1730 that the Bach family could make up a complete vocal and instrumental group by itself. Five of his sons were to become professional musicians and composers as well.

Director of the Leipzig Collegium Musicum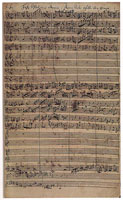 In 1729, Bach became head of the university's collegium musicum, founded by Telemann in 1702. This group, made up of as many as fifty to sixty university students, performed at a local coffeehouse and at special university functions. It is not known whether Bach was paid for this position. If he was not, he may have taken the job primarily to give himself an avenue for composing something other than sacred vocal music. For the most part, we do not know what pieces the collegium musicum performed, but there are some exceptions, such as the well-known "Coffee Cantata."

At around the same time, Bach began publishing some of his keyboard works, including the first and second parts of the Clavier-Übung in 1731 and 1735 respectively. He also published compositions and works of music theory by others, among them his sons.

Bach may have taken on these extra responsibilities because he was frustrated with his church position. In 1730, he wrote a letter to the city council listing deficiencies in the resources available to him, i.e. the lack of qualified singers and instrumentalists. In addition, he wrote a letter to a friend in Danzig to ask whether any suitable positions were available in that city.

The council was growing annoyed with Bach as well. One source of dissatisfaction was Bach's habit of taking journeys without letting the council know ahead of time. They even discussed lowering his salary because he had not been giving singing lessons as expected. In the summer of 1730, however, J. M. Gesner became headmaster of the Thomasschule, and he seems to have restored the council's relations with Bach. Bach's salary was never cut.

In February 1733, when the Saxon elector August I died, a five-month period of mourning was decreed, meaning that musical activities were almost non-existent. Bach's collegium musicum, however, was allowed to perform again beginning in June. They had just received a new harpsichord, so it is possible that Bach's great harpsichord concertos were written for the ensemble around this time.

Bach was concerned with impressing August I's successor, Friedrich August II, and it is to this that we owe the beginnings of Bach's great Mass in B minor. He wrote the Kyrie and Gloria in hopes of being appointed to a court position. Although he presented the two sections to the new elector in 1733, he did not become a Hofkomponist, or court composer, until 1736, and even that came only after he wrote an additional application letter.

Enlisting the collegium musicum in further attempts to glorify the Saxon ruler, Bach produced a series of secular cantatas in honor of the royal family in the summer of 1733. Unfortunately, the most noteworthy result was that, after performing BWV 215, the virtuoso trumpeter Gottfried Reiche died, apparently from exhaustion due to the extreme difficulty of his part. The tragedy did not deter Bach from reworking large parts of these secular cantatas as the Christmas Oratorio, heard the following year.

1734 brought renewed upheaval at the school, when the headmaster whom Bach liked was replaced by a less congenial man, Johann August Ernesti. Ernesti had little appreciation for music and tried to saddle Bach with a student assistant who was not musically gifted. The affair wound up in the Dresden courts, but the final ruling is not known.

Last Years

In 1737, Bach gave up working with the collegium musicum. He also started writing keyboard music again, composing both the second part of Das wohltemperirte Clavier and the third part of Clavier-Übung. The latter was published in 1739.

In the same year, Bach engaged his nephew Johann Elias Bach as a tutor for his children. The younger Bach doubled as a secretary for his uncle, and because he made copies of the letters he sent out on his uncle's behalf, we have more of Bach's correspondence for this period than for any other. From the letters, we know that Bach sought out the music of a huge variety of composers, including Palestrina, Pergolesi (Bach's reworking of the Stabat mater of 1736 is the first known source north of the Alps), and nearer composers such as Telemann.

Bach became director of the collegium musicum once more after a two-year hiatus. While its concerts were less ambitious than they had been, Bach did begin writing more chamber music. He retired from the post for the last time in 1741. The owner of the coffeehouse, Gottfried Zimmermann, had died not long before, and the collegium musicum's activities gradually dwindled as a result. It ceased to function in 1744.

In 1741, Bach made two important journeys. One of these was to Dresden to see Count von Keyserlingk, a longtime supporter. The story about the genesis of Bach's famous Goldberg Variations is that they were written to help the count sleep. If so, it is surprising that they are not dedicated to the count or even his harpsichordist, Johann Gottlieb Goldberg – the name "Goldberg Variations" arose later. Bach also travelled to Berlin to visit C. P. E. Bach, who had taken a post as court harpsichordist to Crown Prince Frederick (soon to become Frederick the Great).

Six years later, Bach and Frederick the Great crossed paths again. Bach was invited to Potsdam and played for Frederick, improvising on a theme that the king gave him. He also impressed onlookers by improvising a fugue in six parts, although this was on a theme of his own choosing rather than the extraordinarily difficult one given him by the king. Some have wondered whether Frederick, who was no fan of Bach's music, purposely gave Bach the most difficult theme he could find in order to trip up the older musician. If so, the king must either have had amazing compositional ability or the connivance of a more skilled musician, such as Bach's son. In any case, the puzzle intrigued Bach to the point that he wrote the entire Musical Offering on the theme assigned him by Frederick.

Bach wrote almost no vocal music during his last years, the major exception being the last three sections of the Mass in B minor. The reason behind Bach's creation of a Latin mass that could never have been performed in a Lutheran church remains something of a mystery. (The first two movements alone could be – and probably were – used in a Lutheran service.) One suggestion is that Bach wanted a position in Dresden, but another idea is that he wanted the mass to be performed at the consecration of the Hofkirche (Court Church) in that city. Because of building delays, the consecration did not occur during Bach's lifetime. Thus, it is highly unlikely that Bach ever heard his Mass in its entirety.

Parts of the Mass in B minor were in all likelihood the last notes Bach ever wrote. He was close to total blindness by October 1749, probably as the result of diabetes. There are also some signs of associated mental deterioration, especially in the complete alteration of his handwriting. Although he was capable of carrying on a debate over the position of music in the schools, Bach had to appoint a former pupil to carry out his own duties at times. Before June 1749, the Leipzig town council began looking for a permanent replacement for Bach.

Bach made two attempts to overcome his eye troubles, having the English eye doctor John Taylor perform a surgery in March 1750. When the first surgery was unsuccessful, Taylor tried again in April, again to no avail. Three months later, on July 28, the great composer died of a stroke, leaving his wife and children in straitened circumstances.


References:

David, Hans T., and Arthur Mendel, eds. The Bach Reader: A Life of Johann Sebastian Bach in Letters and Documents. Revised, with a supplement. New York and London: Norton, 1966.

Gaines, James R. Evening in the Palace of Reason: Bach Meets Frederick the Great in the Age of Enlightenment. Reprint edition. New York: Harper Perennial, 2006.

Williams, Peter. The Life of Bach. Cambridge, UK: Cambridge University Press, 2004.

Wolff, Christoph, and Walter Emery: 'Bach, III: (7) Johann Sebastian Bach,' Grove Music Online ed. L. Macy (Accessed 27 August 2006), <http://www.grovemusic.com>