Igor Stravinsky
(1882-1971)
Igor Stravinsky was undoubtedly the most versatile composer of the twentieth century, composing in styles ranging from Russian nationalism to neoclassicism to serialism. He was also known for his cutting wit, particularly when the topic was a fellow musician. Of Vivaldi, he remarked that the Venetian had not written hundreds of concertos but rather the same concerto hundreds of times. On another occasion, Stravinsky complained, "Why is it that whenever I hear a piece of music I don't like it's always by Villa-Lobos?" At least one composer, however, gave Stravinsky a dose of his own medicine: upon hearing The Rake's Progress, Benjamin Britten said, "I liked the opera very much. Everything but the music."


Youth and Studies

Igor Fyodorovich Stravinsky was born in Oranienbaum. There is some debate surrounding his date of birth, but, whatever the case, Stravinsky chose to celebrate his birthday on June 18, 1882. He was the third of four boys.

From his early childhood, he was surrounded by music, attended the opera and the ballet, and had access to numerous opera scores. Stravinsky's father, Feodor, came from a Polish family and was an extremely successful bass at the Imperial Opera House in St. Petersburg, where the family moved to accommodate his career. Anna Kholodovsky, Stravinsky's mother, sang and played the piano well; in his autobiography, he attributed his score-reading abilities to her. He began piano lessons when he was nine years old, and not long after started lessons in harmony and counterpoint.

The aspiring composer found his musical ambitions somewhat thwarted by his parents, who expected him to study law. However, he benefited from the encouragement of his uncle, Alexander Ielachich. In his company, Stravinsky became familiar with older contemporary Russian composers such as Glinka, Borodin, Tchaikovsky, and Rimsy-Korsakov, as well as with the great works of the German Romantic composers.

The Stravinsky family traveled quite a bit in the summers, making trips to visit family in Ukraine, and to health resorts in Germany and Switzerland. The latter were undertaken not only for pleasure, but also for the sake of several family members, including Stravinsky and his older brother Yury, who both suffered from lung ailments including tuberculosis.

During one summer voyage to the German spa town of Bad Wildungen in 1902, a classmate from the university in St. Petersburg where Stravinsky studied law invited him to visit his family in Heidelberg. This classmate, Vladimir, was the son of renowned composer Nikolai Rimsky-Korsakov. There, Stravinsky took the opportunity to present the composer with a few of his compositions. Rimsky-Korsakov's response was not overly enthusiastic and Stravinsky was disappointed. However, he was encouraged when the older composer advised him to continue his studies in music and offered to tutor him.

Following his father's death that same summer, Stravinsky, while still at the university, began to devote himself to his composition studies. He attended studio meetings of Rimsky-Korsakov's pupils, at which their new works were played and critiqued, and also participated in performances of new music organized by another set of musical friends. These included Alfred Nurok and Walter Nouvel, who worked with the future ballet impresario Sergei Diaghilev on the influential journal Mir iskusstva (World of Art). At one of these events in 1905, Stravinsky's Piano Sonata in F# minor was premiered.

1905 was also a year of great political turmoil. This state of affairs was particularly manifested in the violent suppression of workers' strikes in St. Petersburg. Such disruptions may have forced the university to close later that year, and Stravinsky did not finish his law degree.

In January 1906, he married his cousin Catherine Nossenko, a singer and a long-time friend. They loved one another intensely and their marriage defied an imperial ruling that banned unions between first cousins; the only witnesses to the marriage were the brothers Vladimir and Andrei Rimsky-Korsakov. A son, Theodore, was born in 1907, followed by a daughter, Ludmila, in 1908, another son, (Sviatoslav) Sulima, in 1910, and another daughter, Milena, in 1914.

After a year and a half with Rimsky-Korsakov, Stravinsky began to write a symphony (Symphony in E Flat Major), which he finished in 1907 and which he dedicated to his teacher. Along with a piece for voice and orchestra, The Faun and the Shepherdess, it was performed publicly at the beginning of 1908, earning the composer mostly positive reviews. Other compositions soon followed: the Scherzo Fantastique, three songs ("La Novice," "Sainte Rosée," and the wordless "Pastorale"), and the beginnings of Stravinsky's fairy-tale opera, The Nightingale.

When Stravinsky completed the orchestral piece Fireworks in 1908 he sent it to Rimsky-Korsakov for input, and shortly after was devastated to receive a telegram notifying him of his teacher's death. He attended the funeral in St. Petersburg, and composed a "Funeral Song" in Rimsky-Korsakov's honor

Early Career

Performances of the Scherzo Fantastique and Fireworks attracted the attention of Sergei Diaghilev, who was just launching his Ballets Russes at the Paris Opera House. For the spring of 1909, Diaghilev commissioned Stravinsky to provide two orchestrations for a ballet program of Chopin piano works. However, after reviews of this first Ballets Russes season complained of its reliance on familiar music, the impresario decided to mount an entirely new ballet. Diaghilev chose to create a ballet using the Russian fairy tale The Firebird. At first he turned to composer Anatol Liadov, but it seemed uncertain that he would be able to meet the specified deadline, so Stravinsky was granted the commission.

Stravinsky traveled to Paris in May 1910 for the last rehearsals of the ballet, and moved his family to France in time for the final performances in the summer. All at once he became a celebrity, and the ballet established Stravinsky's international career. Diaghilev asked Stravinsky for a new ballet for the 1911 season of the Ballets Russes, now a permanent company. This ballet was titled Petrushka and it debuted in Paris on June 13, 1911, featuring dancer Vaclav Nijinsky as the tragic eponymous puppet Petrushka.

While composing Firebird, Stravinsky had experienced a vision, in which he saw a pagan ritual involving the sacrifice of a young girl, dancing to her death. This idea planted the seeds for what became his next ballet, Le Sacre du Printemps (The Rite of Spring). The planned summer 1912 production had to be postponed due to Nijinsky's involvement in another project (Debussy's L'après-midi d'un faune). As The Rite of Spring was also to be choreographed by Nijinsky, it was re-scheduled for the summer of 1913.

From the first rehearsals of The Rite of Spring, frustrations among the dancers, the choreographer, and Stravinsky himself, threatened to close down the production. Stravinsky was compelled to give Nijinsky instruction in the basics of music, Nijinsky tried to cope with a complicated score, and the choreography seemed too complex for the dancers' and the composer's taste.

Nijinsky's new creative style was shockingly original, and intended to invert many traditional aspects of ballet. Thus, when the ballet opened on May 29, 1913, the first measures were greeted with laughter. The situation in the auditorium became chaotic, with part of the audience loudly protesting both the dancing and the violent music, and another section reacting to the vociferous protests. Stravinsky reported that he had to physically restrain Nijinsky from rushing onto the stage, as he vainly tried to maintain his choreography by screaming the timing to his dancers over the din. The police were called in, but the uproar continued until the end of the ballet.

Shortly after the debut, Stravinsky became ill with typhoid fever, and missed the London premiere, which was received with a mixed, but fortunately not so violent, reaction. He later revised the ballet. In 1913 he also arranged it for a four-hand piano version; this version was its first published form, and the orchestrated version followed in 1921.

When he was sufficiently recovered, Stravinsky returned to Ustilug, Ukraine, where his wife had grown up, and where his young family had built their own home. There, he worked on Three Little Songs, and received a commission from the Moscow Free Theatre to finish his opera, The Nightingale. It was not premiered at the Free Theatre, however, as that organization went bankrupt in 1914, but instead at the Paris Opera House under Diaghilev's supervision. It was received rather indifferently, but there were larger concerns hovering in the immediate future.


Switzerland and France

The Stravinskys spent much of World War I in Switzerland, where the composer completed several sets of songs, including Pribaoutki (1914) for voice and an ensemble of winds and strings, Berceuses du Chat (1916) for contralto and three clarinets, Three Tales for Children (1917) for voice and piano, Four Russian Peasant Songs (1917) for unaccompanied female voice, and Four Russian Songs (1918-19) for voice and piano.

He also worked on Les Noces (The Wedding), his next project for Diaghilev. This piece and the ballet Renard (1916) were both based on folkloric sources. Les Noces was not produced on stage until after the war; it was not the only project to suffer from events outside the composer's control. Histoire du Soldat (The Soldier's Tale), a short, jazz-influenced theatrical piece premiered in Lausanne, Switzerland, but the rest of its run was cancelled due to the devastating 1918 Spanish flu epidemic.

During these years, along with professional setbacks, Stravinsky suffered personal losses. In 1917 Stravinsky was distraught by the death of his beloved childhood nurse Bertha, whom he had brought to Switzerland to help with his own children. He also was confronted with the death of his younger brother Gury of typhus at the Romanian front.

The Ballets Russes, however, endured the war and severe financial difficulties, and in 1918 was reorganized in London. Diaghilev wanted to finally stage Stravinsky's symphonic poem The Song of the Nightingale, a project previously planned, but abandoned during the war. The composer was not interested, however, so Diaghilev proposed a new effort, a ballet based on music of the eighteenth-century composer Giovanni Battista Pergolesi. Stravinsky was intrigued, and Diaghilev's suggestion that Pablo Picasso and Leonid Massine, respectively, provide the design and choreography, cemented the deal. The ballet was premiered on May 15, 1920, with Massine in the leading role, and though its "neo-classical" re-imagination of Pergolesi's music elicited a somewhat negative reaction from critics, it was generally received quite well.

In 1920, Stravinsky decided to move his family from Switzerland to France. Once in France, the family moved several times, for a brief time even staying with Coco Chanel, but in 1924 they finally settled in Nice. However, Stravinsky traveled frequently with the Ballets Russes, sometimes conducting his own works, and in 1924 and 1925, he undertook tours to Russia and to the United States.

That year, he completed his Symphonies of Wind Instruments, which had begun as a short piano piece composed for a memorial publication in honor of Claude Debussy. He also produced a new opera, Mavra, which opened alone and then ran on a bill with the older piece Renard, and which unfortunately did not fare well. His Octet for Wind Instruments (1923) was accompanied by an essay delineating his compositional intentions; the failure of his last few works concerned him to such an extent that he decided to conduct the Octet's premiere himself. He also debuted his own Piano Concerto (1924) and Sonata (1925).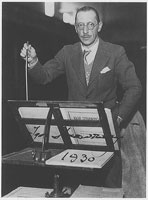 His next project, the dramatic work, Oedepus Rex, was a collaboration with the famous film director Jean Cocteau, and suffered a poor debut in a concert performance during the Ballets Russes' 1927 season. Another Greek-themed composition followed, the ballet Apollon musagète (1928). Diaghilev used the title Apollo, and this work restored the Paris critics' faith in Stravinsky. That year, Stravinsky also provided Ballets Russes alumna Ida Rubinstein with Le baiser de la fée (The Fairy's Kiss), for her own company. Though his relationship with Diaghilev was somewhat strained after this "defection," they remained friends, and a few years after the impresario's death in 1929, Stravinsky wrote fondly of him in his memoir. He wrote this autobiography, Chroniques de ma Vie, at the age of fifty-two.

Stravinsky remained in France for another decade, and became a citizen in 1934, but his career was increasingly international. In 1929 he accepted a commission from Serge Koussevitzky with the Boston Symphony Orchestra, resulting in the Symphony of Psalms (1930). The premiere of his Violin Concerto (1931) took him, along with violinist Samuel Dushkin, to Berlin. The ballet Jeu de Cartes (The Card Party) premiered at the Metropolitan Opera House in New York in 1937, with Stravinsky conducting.

Upon his return to France, his health suffered, and while his wife and daughters were already being treated for tuberculosis at a sanatorium in Sancellmoz, he declined to join them. Instead, he accepted more work: a commission for the Chicago Symphony Orchestra's fiftieth season that resulted in the Symphony in C (1940); and the offer of a Charles Eliot Norton chair and the opportunity to lecture at Harvard University. These offers came at a good time; Stravinsky needed the distractions. While World War II was just beginning in Europe, Stravinsky's daughter Ludmila died in 1938, and his wife and mother followed in 1939. Stravinsky himself was confined to the sanatorium at Sancellmoz for several months due to his own tubercular condition.


America

Stravinsky left for Harvard in September 1939. At the beginning of 1940, he married Vera de Bosset, with whom he had been conducting a serious affair since 1921. She had been a dancer and had left her husband, the Ballets Russes designer Serge Sudeikin, for Stravinsky earlier on. After they married, they applied for U.S. citizenship, which they received five years later, and moved to West Hollywood in 1941. His compositions during these war years included the Circus Polka for Orchestra, Four Norwegian Moods (an orchestral work), the Symphony in Three Movements and the Ebony Concerto, written for jazz clarinetist Woody Herman.

In 1948, his ballet Orpheus premiered at the New York City Center, and he conducted a revised version of the Symphonies of Wind Instruments at Town Hall. The latter performance was put together by conductor Robert Craft, who played an important part in helping to establish Stravinsky's American career. At first, Craft assisted him and interpreted for him, while living with the Stravinskys in Los Angeles; eventually he became a collaborative partner.

Craft was also influential in Stravinsky's changing interests. First he helped the composer to explore and to use English and English-language subjects. A new opera project, The Rake's Progress, began in 1947, and was in collaboration with the British poet W.H. Auden and his partner Chester Kallman. The Rake's Progress premiered at La Fenice in Venice in 1951. Drawing from the work of eighteenth-century artist William Hogarth and using Mozartian musical references, the opera is considered to be both the pinnacle and conclusion of Stravinsky's neo-classical efforts.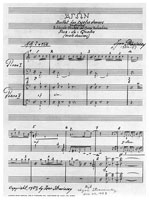 From that time on, his compositions were strongly influenced by the serialist methods developed by composer Arnold Schoenberg. Schoenberg's death in 1951, a trip to Europe, and a concert of Schoenberg works conducted by Craft in 1952 encouraged this compositional shift. The Cantata (1952), the Septet (1953), and In Memoriam Dylan Thomas (1954) were early experiments in serialist style. The ballet Agon, composed from 1954 to 1957, and the Canticum sacrum (1955) for choir represent his first forays into actual twelve-tone methods.

Several of his serialist works were based on biblical subjects. They include Threni (1958), A Sermon, a Narrative, and a Prayer (1961), and The Flood (1962). This last piece was written as a brief television opera for CBS; Robert Craft provided the text and conducted the broadcast. Another biblical work, Abraham and Isaac (1963), for baritone and chamber ensemble, set Hebrew scripture; he had been working on the piece for some time when he made a trip to Israel in 1962. It debuted there two years later, with Craft conducting.

In 1962, the Stravinskys and Craft also traveled to the Soviet Union, the first return trip for the composer in decades. Several memorial works followed, upon the deaths of author Aldous Huxley (Variations: Aldous Huxley in Memoriam), President Kennedy (Elegy for J.F.K.), T.S. Eliot (Introitus), and a Princeton University benefactor (Requiem Canticles).

Though these were Stravinsky's last major compositions, written in his eighties, he was not yet finished with his work. He continued to tour and to conduct in spite of a long hospital stay in 1967, when his health began to seriously decline. He wrote a setting of Edward Lear's poem "The Owl and the Pussy-Cat" (1966), for soprano and piano, and began sketches for several other pieces. In 1969, the Stravinskys moved to New York, where the composer was hospitalized a number of times over the next year for respiratory problems. He died on April 6, 1971, and after memorial services in New York and Venice, he was buried near Serge Diaghilev's grave on the cemetery island of San Michele.


References:

Stravinsky, Igor. Igor Stravinsky: An Autobiography. 1936. New York: M. & J. Steuer, 1958.

Walsh, Stephen: 'Stravinsky, Igor (Fyodorovich)', Grove Music Online ed. L. Macy (Accessed 9 April 2006), <http://www.grovemusic.com>

White, Eric Walter. Stravinsky: The Composer and His Works. 2nd ed. Berkeley and Los Angeles: University of California Press, 1979.