Southwest Chamber Music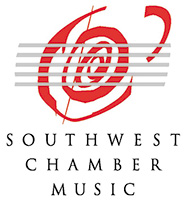 Two-time Grammy-winning Southwest Chamber Music provides the Southern California and international music community with concert, recording, and educational programming that reflects the vast diversity of art music from around the world. Founded in 1987, Southwest Chamber Music began by presenting innovative programming that often culminated in ambitious recording projects. Twenty years later, Southwest Chamber Music continues with two concert seasons, 2 Grammy Awards and 6 Grammy Award-nominations, and ground-breaking educational programs that ensure a lasting community impact.
During its 20th anniversary 2006-2007 Season, Southwest Chamber Music initiated significant and long-term cultural exchanges in Southeast Asia and Latin America with tours featuring a concert series and workshops.
Southwest Chamber Music has released a number of notable recordings, including its four volume cycle of the Complete Chamber Works of Carlos Chávez and its twelve CD Composer Portrait Series, both on Cambria Master Recordings. Their latest release, Chinary Ung: Aura, Oracle and Still Life After Death features music of Grawemeyer Award-winning composer Chinary Ung.