Eva Fampas, Guitar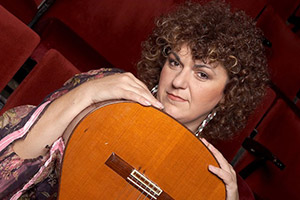 Described as "a great musical personality" (Morning Talk Newspaper-Gr), with "style and flair... amazing mastery.." (Indian express) and a "very fine sound" (Pancevac cultura-Serbia), "the most representative of the Greek guitar today" Pr. Eva Fampas is regarded as one of the world's most gifted and exciting guitarists today, with performances noted for coupling deep musicality, passion and an exceptional virtuosity.
Her engagements for 2006 included concert appearances and solo recitals in Greece, Mexico (1st Ramon Noble Int. Guitar festival, 1st Maestros del Mundo festival), Bulgaria, Russia (9th Kaluga Int. Guitar festival) and a very successful concert tour in China organized by WU PROMOTION. Highlight of the 2005 was the release of the "EVA FAMPAS plays FAMPAS" cd on the Italian AULIA label, and the 2007 brought among others the new cd release Eva Fampas - "CAPRICCIO DIABOLICO" on BERBEN & IGS.
Eva has performed extensively in Greece, China, Mexico, Bulgaria, Italy, Russia, Sweden, former Yugoslavia and USSR, Albania, Nepal, Spain, India, Zimbabwe, Peru, Bolivia, Paraguay, Brazil, Spain, Belarus, Serbia, Poland, Thailand, in prestigious concert halls such as Parnassos, Pallas, Athenaeum, Roman Market (Athens), Musikmuseet (Stockholm), India International Center (New Delhi), Glinka concert hall (St. Petersbourg), Santander cultural/Atrio (Porto Alegre), Theatre Marrucino (Italy), in International Guitar/Music Festivals, Marble and Sound Festival (Serbia), Hermoupolis Guitar Festival, Iraklion Music Festival (Gr), Zory Guitar Festival (Poland), Balkan Guitar Festival (Bulgaria), Belo Horizonte International (Brazil), Stockholm Guitar Festival (Sweden), China Guitar Festival, International Guitar Festival of Arequipa (Peru), Guitarra y Mujer (Paraguay), 8th International Guitar festival of Kaluga (Russia) to name a few, in radio and the TV.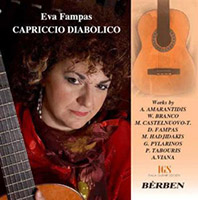 The Greek Ministry of Culture and the Greek Embassies have sponsored lots of her artistic activities and concert tours.
She has participated in concerts with the Greek Composers' Union, the Hellenic Group of Contemporary Music conducted by Theodore Antoniou, the Guitar Friends' Association DIMITRIS FAMPAS, presenting national and world premieres of new works. Additionally she performs regularly in chamber ensembles and as a soloist with orchestras (Symphony Orchestra of Russia, Orquesta Sinfonica de la UAEH Mexico, Bombay String Orchestra, Iraklion String Orchestra, Kalamaria Symphony Orchestra, Athens State Orchestra string ensemble, ARCO Moscow Chamber Orchestra).
On October 19th, 2004 she premiered the FOR EVA guitar concerto by Yiu-Kwong Chung and the Baiao Lunar by Andersen Viana, two new works dedicated to her, with Athens State Orchestra conducted by Costis Papazoglou at the MELINA Athens' cultural centre.
Her virtuoso repertoire, very melodic and exciting, with traditional, ethnic and contemporary influences, includes a substantial amount of works by Greek composers as well as music from the Baroque era to the present century. Her passionate and powerful interpretations frequently receive ovations from both the press and the audiences. Many exceptional composers such as D. Fampas, A.Viana, K.Giorginakis, Yiu-Kwong Chung, U.Dojcinovic, M.Colasanti, G.Mizzi, J.B.Neto, W.Branco and others have dedicated music to her.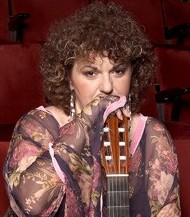 Eva has released 5 Lp/cds for AULIA, BERBEN, MOTIVO and Wave Music, which are being played in major guitar and classic music radio programs around the world.
Eva was born in Athens. She started playing the guitar very young under the instruction of her father Dimitri Fampas, the very famous Greek composer, guitarist and professor. She gave her first performance on stage at 12, and won the first prize in the 16th International Guitar competition in Milan, (Guitar Academy of Milan) at 17. A brilliant graduate of the National Conservatory of Athens (Ethnikon Odeion) she studied with outstanding professors such as: the composer Dimitris Dragatakis, the composer-maestro Theodore Antoniou, the guitarist-composer Dimitris Fampas, the guitarist-composer Leo Brouwer.
In addition to her other activities she is often invited to be member of the jury in guitar competitions, to give lectures and master-classes, to write articles in newspapers and magazines. Presently she reworks and supervises the publication of Dimitri Fampas' guitar music books as well as other guitar editions for MEL BAY, Bérben, and Nakas etc. She is also the author/composer of the educational book – melodic lessons, the most joyful guitar method for children and of various award winning short pieces for children.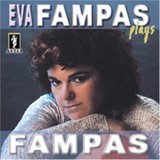 She is the Founder and President of the Guitar Friends' Association DIMITRIS FAMPAS, a non profit cultural society, member of the National Council of Music, IMC UNESCO, which is dedicated to serving D. Fampas personality and music, to celebrate guitar excellence and to encourage and promote young talented guitarists and the Greek music. Since 2007 she is the Artistic Director of the "International Guitar Days of Lafkos" Gr.
Visit Eva's official website at: http://www.evafampas.gr
DISCOGRAPHY
EVA FAMPAS, "CAPRICCIO DIABOLICO",
(BERCD 0066, BERBEN & IGS, 2007) Music by A.Viana, W.Branco, M.Castelnuovo-Tedesco, D.Fampas, P.Tabouris, G.Pylarinos, A.Amarantidis, M.Hadjidakis.
EVA FAMPAS plays FAMPAS.
(AULIA records - AA69001 - 2005) Music by Dimitris Fampas
EVA FAMPAS, guitar. A GUITAR PORTRAIT OF FANTASY (wave music.gr)
music by J.RODRIGO, N.COSTE, L.BROUWER, J.MALATS, I.ALBENIZ, A.BARRIOS, Κ.GIORGINAKI, J.GUIMARAES, N.PAGANINI, D.FAMPAS. (2002)
EVA FAMPAS , guitar. FR. TARREGA, F.SOR, H. VILLA-LOBOS. (wave music.gr) (2000)
EVA FAMPAS guitar - DIMITRI FAMPAS' music for guitar. Greek composers series . (MOTIVO 1022) (1986)
REVIEWS and CRITICS
"…Exceptional interpretation…an ideal evening in a packed hall."
Jazz & Tzaz, music magazine
"…Eva Fampas, a heir to the Fampas fame, played exceptionally and with spirit… She was the star of the evening."
Athens Daily Post, newspaper
"…Eva Fampas proved to be a great musical personality ..."
Morning Talk, newspaper GR
"Dexterity and Passion……technical merit….deep musicality…This very virtuosity enables her to produce a genuinely musical interpretation, endowed with clarity of style."
Rizospastis, newspaper
"...Eva Fampas shows in this record her ability to succeed the most ambitious interpretation goals…performs with sensitivity and balances with enviable safety all the virtuosi difficulties …" Difono, music magazine
"….Eva Fampas showed exceptional technique of playing, gave a special, individual seal to all compositions and one very fine sound… "
O. RISTIC, Pancevac-press, newspaper (Serbia)
"GUITAR VIRTUOSO…. style and flair…. perfect understanding of the music….. amazing mastery…… flawless finger technique…"
NEECIA MAJOLLY, Indian Express newspaper (India)
"…Soloist Eva Fampas from Greece, performed in Kaluga for first time and distinguished herself as an excellent musician and ensemble player. She managed to win the audience with her artistic temperament and technique .…. "
IGOR REKHIN, Guitarist 2005 No 2. (Russian guitar magazine)