Fabio Bernoni, Conductor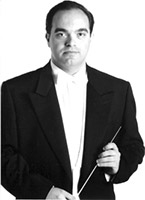 At a very young age, he sang in the children's chorus at the Rome Opera House for a period of five years. His love of music led him to study composition and conducting with M° Nicola Samale.
In 1989 he attended lessons given by M° Leonard Bernstein at the "Accademia Nazionale di S.Cecilia" in Rome. He pursued his studies with M° Donato Renzetti and received a diploma at the Academy of Music in Pescara. Then he attended a master class given by M° Aldo Ceccato on Schubert's symphonies with the orchestra "I Pomeriggi Musicali" in Milan.
He has worked extensively in theatres all over Europe as conductor and choirmaster.
In 1994 he made his debut as conductor, conducting Il Barbiere di Siviglia at Le Parvis-Scène Nationale in Tarbes (France). In 1995 he conducted a new production of Rigoletto at the theatre Odyssud of Blagnac (Toulouse), at the Cultural Centre "Le Pin Galant" of Mérignac (Bordeaux) and at the Teatro Victoria Eugenia in San Sebastian (Spain). In the same year he conducted again Il Barbiere di Siviglia at the Théâtre du Casino in Biarritz (France). In 1996 he conducted two new productions: La Traviata (in its original score) in France (Mérignac, Tarbes, Rodez, Bayonne); Tosca in France and Spain (Blagnac, Mérignac, Narbonne, San Sebastian).
In 1997 he conducted La Traviata again, at the Théâtre Municipal in Sète (France). In 1999 he was invited to Prague by the orchestra "Praga Sinfonietta" to conduct Mozart's Requiem in two concerts.
In 2001 he conducted in France a new production of Puccini's Madama Butterfly at Biarritz and Blagnac (Toulouse). In that same year he enjoyed critically acclaimed success in France in a series of concerts, Verdi's Messa di Requiem on the occasion of the centenary of the composer's death.
His repertoire goes from symphonic music (Beethoven, Tchaikovsky, Dvorak, Falla, Mendelssohn, Mozart, Schubert, etc…) to Italian opera (Verdi, Puccini, Rossini, Bellini, Donizetti, etc…), to Mozart's Italian works and Bizet's Carmen.
In 2003 he conducted a symphonic concert at the Théâtre La Colonne in Miramas (France) whose programme include Mozart's Requiem K.626 and Symphony in A major K.201. In 2004 he was invited by the Kosovo Philharmonic Orchestra to conduct a concert with music by Bizet, Dhomi, Mascagni, Verdi, Smetana and Brahms's Double Concerto in A minor Op.102; with great success he was invited to return for another conducting engagement. In the same year he conducted a concert at the Le Pin Galant in Mérignac (France) whose programme included Wagner's Siegfried-Idyll, Schubert's "Unfinished" Symphony and Beethoven's Fifth Symphony.
In 2007 he conducted a sacred music concert. In 2008 he will conducts, next Easter, a concert with music of Mercadante, Franck, Bach, Rossini, Stradella and Traetta.
REPERTORY
BARBER Adagio for strings Op.11
BEETHOVEN Symphony N.1, N.2, N.3, N.4, N.5, N.6, N.7, N.8, N.9,
Piano Concerto N.3 Op.37, Egmont Ouverture Op.84
BELLINI Norma
BIZET Carmen
BRAHMS Double Concerto in A minor Op.102
DONIZETTI Don Pasquale, L'Elisir d'Amore, Lucia di Lammermoor
DVORAK Symphony N.9 in E Minor Op.95 "From the New Word",
Serenade in D Minor Op.44, Czech Suite in D Major Op.39
FALLA El amor brujo
FRANCK Symphonic Variations for piano and orchestra
HOLST St. Paul's Suite
LEONCAVALLO Pagliacci
LISZT Les Préludes Symphonic poem
MASCAGNI Cavalleria Rusticana
MENDELSSOHN Symphony N.4 Op.90 "Italian", N.5 Op.107 "Reformation"
MOZART Requiem K.626, Symphony in A Major N.29 K.201
PUCCINI Manon Lescaut, La Bohème, Tosca, Madama Butterfly, La Fanciulla del West,
Il Tabarro, Suor Angelica, Gianni Schicchi, Turandot
ROSSINI Il Barbiere di Siviglia
SCHUBERT Symphony N.8(9) in B Minor D.759 "Unfinished"
TCHAIKOVSKY Violin Concerto, Symphony N.5 Op.64, Serenade for strings Op.48
VERDI Nabucco, Giovanna d'Arco, Macbeth, Rigoletto, Il Trovatore, La Traviata, Attila
Un Ballo in maschera, Aida, La Forza del destino, Don Carlo, Otello, Falstaff
Messa di Requiem
WAGNER Die Meistersinger von Nürnberg Ouverture
WEBER Der Freischütz Ouverture, Siegfried-Idyll