Jacqueline Pollauf, Harp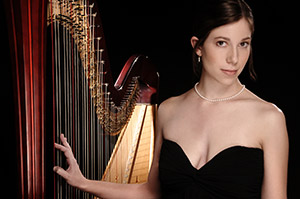 American harpist Jacqueline Pollauf is a dynamic young performer with musical sensitivity and maturity beyond her years. Praised for playing with "glittering beauty" (Lawrence Budman, critic for the Miami Herald) and a "steady and most satisfying elegance" (The Toledo Blade), Jacqueline made her solo debut at age sixteen with the Perrysburg Symphony Orchestra. She performs frequently as a soloist and released her first solo album, Bouquet, in 2009.
Jacqueline seeks to explore and expand not only the role of classical music in society, but also the perception and capabilities of the harp. As part of this mission, Jacqueline is a member of Pictures on Silence, a duo with saxophonist Dr. Noah Getz. Dedicated to excellence in performance, the ensemble has an ever-increasing repertoire driven by commissions and transcriptions.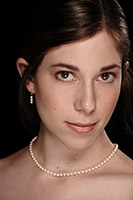 Jacqueline is on the faculties of the University of Maryland at Baltimore County, Goucher College and the Baltimore School for the Arts. She holds degrees from the Peabody Conservatory.