OFFICIAL SITE

Chin Kim
Further Information
Web Concert Hall Interview
LATEST NEWS
I just returned from South Africa where I performed the Paganini Violin Concerto #1 with the Cape Philharmonic, Owain Hughes from Royal Philharmonic conducting, I am on my way to perform the Mendelssohn Violin Concerto E with Symphony of the Americas in Ft. Lauderdale as well as solo violin recital in Lake Worth, Fl. I will also be playing recitals in Washington with John Robilette, and at the Bargemusic in Brooklyn with David Oei, my long time playing partner.
— Dr. Chin Kim 02-13-2007
Chin Kim, Violinist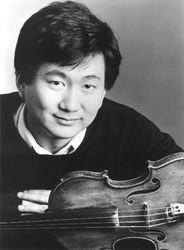 Acclaimed for his extraordinary musical interpretation and virtuosic playing, Chin Kim is one of today's most sought-after violinists. A native of Korea, he has soloed with every major orchestra in both North and South Korea, and he has also performed as a guest artist throughout North America, Asia, and Europe. These appearances have been with world-renowned orchestras, such as those in Philadelphia, St. Louis, Montréal, and Atlanta. He has had the privilege of performing under the baton of conducting luminaries Leonard Slatkin, John Nelson, Myung Whun Chung, Gerhardt Albrecht and Sixten Ehrling.
Mr. Kim's career was launched with his performances of the Tchaikovsky Concerto with the St. Louis Symphony Orchestra and the Wieniawsky Concerto No. 1 in F-sharp minor with the Philadelphia Orchestra. He is also a top prizewinner in several of the most prestigious international violin competitions, including the Concours Internationale de Musique de Montréal, the Queen Elisabeth Competition, the Paganini Competition, and the International Violin Competition of Indianapolis.
His recent concerts include performances of the Beethoven Violin Concerto with the Oregon Chamber Orchestra, the Vivaldi Four Seasons Concertos with the Seoul Chamber Orchestra, the Saint-Saëns Violin Concerto No. 3 with the Rogue Valley Symphony, and an international-broadcast recital by the Voice of America in Washington. Additionally, he has both performed and taught at the Green Mountain Chamber Music Festival, International Academy of Music in Italy, the Summit Festival, and the Great Mountains Music Festival and School.
Mr. Kim's recordings include: the Prokofiev No. 2, the Glazunov, and the Tchaikovsky Concertos with Paul Freeman conducting the St. Petersburg (Russia) and the Moscow Philharmonics; the Prokofiev Sonata No. 2 with his long-time pianist David Oei; the Mendelssohn C Minor; and the Tchaikovsky Piano Trios with the "Starr-Kim-Boeckheler Piano Trio."
He is the recipient of the Nan-Pa Prize awarded by the Nan-Pa Foundation in Korea, one of the highest honors given to a Korean-born musician. He graduated from the Curtis Institute of Music and subsequently from the Juilliard School, where he received his Doctor of Musical Arts degree, the Petschek Award, and the Concerto Soloist Award. His major teachers have included Dorothy DeLay, Ivan Galamian, and Josef Gingold. He is on the violin faculty at the Mannes College of Music in New York, and is exclusively represented by Maxim Gershunoff Attractions.