OFFICIAL SITE

Petronel Malan
SELECTED REVIEWS FOR "TRANSFIGURED MOZART "
All Media Guide,
James E. Leonard

Mozart?" Yes, indeed, transfigured Mozart. Eschewing either original works or the best-known arrangements, South African pianist Petronel Malan has chosen transcriptions which radically transform, nay, transfigure Mozart's music. From Johann Nepomuk Hummel's brilliantly post-Classical "Fantasina on a theme of Figaro" through Sigismund Thalberg's austerely reverential "Larcrimose tiré du Requiem de Mozart" to Reger's massively virtuosic "Variations and Fugue on a Theme by W. A. Mozart" – the theme, by the way, is Mozart's theme for the set of variations that open his famous A major Piano Sonata – Malan has unearthed works which allow us to hear Mozart with wholly new ears.

And in every case, Malan performs them with commanding technique – no easy thing in Reger's gnarly fugue – comprehensive tone (everything from the most hushed pianissimo to the thickest textures sings with full-throated ease), and unstinting generosity; Joachim Raff's "Souvenirs de Don Giovanni" may not be the greatest music ever composed but you'd never know it from Malan's sympathetic performance. Released in the Mozart year of 2006, "Transfigured Mozart" will be a relief to those who already have enough recordings of the standard Mozart repertoire and a delight to those who cherish great piano playing.
SELECTED REVIEWS FOR "TRANSFIGURED BACH"
"Peter J. Rabinowitz Fanfare Magazine Jan/ Feb 2004
…Malan's impressive debut disc is filled out with respectful (indeed, nearly anonymous) transcriptions by Bartok and Lipatti. Seriousness of purpose is a prominent feature of Malan's disc… Not that she eschews flamboyance entirely (her performance of the Toccata and Fugue is especially dramatic in its variety of color and articulation). Nor is she incapable of elegance (especially in the Lipatti transcription) or ravishing simplicity... her tone is more uniformly full-bodied, her structural highlighting (both her accentuation and her rubato) more emphatic, her demeanor more methodical, her attention more steadfast…"
Paul Boekkooi, Rapport Magazine September 2003
Petronel Malan's Stunning Debut
"…The voice of the master of masters, Bach himself, comes through in each selection. Petronel Malan illuminates the perspective of the three giants who lived two centuries after Bach… Malan's musical intuition and rock-solid conviction, she ensures that none of this pain dissipates into mere vanity or musical prettiness. She lets the Friedman sound go its own way, as in the opening part of the Brandenburg Concerto no. 3, where she powerfully masters the nearly molto perpetuo quality of the music and its cunning changes. She can also dream, as in the two different versions of "Wachet auf," or in the slow romantic approach to "Nun kommt…" Lipatti's ethereal, purely pianistic language in the Pastorale in F stuns, while the genius of Bartok magically transforms the three-voiced Trio Sonata No. 6 in G Major into a typical mid-European piano idiom. Elements such as balance, phrasing, and timing are in excellent hands with Petronel Malan. Her musicality is infinite while still expressing a distinct pianistic personality..."
Petronel Malan, Pianist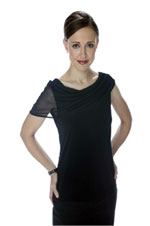 Grammy® Nominated South African pianist Petronel Malan is an exclusive recording artist for the internationally award-winning label Hänssler Classic. Her debut disc "Transfigured Bach: The Complete Bach Transcriptions of Bartok, Lipatti and Friedman," was nominated for three Grammy® awards, including "Best Instrumental Solo Album 2004." The album was on the Top-10 list for Classic FM for over 35 weeks. Her second recording "Transfigured Mozart," was released in 2006 to critical acclaim and her next recording, in the "Transfigured -" series is slated for international release in 2007. As a "Blüthner Concert Artist" she uses these pianos exclusively for her recordings.
Born in South Africa, she started piano lessons with her mother, an opera singer, at age four. Considered the "last prodigy" of Adolph Hallis, (a student of Matthay and Leschetizky) she debuted with the Johannesburg Symphony at the age of ten and won every competition she was eligible to enter in South Africa - including the youngest winner ever of the coveted SABC Music Prize. After her European debut in 1987, she also won the first prize at the Third International Piano Competition in Marsala, Sicily. She relocated to the United States in 1991 to pursue her career and studied under Joseph Stanford, Steven de Groote and Ralph Votapek.
She continues to appear as recitalist, orchestra soloist and chamber musician on four continents. Highlights include performances at venues such as Carnegie Recital Hall, Salle Cortot (Paris), the Mozarteum (Salzburg), the Liszt Museum (Budapest), Kravis Center (West Palm Beach), Orchestra Hall (Chicago), Caramoor (Katonah, NY) and Bass Hall (Fort Worth), as well as the Gilmore and Ravinia Festivals.
Petronel has also appeared with orchestras such as the St. Petersburg State Academy Orchestra, Sicilian Chamber Orchestra, The Fort Collins, Elgin and Bellevue Symphonies and the Cape Town and Johannesburg Philharmonic Orchestras, under the batons of Vasily Petrenko, Dmitry Manilov, Omri Hadari, Yashima Takeda, Bernhard Gueller and Fuzao Kajima.
She has broadcast live for television and radio in several countries across the world.
In 2000, she won four gold medals at the Louise McMahon International Music
Competition, the Missouri Southern, the Hilton Head, and Los Angeles
Liszt Competitions. She was also a grand prizewinner in the 2000 Web Concert
Hall Competition and first-prize winner in the Entergy Young Artist Award and the Grace Welsh Piano Prize.
In 2003, she received the "Rapport/City Press Prestige Award" as one of the "10 Most Inspirational Women in South Africa." An icon in the South African music world, scholarships are annually donated in her name. Petronel has graced magazine covers and has appeared as a picture-clue in crossword puzzles. When in South Africa, she makes regular charity appearances. Apart from a love for vintage gowns, her stage wardrobe is designed by foremost South African designers such as Henja Schaap and Hip Hop
Clothing. A supporter of classical music in schools, she makes time in her schedule to speak to students about classical music.
Petronel completed her undergraduate degree at Michigan State University and her graduate studies at the University of North Texas, studying with Joseph Banowetz.