CUBE contemporary chamber ensemble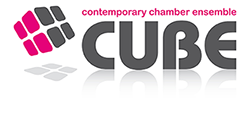 Founded in 1987, CUBE Contemporary Chamber Ensemble is an ensemble with a mission to bring new music to Chicago audiences through concerts with varied and imaginative programming. CUBE's artistic goals include commissioning new works, promoting the music of women and minority composers, developing and expanding the audience for new music, and broadening the understanding of the music of living composers. The highly innovative programming of CUBE explores music from around the world as well as new works by esteemed Illinois artists and composers. CUBE concerts include a wide variety of new music styles and may incorporate theatre, dance, and visual art. In addition to contemporary music of American composers, CUBE programs works by composers in Europe, Asia, Latin America, and South America.
Contact:
cube@cubeensemble.com
News: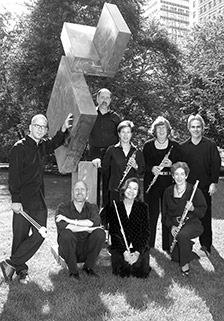 CUBE on WFMT's Live from The Morse (98.7FM or www.wfmt.com)
Sunday, March 22, 2009 at 11:00 a.m.
1328 Morse Avenue, Chicago, IL
Tickets $10 / for info 773.654.5100 or www.themorse.com
Program will feature previews from our March 29th concert.
AMERICAN MASTERPIECES: Chamber Music from Coast to Coast
Sunday, March 29, 2009 at 4:00 p.m. Gottlieb Hall, Merit School of Music
38 S. Peoria Street, Chicago, IL. 60607
Tickets $15 general and $10 for students, seniors and educators
Henry Cowell, Quartet for flute, oboe, cello and harpsichord
Joan Tower, Petroushkates for flute, clarinet, violin, cello and piano
Bruce Saylor, new work for violin, viola, clarinet, cello and piano
Laurel Firant, Dance for violin and piano
George Crumb, Gnomic Variations for solo piano
Michael Daugherty, Sinatra Shag for flute, bass clarinet, violin, cello, piano and percussion
Ulysses Kay, Suite for flute and oboe
CUBE performs at the University of Illinois at Chicago
Tuesday, March 31, 2009 at 1:00 p.m.
L060 Recital Hall, 1040 W. Harrison St., Chicago, IL

AMERICAN MASTERPIECES: Chamber Music from Coast to Coast Sunday, May 17, 2009 at 2:00 p.m.
Elizabeth Stein Company - Fine Arts Building, 8th Floor, Chicago, IL
Tickets $15 general and $10 for students, seniors and educators
Margaret Brouwer, Skyriding for flute, violin, cello and piano
Janice Misurell-Mitchell, Everything Changes for flute/voice and percussion
William Bolcom, Aubade for oboe and piano
Ralph Shapey, Discourse Two for violin, cello, clarinet and piano
Ralph Shapey, Discourse Encore for violin, cello, clarinet and piano
Terry Riley, Cinco de Mayo for piano four hands
Rachel Eubanks, Five Interludes for solo piano
Samuel Barber, Despite and Still for voice and piano
with guest artists baritone Daniel Billings and the Belsky Maxwell Duo
SPRING SONGBOOK
Friday, June 5, 2009 at 8:00 p.m. Gottlieb Hall, Merit School of Music
38 S. Peoria Street, Chicago, IL. 60607
Tickets $15 general and $10 for students, seniors and educators
Patricia Morehead, Triptych for soprano and string quartet
Lawrence Axelrod, World Premiere piece for string quartet
J.S. Bach "Die Seele ruht" from Cantata 127
Georgi Sztojanov, Målchanie for soprano and violin
with soprano Susanna Phillips