PERFORMERS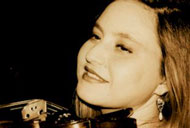 Angela Amato graduated with top marks at "Giuseppe Martucci " Music Conservatory, she than accomplished her Post Graduate Degree at "Accademia Internazionale Pescarese " under Professor Beatrice Antonioni. She continued her advanced Post-Graduate Studies in Switzerland and UK, with Tibor Varga, Yfrah Neaman, Zineida Gilels, Lydia Mordcovich and Emanuel Hurwitz. She gained a place at the Post Graduate Course in Music Teaching at the Institute of Education in London, acquiring further expertise in teaching.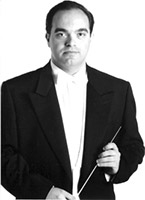 At a very young age, he sang in the children's chorus at the Rome Opera House for a period of five years. His love of music led him to study composition and conducting with M° Nicola Samale.
In 1989 he attended lessons given by M° Leonard Bernstein at the "Accademia Nazionale di S.Cecilia" in Rome. He pursued his studies with M° Donato Renzetti and received a diploma at the Academy of Music in Pescara. Then he attended a master class given by M° Aldo Ceccato on Schubert's symphonies with the orchestra "I Pomeriggi Musicali" in Milan.
He has worked extensively in theatres all over Europe as conductor and choirmaster.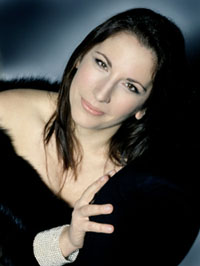 An artist of great temperament and overwhelming musicality, blessed with a winning, impassioned piano style, Loredana Brigandì is one of the few pianists in the world who dedicate themselves to popularising and bringing out the value of the unexplored repertoire of our musical past.
Her name came into the international limelight in 1996 with the publication of the complete Studies Opus 70 of Ignaz Moscheles in a world-première recording for Nuova Era, a work which was very warmly received by international critics and is still broadcast by major Radio Stations in Europe and in the United States.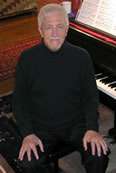 JB FLOYD, Pianist/Composer/Improviser, and Professor (Piano) and Chair, Department of Keyboard Performance, at the Frost School of Music at the University of Miami.
Floyd received B.M. and M.M. degrees from the University of North Texas, and a D.M. in Performance from Indiana University. He was a student of Silvio and Isabel Scionti and Sidney Foster. JB Floyd was awarded a Town Hall (NYC) debut recital by the National Guild of Piano Teachers competition and received a Fulbright scholarship for study in Vienna. He also received an Artist in Residence appointment to Hawaii by the Ford Foundation and numerous grants from the National Endowment for the Arts.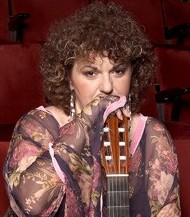 Described as "a great musical personality" (Morning Talk Newspaper-Gr), with "style and flair... amazing mastery.." (Indian express) and a "very fine sound" (Pancevac cultura-Serbia), "the most representative of the Greek guitar today" Pr. Eva Fampas is regarded as one of the world's most gifted and exciting guitarists today, with performances noted for coupling deep musicality, passion and an exceptional virtuosity.
Her engagements for 2006 included concert appearances and solo recitals in Greece, Mexico (1st Ramon Noble Int. Guitar festival, 1st Maestros del Mundo festival), Bulgaria, Russia (9th Kaluga Int. Guitar festival) and a very successful concert tour in China organized by WU PROMOTION. Highlight of the 2005 was the release of the "EVA FAMPAS plays FAMPAS" cd on the Italian AULIA label, and the 2007 brought among others the new cd release Eva Fampas - "CAPRICCIO DIABOLICO" on BERBEN & IGS.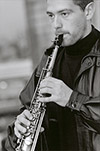 Noah Getz made his Carnegie Hall debut as the recipient of the National Alliance for Excellence Grand Prize. He has presented solo recitals for The Phillips Collection, the Dame Myra Hess Series, World Saxophone Congress XIII, Copland School of Music Recital Series, Johns Hopkins University, the Stella Adler School Concert Series, Church of the Epiphany Concert Series in Washington, DC, and as the guest soloist for the MOSA Concert Series two-day Saxophone Summit in New York City. Dr. Getz received a first-round nomination for a Grammy Award in 2002 for his contribution with the New Hudson Saxophone Quartet to America's Millennium Tribute to Adolphe Sax, Vol. V, and has also been featured on albums including The American Muse, and Leo Kraft: Chamber Symphony 2.

Since winning the Gold Medal of the prestigious International Violin Competition of Indianapolis in 1998, JUDITH INGOLFSSON has established herself world-wide as an artist of uncompromising musical maturity, extraordinary technical command and charismatic performance style.
A native of Iceland, Judith Ingolfsson made her debut as orchestral soloist in Germany at the age of eight.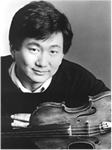 Acclaimed for his extraordinary musical interpretation and virtuosic playing, Chin Kim is one of today's most sought-after violinists. A native of Korea, he has soloed with every major orchestra in both North and South Korea, and he has also performed as a guest artist throughout North America, Asia, and Europe. These appearances have been with world-renowned orchestras, such as those in Philadelphia, St. Louis, Montréal, and Atlanta. He has had the privilege of performing under the baton of conducting luminaries Leonard Slatkin, John Nelson, Myung Whun Chung, Gerhardt Albrecht and Sixten Ehrling..

Grammy® Nominated South African pianist Petronel Malan is an exclusive recording artist for the internationally award-winning label Hänssler Classic. Her debut disc "Transfigured Bach: The Complete Bach Transcriptions of Bartok, Lipatti and Friedman," was nominated for three Grammy® awards, including "Best Instrumental Solo Album 2004." The album was on the Top-10 list for Classic FM for over 35 weeks. Her second recording "Transfigured Mozart," was released in 2006 to critical acclaim and her next recording, in the "Transfigured -" series is slated for international release in 2007. As a "Blüthner Concert Artist" she uses these pianos exclusively for her recordings.

Alessandro Marangoni was born in Italy in 1979. He studied piano with Marco Vincenzi, obtaining the diploma with honours (summa cum laude) and he continued his studies at the 'Scuola di Musica di Fiesole' with Maria Tipo and Pietro De Maria. Besides his musical studies he also obtained a graduated with honours in philosophy at the 'Università di Pavia' with a thesis about Fernando Liuzzi's philosophy of music.

Nobue Matsuoka began studying marimba at the age of ten with her aunt, Kayoko Kito in Nagoya, Japan. She came to the United States in 1989 and studied percussion at Loyola University in New Orleans with Jim Atwood of the Louisiana Philharmonic Orchestra. She won the Aspen Music Festival Percussion Competition in 1994, became the national winner of the 1995 Music Teacher National Association Young Artist Competition in Percussion and graduated from Loyola with honors.

A product of America's rich aural folk tradition as well as classical and flamenco music, Mark O'Connor's creative journey began at the feet of a pair of musical giants. The first was the folk fiddler and innovator who created the modern era of American fiddling in the 1940s, Benny Thomasson; the second, French jazz violinist, considered one of the greatest improvisers in the history of the violin, Stephane Grappelli. Along the way, between these marvelous musical extremes, Mark O'Connor absorbed knowledge and influence from the multitude of musical styles and genres he studied.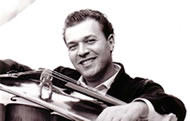 Luigi Piovano currently solos and plays first cello with the Accademia Nazionalea di Santa Cecilia Symphony Orchestra and, honoris causa, holds the same positions with the Tokyo Philharmonic Orchestra.
Instructed by his father, composer and pianist Antonio Piovano, the cellist began the study of music at the age of five. At seventeen, he received his diploma with first-class honors.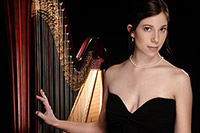 American harpist Jacqueline Pollauf is a dynamic young performer with musical sensitivity and maturity beyond her years. Praised for playing with "glittering beauty" (Lawrence Budman, critic for the Miami Herald) and a "steady and most satisfying elegance" (The Toledo Blade), Jacqueline made her solo debut at age sixteen with the Perrysburg Symphony Orchestra. She performs frequently as a soloist and released her first solo album, Bouquet, in 2009.