Angela Amato, Violinist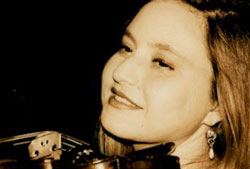 Angela Amato graduated with top marks at "Giuseppe Martucci " Music Conservatory, she than accomplished her Post Graduate Degree at "Accademia Internazionale Pescarese " under Professor Beatrice Antonioni. She continued her advanced Post-Graduate Studies in Switzerland and UK, with Tibor Varga, Yfrah Neaman, Zineida Gilels, Lydia Mordcovich and Emanuel Hurwitz. She gained a place at the Post Graduate Course in Music Teaching at the Institute of Education in London, acquiring further expertise in teaching. She speaks four languages fluently, Italian, French, English, Spanish and knows some German. In 1995 she was appointed Permanent Staff at the Watford School of Music in London where she worked as a Violin Tutor till 2002.At present she is Violin Tutor at Accademia Musicale Jacopo Napoli in Italy. She has been assistant at the Summer Chamber Music Courses at the Harrow Public School and YMC in London, and has been invited, as assistant of Professor Beatrice Antonioni, at the Music International Summer Course in Cava de' Tirreni, (SA) Italy.
Winner of National and International Prizes including "Amici Di Castel St. Angelo, Rome ", " Francesco Cilea International Chamber Music Competition", in September 2003 has been awarded the ARTECNO scholarship as the best instrumental candidate. Her professional concerts engagements have included Recitals and Solo appearances in the most prestigious national and international Music Festivals. She has been member of the Baroque Ensemble "Pieta' dei Turchini" where under the baton of M_ Florio she has given numerous concerts featuring the Baroque Neapolitan repertoire also collaborated with Roberto de Simone.
She is an expert of modern and contemporary music gaining much success with the interpretation of the Bernard van Dieren Violin Solo Sonata, the first performance of Eiluned Davies' European Dances for violin and piano accompanied by the British composer-pianist and the first performance of Serbian-composer's works, Radich.Other performances have included works of Angelo Bellisario, Giacomo Manzoni, Vincenzo Palermo and Keith Goodman. In 2006 her successful performance of "Elegia" for Solo Violin and String Orchestra, by Composer Keith Goodman, have started to engage Ms Amato in a series of performances of Recitals and Solo Concertos with Orchestra, which include many inedited works by modern and 700' music. In Duo with Composer-pianist Goodman, beside the traditional Duo repertoire, she performs works by William Walton, Lili Boulanger, Ottorino Respighi, Ernest Bloch, Josef Myslivecek and several others.
Ms Amato has been well acclaimed for her performances of all Bach's Violin Concertos at Holy Trinity Church, Prince Consort in London where she performed and conducted the Orchestra. Also appreciated for Vivaldi Double Concerto with Emanuel Hurwitz, the Mozart G Mag. Concerto with "Amati Ensemble" and "Gusella Orchestra", the M. Bruch Concerto with NWLO.She has been Leader of several professional Orchestras in Italy and UK and has collaborated with prestigious artists as Tibor Varga, Gilbert Varga, Mathias Bamert, Donato Renzetti, Renato Piemontese, Francesco D'Avalos, Francesco Vizioli, Igor Oistrach, Latica Honda Rosenberg, Miriam Kramer , Jae Hong Yim, Miriam Contzen, Mateja Marinkovitch, Professor Michael Schreider, Marina Petrov, Olga Wilson, Akane Makita, Emi Noda, Enzo Palermo, Pino de Vittorio, Daniela del Monaco, Nelly Miricioiu, Enrico Baiano and many others. She has been member of the Morris Quartet, String Celebrations and Martucci Trio.She is currently collaborating as a Leader of the Barsentum Orchestra and is carrying out research and performances of Italian Music of the 20th Century and Contemporary repertoire. She has also conducted much research and performances of 700' Italian Violin repertoire. She has recorded for Radio and TV Rai, Radio France, BBC and Radio Swiss Romande. She recorded two CD's ( 28_ and 29_ Festival Tibor Varga, Sion, Switzerland). Ms Amato plays a French violin 1780 Paris-School.