Luigi Piovano, Cellist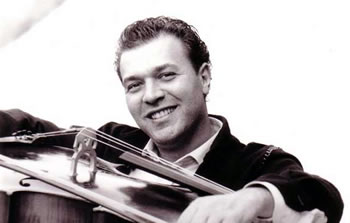 Luigi Piovano currently solos and plays first cello with the Accademia Nazionalea di Santa Cecilia Symphony Orchestra and, honoris causa, holds the same positions with the Tokyo Philharmonic Orchestra.
Instructed by his father, composer and pianist Antonio Piovano, the cellist began the study of music at the age of five. At seventeen, he received his diploma with first-class honors.
Piovano continued his studies and improved his technical abilities and musical knowledge with the Rumanian master Radu Aldulescu, one of the greatest European cellists of the twentieth century.
Thanks to a grant he won, financed by the multinational Nestlè corporation, he attended the "Menuhin Music Academy" of Gstaad and its "Camerata Lysy," engaging in several international performances either as a soloist or orchestral player.
He received a diploma in cello and chamber music at the High School Music of Paris, taking part in important international competitions (Trapani, Illzach), from which he received excellent praise from the critics.
In the field of chamber music, Luigi Piovano's career involves his membership in the "Quartetto Michelangelo" (the group recorded for Nuova, Era Shumann's quartets with original instrumentation), "Complesso Barocco," the "New European Strings" (conducted by Dmitryi Sitkovetsky), and he plays as a duo with the pianist Luisa Prayer (they recorded Brahms' Sonatas for Vermeer in 2001 and a CD dedicated to Saint-Saëns with Eloquentia in 2004). He has recorded Vivaldi's Cello Concert in A Minor, Opus 111 as well.
In 1999 Piovano took part in the "Menuhin Festival " of Gstaad, playing with Sitkovetsky, Dalberto and Collins and at the "Salzburg Festival" with the famous "Pollini Project," which gave him the opportunity in 2001 to play at New York City's prestigious Carnegie Hall, in Tokyo in 2002, and in Saint Cecilia's Academy in Rome in 2003.
His favourite cello concerto is that of Dvorak.
Piovano plays a Giuseppe Sgarbi, an Arturo Fracassi made in 1935, and a Matteo Goffriller.