Suggested
Listening

Mahler: Symphony No. 9 / Benjamin Zander, Philharmonia Orchestra


Mahler: Symphony No.4; Lieder eines fahrenden Gesellen

Suggested
Reading

Gustav Mahler: Letters To His Wife


Gustav Mahler: The Symphonies


Gustav Mahler : Vienna : The Years of Challenge (1897-1904)

Suggested
Viewing

Mahler - The Symphonies plus Das Lied von der Erde Boxset / Leonard Bernstein, Wiener Philharmoniker, London Symphony Orchestra, Israel Philharmonic Orchestra


What the Universe Tells Me-Unraveling the Mysteries of Mahler's Third Symphony


Gustav Mahler: Conducting Mahler/I Have Lost Touch With the World

Gustav Mahler
(1860-1911)
Now regarded as the last in a long line of great Austro-German symphony composers, Mahler was primarily known during his lifetime as a conductor and director of operas. His symphonies made little impact until the last ten years of his life, and even then, they were performed mostly in Austria and Germany. With the Nazi rise to power, his music grew even more obscure, suppressed by the Third Reich because of Mahler's Jewish birth. Not until the 1960s and 1970s, when such conductors as Leonard Bernstein championed his music, did Mahler become a staple of concert halls all over the world.


Mahler's Early Influences

In 1860, the year of Gustav Mahler's birth, Emperor Franz Joseph decreed that Jews could move about the Austro-Hungarian Empire with greater freedom than they had ever before enjoyed. This change in policy allowed Mahler's mother and father to move from Kalischt, Bohemia, where Gustav had just been born on July 7, to the town of Iglau in Moravia. There they were among many other German-speaking Jews. Mahler's mother Marie was the daughter of a soap-maker and his father Bernhard ran a tavern and distillery. Mahler was the eldest of six children who grew to adulthood (Marie had given birth to fourteen in all).

Bernhard Mahler bought a piano when Mahler was six years old. Mahler quickly became proficient, giving his first public performance at the age of ten. He also learned harmony from the music director of the local church, St. Jakob, whose son was a friend of Mahler. As Mahler later recalled, some of his most memorable childhood experiences were intertwined with music; during a bitter argument between his parents, for example, young Gustav fled into the street, only to hear street musicians playing an upbeat folk song. The association between emotional pain and incongruously cheerful popular music was to persist in Mahler's symphonies.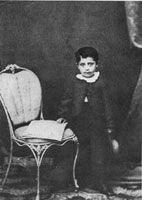 In 1875, Mahler was accepted to the Vienna Conservatory. During his three years there, he initially focused on piano but later switched to composition, becoming an admirer of Wagner and Bruckner. Two years later, he began attending lectures at the University of Vienna, where he further explored Wagner's ideas, as well as the philosophy of Nietzsche and the political ideals of socialism. At the same time, Mahler began conducting and teaching piano to support himself. Mahler graduated from the Vienna Conservatory in 1878. The work he composed for graduation was a Scherzo for piano quintet, which unfortunately, along with other early works, has been lost, including work on an opera called Rübezahl for which we still have the libretto. The composer Hugo Wolf, who also had wanted to set an opera on this subject, was irked at Mahler for using it himself.


Early Conducting Positions

Mahler's first full-time conducting engagement was for the summer of 1880 at Bad Hall, south of Linz, a theater that offered only operetta. The next year he went to Laibach, now Ljubljana, and conducted his first real operas. In 1883 Mahler took a position at Olmütz (Olomuoc) in Moravia. He disliked the job, returning to Vienna within the year for a short-term position as head of the chorus at the Carltheater. Soon thereafter Mahler was hired for the Königliche Schauspiele (King's Theater) in Kassel.

Mahler worked at Kassel for a little less than two years, from August 1883 to April 1885. Soon after arriving, he received the title "Royal Musical and Choral Director," but there were two men senior to him, and Mahler came into conflict with both of them. The head of the theater was a Prussian army officer who punished Mahler for such transgressions as walking too noisily and making the women in the chorus laugh.

Nevertheless, Mahler saw success as both a conductor and a composer while in Kassel. He enjoyed great acclaim for conducting Mendelssohn's oratorio St. Paul. He also wrote incidental music for J. V. von Scheffel's poem Der Trompeter von Säkkingen, the first of Mahler's pieces to be performed by professionals.

Less fulfilling was Mahler's love life. He fell in love with Johanna Richter, one of the sopranos at the theater. While the affair did not end happily, he set four of his own poems about the experience to create the song cycle Lieder eines fahrenden Gesellen (Songs of a Wayfarer).

His next position was a six-year contract at the Leipzig Opera, but it could not begin until 1886. In the meantime, Mahler filled in at the Neues Deutsches Theater in Prague, attempting to rescue German opera in a city dominated by Czech nationalism and Czech operas such as those of Smetana and Dvorák, which were regularly supplemented by Russian works. Mahler had some success before leaving for Leipzig.


Conducting and Early Compositions in Leipzig

Leipzig was one of the nineteenth century's preeminent musical centers. It also had an excellent conductor in Arthur Nikisch, and he and Mahler frequently were at odds. Nevertheless, Mahler was able to conduct part of Wagner's Ring cycle and win the hearts of Leipzig audiences. He also achieved some success with a new opera, Die drei Pintos, a completion of an unfinished work by Carl Maria von Weber that did, however, contain some of Mahler's own music. Richard Strauss saw great potential in the work, and the two men founded a lifelong friendship.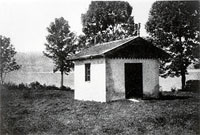 Another friendship that arose from Mahler's completion of Weber's opera was a relationship with Marion Weber, wife of Carl Maria von Weber's grandson Carl. Mahler later said that the two had planned to elope together. It is not known what prevented them; perhaps it was Mahler's affection for Marion and Carl Weber's children, whom he said introduced him to Amim and Brentano's collection of German folk poetry, Des Knaben Wunderhorn. This work was later to prove a major source of inspiration for Mahler, but at the time of his affair with Marion Weber, he was involved in writing the First Symphony (parts of which he derived from the earlier song cycle Lieder eines fahrenden Gesellen) and was beginning work on the Second Symphony.

One of the many conflicts with theater officials that marked Mahler's entire career soon surfaced, leading him to resign from the Leipzig Opera in 1888. Not having another appointment in view, he went to Prague to arrange a performance of Die drei Pintos. There, searching for something more permanent, he met with the cellist David Popper, who offered Mahler the position of director at the Royal Hungarian Opera in Budapest.


Directing at the Royal Hungarian Opera

Mahler had encountered Czech nationalism in Prague, and Hungary's political and cultural environment was much the same. The political scene included Hungarian nationalists who wanted to maintain ties with the Austrian Empire and Austro-German culture, other nationalists who wanted nothing to do with anything Austrian or German, and several minority ethnic groups (Slovaks, Serbs, and Croats, among others) who wanted recognition as well. Mahler fit in well with the pro-German Magyar nationalists, many of whom admired Wagner. Thus, he started his tenure there by programming Hungarian-language performances of the first two Ring operas, Das Rheingold and Die Walküre.

In 1889, a year after his arrival in Budapest, three members of Mahler's family died, first his father, then his sister Leopoldine, then his mother. Mahler was left in charge of four younger siblings, especially his unmarried sisters Justine and Emma, who moved in with Mahler's friend Fritz Löhr in Vienna.

1889 also saw one of the most significant events for Mahler as a composer: the premiere of his First Symphony in Budapest. The hall was filled with tension, as Mahler's Hungarian rival Sándor Erkel had conducted the main portion of the concert. Critics were confused by the symphony; Viktor von Herzfeld, a rival from Mahler's days at the Vienna Conservatory, was particularly scathing.

In 1890, the political situation in Hungary began to grow less hospitable for Mahler as the anti-Austrian Hungarians took charge. By 1891, he no longer exercised much artistic control over the theater and began to look elsewhere for work. The Hamburg Stadttheater was interested, and Mahler resigned from Budapest in March 1891. One of his last productions was a staging of Don Giovanni with the original recitatives, then rarely used; it won him the respect of Brahms and began a friendship between the two composers.


New Challenges in Hamburg

Mahler moved to Hamburg in March 1891 and began work immediately. His superior, the director Bernhard Pohl (or Pollini), tried to give Mahler a certain degree of creative freedom at first but eventually became overbearing. Another problem was Mahler's heavy schedule, which he felt did not allow him enough rehearsal time. Despite these disadvantages, Mahler tried to maintain the highest of performance standards and could be difficult to deal with. A flautist who felt that he had been picked on once gathered a group of friends to attack Mahler as he headed home after rehearsal, leading Mahler to summon a police escort.

At the end of his first Hamburg season, Mahler and the Hamburg opera singers traveled to London, where they performed the first complete Ring cycle that city had ever heard. Mahler's early years in Hamburg also gave him the opportunity to conduct symphonies, primarily because he had developed a friendship with the great Hamburg conductor Hans von Bülow. Nevertheless, Bülow did not encourage Mahler in his compositional endeavors.

In 1893, Mahler returned to Austria for the summer with his family, renting rooms in Steinbach on the Attersee. Here he finished drafts of the Second and Third Symphonies, which were fully orchestrated over the winter in Hamburg. The finale of the Second Symphony, however, was not to be fully completed until after Hans von Bülow died in February 1894. Bülow's memorial service the next month included an ode by Klopstock of which Mahler was to use part for the finale, completed that summer. Mahler succeeded Bülow as conductor of the Hamburg Philharmonic for a year. His work with that orchestra, particularly his interpretation of Beethoven's Ninth Symphony, caused such a stir that the orchestra decided not to rehire him the following year.

1895 brought the suicide of Mahler's brother Otto. Mahler no longer wished to be far from his sisters and brought them both to Hamburg that year. Around the same time, he became involved romantically with Anna von Mildenburg, a soprano at the opera. Possibly because the affair had gone sour, Mahler decided to return to Vienna. With the help of friends in high places, he first became Kapellmeister (a necessary prerequisite for which was his conversion to Catholicism in February 1897), then director of the Vienna Hofoper in September.


Return to Vienna

Like Budapest, Vienna had a musical life colored by the political intrigues of the Austro-Hungarian Empire. Anti-Semites were everywhere, and Mahler still had to balance representing German culture with staging works from the non-German-speaking parts of the Austro-Hungarian Empire. One of his first productions was Smetana's opera Dalibor, about a Czech hero. Mahler rewrote the ending so as to leave the hero alive at the end. As the government was worried about the opera's effect upon Czech nationalists, there was a heavy police presence at the premiere.

Mahler not only kept up his tradition of memorable opera productions, he also became conductor of the Vienna Philharmonic's subscription series in 1898. The appointment was not welcomed by everyone: the openly Anti-Semitic newspaper Deutsche Zeitung opined, ""In our view, in a German city only a German appears qualified to interpret German music…a condition that Mahler is just not able to fulfill." Despite such opposition, Mahler nonetheless maintained his position there.

Because his schedule was so busy, he had little time to compose during the concert season. Instead, Mahler continued going away in the summers for compositional retreats, building a lakeside retreat near the Wörthersee in Carinthia. In 1899, after a long period in which he had only written songs, he spent the summer starting the Fourth Symphony, which he completed the following summer. At the same time, he was gaining recognition from the publication of his first three symphonies and the Lieder eines fahrenden Gesellen.

In 1900, Mahler made a trip to Paris with the Philharmonic, giving five concerts during the World Exposition. On this trip, he met Sophie Clemenceau, who, in 1901, was to introduce him to Alma Schindler, his future wife. That year also brought Mahler's resignation from the Philharmonic and a frightening hemorrhoid-related incident in which he lost a great deal of blood. After the operation, he recuperated in his summer villa, nevertheless finding the energy to compose parts of the Kindertotenlieder, the Rückertlieder, and the Fifth Symphony.

On March 9, 1902, Mahler married Alma Schindler, almost twenty years younger than himself. When they met, Alma had been involved with Alexander Zemlinsky, her composition teacher and an acquaintance of Mahler. Zemlinsky was friendly with young modernist artists and musicians such as Schoenberg and Gustav Klimt, and Mahler's marriage brought him into contact with these figures as well.

As much as Alma Mahler loved music, she did not much care for Mahler's music when they were first married. Mahler did not care for her compositional aspirations either, demanding that she stop composing once they were married. This limitation placed a strain upon their marriage.

After the unfortunate critical reception of his First Symphony, and to a certain extent the Second Symphony as well, Mahler had stated, "My time will come." And finally, between 1902 and 1906, it did: Mahler oversaw the successful premieres of his Third, Fifth, and Sixth Symphonies. All of these were first performed outside of Vienna, and he traveled frequently as a guest conductor as well. Consequently, Mahler made fewer conducting appearances in Vienna. He did, however, continue to oversee new opera productions, although the Austro-Hungarian censors kept him from staging more radical works such as Strauss's Salome.


Move to New York

Mahler's frequent absences angered Prince Montenuovo, the liaison between the court and the opera house. In any case, Mahler was ready to move on and agreed to terms with New York City's Metropolitan Opera House in 1907. Despite this exciting opportunity, the summer of 1907 was a tragic one for Mahler. His and Alma's two daughters, Anna and Maria, both became seriously ill, and Maria died on July 12 1907. The doctor looking after his daughters examined Mahler, informing him that he had a serious heart defect and should curb his physical activity. This was a serious blow, for Mahler loved hiking and swimming.


Mahler made his New York debut with Tristan und Isolde on January 1, 1908. The Metropolitan Opera musically conservative but had some excellent soloists, including Enrico Caruso. In the summers, he continued to take vacations devoted to composition. In the summer of 1908, he composed most of Das Lied von der Erde.

Returning to New York that fall, he found that the Metropolitan Opera had hired Arturo Toscanini and expected the two to share podium time. Toscanini was even awarded the privilege of conducting Tristan und Isolde. Mahler's consolation was conducting the New York Symphony for three concerts, one of which was his own Second Symphony. He then became principal conductor of the New York Philharmonic, conducting Strauss and Rachmaninoff along with more familiar composers.

During the summer of 1910, Alma Mahler went to the spa town of Tobelbad and met rising modernist architect Walter Gropius, with whom she began an affair. Mahler found out and told Alma to choose between the two of them. Alma agreed to return to Mahler but secretly maintained ties with Gropius. Mahler's resulting depression led him to a brief period of therapy with Sigmund Freud.

Mahler's Tenth Symphony, composed during this time, reflects his unhappiness despite the supposed reconciliation. He returned to the U.S. but became ill in February 1911. Suffering from bacterial endocarditis, Mahler had no hope of recovery and returned to Vienna via Paris. Alma nursed him through his final illness until his death on May 18, 1911.


References:

Ewen, David. The Complete Book of Classical Music. Englewood Cliffs, NJ: Prentice-Hall, 1965.

Franklin, Peter: 'Mahler, Gustav', Grove Music Online ed. L. Macy (Accessed 16 October 2006), <http://www.grovemusic.com>

Knittel, K.M. "'Polemik im Concertsaal': Mahler, Beethoven, and the Viennese Critics." 19th Century Music 29.3 (2006): 289-321.

Stolba, K Marie. The Development of Western Music: A History. Dubuque, IA: Wm. C. Brown Publishers, 1990.