Amin Bhatia

(b. 1961)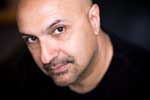 Composer and sound designer Amin Bhatia's fascination with orchestral music and electronics won him international fame in his youth. It led to projects with David Foster, Steve Porcaro and a solo album titled The Interstellar Suite released on the Capitol Records Cinema label. The realism and expression of his sound won critical acclaim among those in both the electronic and classical music genres. Amin's approach has been likened to the harmonic inventiveness of Jerry Goldsmith and the technical prowess of Hans Zimmer.

Over the years Amin has moved into orchestral work with a sizable portfolio of film and television scores. These include the IMAX films Mysteries of the Great Lakes and Jane Goodall's Wild Chimpanzees, which feature members of the Toronto Symphony and Opera Orchestras with hit songs for the Jane Goodall documentary recorded in Africa with Johnny Clegg. Bhatia also scored the GFT epic war feature Going Back, which was recorded by the Munich Symphony Orchestra, and the animated adventure Rescue Heroes: The Movie (Nelvana), which features players from the Toronto Symphony Orchestra. Other films include John Woo's Once A Thief and Iron Eagle II.

In 2005 Amin won two Gemini awards for his work in television and in 2006 Amin and co-writer Ari Posner received an Emmy nomination for the Disney animated series Get Ed. Amin and Ari are currently working on the TV series Flashpoint, which will air on CBS.

In between his film and TV music assignments, his long-awaited sequel to The Interstellar Suite (1986), entitled Virtuality, was released on May 23, 2008 - the anniversary of Bob Moog's birthday.


References and Links:
http://www.aminbhatia.com/
http://en.wikipedia.org/wiki/Amin_Bhatia/