Suggested
Reading

Beethoven By Maynard Solomon


Beethoven's Letters By Ludwig van Beethoven


Beethoven's Hair: An Extraordinary Historical Odyssey and a Scientific Mystery Solved

Ludwig van Beethoven
(1770-1827)

There is perhaps no composer who is better known and respected by musicians and audiences alike than Ludwig van Beethoven. Beethoven can be seen as the pinnacle of compositional excellence, and his legacy – his symphonies, concertos, string quartets, and piano sonatas in particular – has both inspired and daunted every subsequent composer. His influence will almost certainly be felt for centuries to come.


Youth

Ludwig van Beethoven was born December 16, 1770, in the city of Bonn, in what is now Germany. Both his grandfather, Ludwig, who had been a respected kapellmeister, and his father, Johann, a tenor, were employed in the court of the Electorate of Cologne. Little is known about his mother, Maria Magdalena. Ludwig was the second of their seven children and, along with his younger brothers Kaspar Karl and Nikolaus Johann, one of only three to survive infancy.

There is little documentary evidence about young Ludwig's childhood. It is known that as a boy he received piano, violin and French horn lessons, and he no doubt received training in music theory. In 1778 he made his first public appearance on the keyboard, and by the age of twelve his repertoire included J.S. Bach's The Well-Tempered Clavier.

In 1779, Christian Gottlob Neefe came to court to work for the Elector and quickly took the talented boy of nine under his wing, providing him with organ, counterpoint and composition lessons. When Beethoven was fourteen, he was appointed by the Elector to serve as the deputy court organist. He continued to study music, give private lessons and play viola in both theater and chapel orchestras. It was during this time that he also began to compose regularly.



Did you know...?

Beethoven is Alex de Large's favorite composer in

A Clockwork Orange

.



In 1787, Neefe arranged for his seventeen-year-old protégé to visit Vienna where he played for and possibly took a few lessons with Wolfgang Amadeus Mozart. It has been said that Mozart predicted a bright future for Beethoven. In 1790, the famous Franz Joseph Haydn, during a visit to Bonn, reviewed a cantata by Beethoven, and encouraged the nineteen-year-old composer to come to Vienna and to become his student.


Vienna, Early Successes, Deafness

In 1792 Beethoven moved to Vienna, the city that he would call home for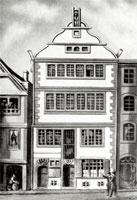 the rest of his life. He did in fact study composition with Haydn for a time. He also studied counterpoint with Johann Georg Albrechtsberger and Italian vocal composition with the imperial kapellmeister Antonio Salieri. Very quickly Beethoven made his name through his mastery of the keyboard and his ability to improvise. Quite popular at the time, improvisation competitions between pianists were hosted by aristocrats, and Beethoven easily "defeated" every significant pianist in the city.

He was also beginning to be recognized as a gifted composer. In 1795, the twenty-four-year-old Beethoven premiered his Second Piano Concerto, performing as the soloist. As his reputation grew, so did his ability to support himself with the stipends that he received from aristocrats. In return, Beethoven frequently dedicated new compositions to his patrons throughout his career. He also supplemented his income by giving private lessons to members of the aristocracy.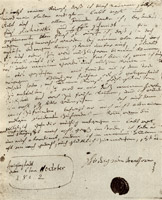 Composers before Beethoven had generally been treated as servants, but Beethoven was accepted into aristocratic social circles as a near-equal. In 1802, however, his attitude towards mingling with high society changed. Beethoven revealed in a letter to his brothers, the so-called "Heiligenstadt Testament," that he was going deaf, that no cure was certain, and that he was afraid others would find out that his ears did not work. He gradually isolated himself from all but his closest friends and assistants.


Productivity, "Immortal Beloved"

Despite this personal crisis, between 1802 and 1812 was a period of extraordinary creativity for the composer, during which time he produced a series of masterpieces. Beethoven composed seven symphonies (numbers 2, 3, 4, 5, 6, 7 and 8), the opera Fidelio, his third, fourth, and fifth ("Emperor") piano concertos, his only violin concerto, the Triple Concerto, the Choral Fantasy, five string quartets, nine piano sonatas (including the "Tempest," the "Waldstein," the "Appassionata," and "Les Adieux"), three piano trios, and a number of other works. By 1808 he was no longer performing in public as a soloist, although he did take part in the performance of chamber works.





Did you know...?

The theme from the second movement of Beethoven's "Emperor" Concerto was used for Audrey's "love theme" in the film

Art School Confidential

(

2006

).



Two events in Beethoven's personal life during 1812 are cause for much speculation. The first involved Ludwig's brother Nikolaus Johann, who ran an apothecary's shop in Linz. Beethoven was in Linz completing work on the Eighth Symphony. It seems that while staying with his brother, he took it upon himself to end an affair that Johann was having with an unmarried young woman named Therese Obermeyer. Ludwig even went so far as to try and have the police forcibly remove the girl from the city. Despite Beethoven's disapproval, Johann and Therese were married in November of that year.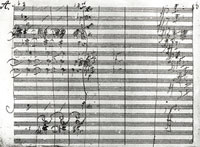 The second situation involved Beethoven himself and an unidentified woman. Found among his personal papers after his death (along with the "Heiligenstadt Testament") was a love letter from 1812. In three short romantic passages, dated July 6 in the morning, July 6 in the evening and July 7, in the morning, respectively, Beethoven passionately expressed his longing to be with the one he calls his "Immortal Beloved." While a number of theories have been posited, there are few details about the affair and her identity remains a mystery. It is not known to what extent this affected Beethoven emotionally in the years that followed. Beethoven never married.


The five years from 1813 to 1817 represent a compositional drought for Beethoven. He did compose sonatas for piano, sonatas for cello, some shorter piano pieces, and an orchestral overture, but in general, his output was quite small. Also, he no longer performed in public after making his last appearance as a pianist at the premiere of his "Archduke" trio on April 11, 1814. These years, it seems, were unhappy ones for Beethoven. Certainly some of his discontent can be attributed to his worsening deafness and his increasing isolation from others. However, the changing musical tastes of the Viennese public further alienated Beethoven.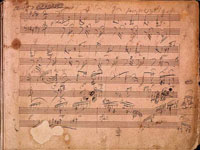 In 1815, Ludwig's brother Kaspar Karl died and left joint custody of his son, Karl, to his widow and the composer. This settlement led to a lengthy and very bitter custody battle initiated by Beethoven, who viewed the boy's mother, Johanna, as an unsuitable parent. The boy ultimately lived with his uncle for a number of years, during which time their relationship was contentious at best. Beethoven seems to have been a domineering guardian who often ignored Karl's own ambitions.


New Works, the Ninth Symphony, 
Beethoven's Death

By 1818, Beethoven was completely deaf. He communicated through the use of "conversation books" in which his friends and companions wrote down their half of a conversation with Beethoven, who could then respond verbally. Around 400 of these notebooks survive.


The years following 1818 mark the renewal of Beethoven's creative gift. The results are the completion of his last six string quartets, the Grosse Fuge, piano sonatas 29 through 32, the Diabelli Variations, and the Ninth Symphony (commissioned by the Philharmonic Society of London, a testament to Beethoven's renown throughout the Western world as the greatest living composer). One famous story concerns the premiere of the Ninth Symphony in Vienna on May 9, 1824. When the performance was over, the deaf composer, who had been assisting in the conducting of the performance, was turned toward the audience so he could see the audience's overwhelmingly enthusiastic applause.

In December 1826, Beethoven's doctors determined that the composer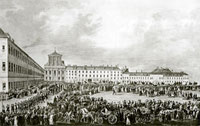 was beginning to suffer from liver failure. Present day medical writers suggest he may have had cirrhosis that was brought on by a bout of hepatitis. Over the next few months his condition worsened and he was virtually bedridden. Despite attempts to drain fluid from his abdomen, little could be done. Beethoven died March 26, 1827 in Vienna. He was buried three days later in a public ceremony that drew an estimated 10,000 Viennese. Today Beethoven is buried next to Franz Schubert in Vienna's Zentralfriedhof.


Resource Links

Following The Ninth-A Film by Kerry Candaele
www.followingtheninth.com