Suggested
Listening

Debussy: Prélude a l'apres-midi d'un faune; Images; Printemps, Boulez


Debussy: La Mer - Jeux - Rhapsodie pour clarinette et orchestre. Boulez

Claude Debussy
(1862-1918)
Debussy is often categorized as an "Impressionist" composer. This designation, which was first applied to painters of the same era, refers to the evoking of a mood using harmony and tone color. It is this style of composition with which Debussy is most closely associated, despite the fact that he tended to disavow the label.


Youth

Claude-Achille Debussy was born in St. Germain-en-Laye, France on August 22, 1862. He was not born into a musical family. His father, Manuel-Achille Debussy, was in the marine infantry and then settled in St. Germain-en-Laye, where his first son was born. There he and his wife managed a china shop. With the outbreak of the Franco-Prussian War in 1870, the family relocated to Cannes to avoid being in middle of the conflict. They moved in with Manuel-Achille's sister, and it was there, at the age of eight, that Debussy began music lessons.

One year later, in 1871, Debussy's father was arrested for having become a captain in the forces of the Paris Commune. After his arrest, he was sentenced to four years in prison (although this sentence was subsequently reduced to one year) and had all of his civil rights suspended. These events led to Debussy's guardianship being given to Antoinette Mauté, Paul Verlaine's mother-in-law, who also assumed responsibility for Debussy's continuing musical education.

In 1872 he was admitted to the Paris Conservatoire. At first he studied to become a solo pianist, but when he was unable to earn the highest prizes in this discipline, Debussy turned to studying harmony and accompanying and succeeded in these disciplines to a larger degree. His interests also grew to include composition, and early influences on Debussy included César Franck, Camille Saint-Saëns, and Emmanuel Chabrier. Seven years later he composed his first works, melodies, on texts by Alfred de Musset, a French Romantic poet.




Did You Know...?

Debussy attended the riotous premiere of Stravinsky's

The Rite of Spring

, in Paris, May 29,

1913

. Also in attendance were Cocteau, Picasso, Proust, and Ravel.



Early Career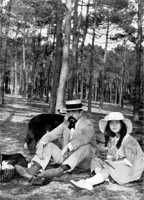 In 1880 Debussy made an important connection when Tchaikovsky's patron, Nadezhda von Meck, hired him to teach her children the piano and to play piano duets with her. While employed by her, Debussy spent summers with the family in Italy, Vienna, and Moscow. In addition to these travels, during this period he wrote the Piano Trio and began prodigiously composing songs.

He showed promise as a composer and in 1883 was awarded runner-up for the Prix de Rome; he earned this prize for his cantata Le gladiateur. At about the same time, Charles Gounod, the respected French composer, became Debussy's mentor when Debussy met him while accompanying the Concordia choral society. One year later, in 1884, he won the Prix de Rome for his cantata L'enfant prodigue, and thereafter stayed in Rome at the Villa Medici where he wrote Zuleima, Printemps, and began La damoiselle élue, all for chorus and orchestra. While in Rome, his compositional style did not always please the academy that had sponsored him, due in part to his unusual treatment of harmony. Having fulfilled the minimum required time in Rome, Debussy returned to Paris in 1887.

Upon returning to Paris, he composed the songs Cinq poèmes de Baudelaire and the Fantaisie for piano and orchestra. At this time Richard Wagner's compositional style influenced his works. However, he began to frequent Parisian cafés and was particularly drawn to the Symbolist poets and Impressionist painters that were part of café society. Through his interaction with these artists, Debussy began to reject Wagner and Romanticism with its explicit emotional content and programmatic composition.

Along with the influence of café society, it is likely that two other events served as catalysts for his change in compositional direction. The first occurred in 1888 when Debussy went to Bayreuth where Wagner's operas were performed in the venue specifically designed by Wagner. He returned in 1889, and thereafter determined that he should find a compositional direction that differed from Wagner's vision. Debussy wanted to distance himself from what he considered the emotional excess of the Romantics and instead wanted to write music that, through sound, created an ambience similar to that of the Impressionist painters and Symbolist poets of his day. The second event occurred the following when year he witnessed a Javanese gamelan at the Universal Exposition of 1889, an experience which also altered his compositional direction through his exposure to new timbres and scales.


Prélude to L'après-midi d'un faune and Pelléas et Mélisande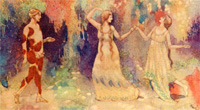 During this same period, in 1888, Debussy completed La damoiselle élue and this work, premiered by the Société Nationale in 1893, garnered him his first significant public notice. In 1890, he began collaboration with Stephane Mallarmé, a leading Symbolist poet. This was a theatrical project based on Mallarmé's poem L'après-midi d'un faune. While this joint endeavor was never fully realized, it was the impetus for one of Debussy's most well known works, the symphonic Prélude à L'après-midi d'un faune, which he wrote in 1894.

Before completing the Prélude, however, Debussy saw a performance of the Belgian playwright Maurice Maeterlinck's play Pelléas et Mélisande in 1893 and determined that he wanted to write an opera on this story. Soon thereafter he traveled to Ghent in Belgium to meet with the playwright in order to get his approval on such a project. Having received Maeterlinck's permission, Debussy began work on the opera and by 1895 had completed the first version. He experienced difficulty, however, in finding a performance venue for it and years passed before it was finally staged.


Marriage and New Career Opportunities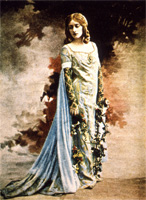 In 1899 Debussy married the model Lilly Texier, the year in which he also wrote the orchestral Nocturnes. Two years later he added the role of critic to that of composer and husband when he began to write for the Revue blanche using the pseudonym Monsieur Croche.

1901 was eventful overall, in that not only had he become a music critic, but also, at last a company, the Opéra-Comique, agreed to stage Pelléas et Mélisande. There was some difficulty in terms of its production due to squabbles over who should sing the role of Mélisande. Ultimately the role went to Maeterlinck's mistress Georgette Leblanc, a decision that led to protests, but she nonetheless sang the part. The first performance took place on April 30, 1902 and received mixed reactions from the press. However, as a whole it went on to become a successful and oft-performed opera.

In 1903, Debussy began to write as a critic for the periodical Gil Blas. In these writings, he advocated a French national tradition based on a lineage beginning with Jean-Philippe Rameau and urged French composers to distance themselves from the German schools of composition. It was during this year that he also wrote the orchestral piece La Mer.

Debussy's personal life was just as eventful as his professional one. In 1904, he moved in with a married woman, Emma Bardac, with whom he was having an affair. This action prompted his wife Lilly to attempt suicide. However, he remained with his mistress, ultimately marrying her in 1905 after she divorced her husband. In this same year, their daughter Claude-Emma was born. It was for his daughter that Debussy wrote the popular Children's Corner, a playful piano work. Sadly, she died at the age of fourteen.

In 1909, at the invitation of composer Gabriel Fauré, Debussy became a member of the advisory board of the Paris Conservatoire, and it was at this time that his health began to seriously deteriorate. However, he continued to compose, and in 1910 produced the ballet Khamma and in 1912 another dance work titled Jeux. One year later, his skills as a music critic were put to use for the journal Revue musicale S.I.M, and for the first time his Images for orchestra were performed as a complete set with Debussy as the conductor.


Final Years and Legacy

In 1915, Debussy underwent a colostomy for rectal cancer, after which time he was in continuous pain. Three years later, on March 25, 1918, he died in Paris leaving a tremendous legacy. Many composers who followed him were particularly inspired by his treatment of the orchestra and use of harmony. The well-known composers who were directly influenced by him include Maurice Ravel, Olivier Messaien, Richard Strauss, Giacomo Puccini, Igor Stravinsy, Alban Berg, Anton Webern, Paul Hindemith, Charles Griffes, Karol Szymanowski, and Ottorino Respighi.


References:

Berman, Laurence D. "Prelude to the Afternoon of a Faun and Jeux: Debussy's Summer Rites." 19th-Century Music 3.3 (1980): 225-38.

Ewen, David. The Complete Book of Classical Music. Englewood Cliffs, NJ: Prentice-Hall, 1965.

Grout, Donald J. A History of Western Music. 7th ed. New York: W.W. Norton, 2006.

Lesure, Francois and Roy Howat: 'Debussy, (Achille-) Claude', Grove Music Online ed. L. Macy (Accessed 1 September 2005), <http://www.grovemusic.com>

Stolba, K Marie. The Development of Western Music: A History. Dubuque, IA: Wm. C. Brown Publishers, 1990.

Weiss, Piero and Richard Taruskin. Music in the Western World: A History in Documents. New York: Schirmer, 1984.