Jean-Philippe Rameau
(1683-1764)
In 1722 Jean-Philippe Rameau published the Traité de l'harmonie (Treatise on Harmony), a tome that brought renown to Rameau as a leading music theorist. He also aspired to be a composer of dramatic music, and despite his peers' initial doubts that a "theorist" could produce worthwhile operas, his numerous works went on to become well-respected and oft-performed during his lifetime. After his death, however, it was the music theory treatise that remained his most influential contribution. For the next two hundred years this document directly shaped music theory in the Western tradition.


Rameau's Childhood and Education


Jean-Philippe Rameau was born in Dijon, France sometime around September 25, 1683. His father, Jean, was the town organist and his mother, Claudine Demartinécourt, was considered of minor nobility, which, while not necessarily guaranteeing the family great wealth, did offer them important connections. The family was a large one, there were eleven children in all, and produced several accomplished keyboard players, among them Jean-Philippe.

Rameau's only formal musical training came from his father. However, despite his father's interest in teaching him about music, his parents did not wish him to become a musician. Instead they hoped that he would study and practice the law and to that end, he was enrolled at a Jesuit college and subjected to a curriculum that trained him for this future career.

Consequently, while he was a student there, the teachers complained that his only interest seemed to lie in music and that he was not adhering to his course of study. For that reason they requested that he leave. Ironically, it was probably at this school that Rameau was first drawn to the idea of writing dramatic musical works when he saw the dramatic religious musical pieces produced there. In any case, at the age of eighteen, his parents finally accepted his decision to become a musician and he set about pursuing this career.


Rameau's Early Career and Traité de l'harmonie

During his early career he occupied several provincial positions as an organist and moved about the country regularly. He also published his music for the first time – the Premier livre de pieces de clavecin (1706) – and for this publication he went to Paris. While there, he took two posts as an organist, but in 1709 he returned to Dijon to assume his father's position at the Notre Dame cathedral there. Within four years however, he left this post and took on several others before moving to Paris permanently.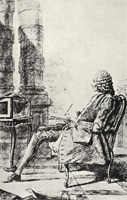 In the spring or summer of 1722, Rameau settled in Paris. It is likely that he went there to oversee production of the document that was to make him famous: Traité de l'harmonie (Treatise on Harmony). Among the important contributions of this treatise was first, its identification of the bass as the theoretical generator of harmony (although practicing musicians had recognized it as such for some time). Second, the treatise was also the first work to address chord roots and inversions. Significantly, Rameau's treatise influenced music theory for the next two hundred years. However, despite this notable achievement, his ultimate goal was to become a composer of opera.

Reaching this goal was difficult for him. Being seen as a music theorist only worked against him, since the opera houses were inclined to believe he lacked the requisite talent as a composer and for that reason, he needed to prove himself capable of such an undertaking. In all likelihood he set about doing so in 1723 when he wrote the incidental music to the opéra comique L'Endriague by Alexis Piron at one of Paris's popular Fair theaters.

While working at the Fair theaters, Rameau made two important contacts. The first was Louis Fuzelier who later wrote the libretto for Rameau's second opera Les Indes galantes. The second was of course the poet Piron, who, besides working with Rameau, approximately ten years later introduced him to the man who became Rameau's primary patron, Alexandre-Jean-Joseph Le Riche de La Pouplinière. In the intervening years however, Rameau continued to compose and to write theoretical works. During this period his collection Pieces de clavessin (1724) appeared, as did his treatise Nouveau système de musique théorique (1726). 1726 was an eventful year overall in that, beyond the publication of the aforementioned treatise, he also married the nineteen-year-old singer and harpsichordist Marie Louise Mangot. The couple had four children together.


Success and Controversy at the Paris Opéra

Rameau probably came to be in the employ of La Pouplinière around 1735. La Pouplinière, who already came from a wealthy family, had managed to earn even more money on his own, and ultimately he was one of France's richest men. He was very much interested in promoting obscure but talented musicians and, to that end, Rameau was hired as his music director and composer-in-residence. Rameau benefited tremendously not only from the financial security, but also from the rich artistic environment that La Pouplinière provided on his estate. Among the artists and intellectuals with whom Rameau had regular contact were figures such as the writer and human rights advocate Voltaire, the philosopher Jean-Jacques Rousseau and the infamous Giovanni Casanova. He also was exposed to musical instruments that were new to France because La Pouplinière enjoyed importing them from Germany and Bohemia. These instruments included the clarinet and orchestral horn, and Rameau later became one of the first composers to include them in his orchestrations. With such artistic and financial resources, Rameau was finally able to realize his ambition of writing an opera and having it produced.

In 1733 he had his first opera performed, first at La Pouplinière's estate and then at the Paris Opéra. This first dramatic work was Hippolyte et Aricie (libretto by Abbé Simon-Joseph Pellegrin) and it very much grew out of the prevailing French operatic tradition of Jean-Baptiste Lully and François Couperin. However, supporters of Lully's operatic compositional style did not necessarily find Rameau's work pleasing. In fact, they regarded it as "Italianate," and stated it was overly complex and unnatural. Hence they applied the word "baroque" to this work – at the time a derogatory designation. Rameau's debut opera was likely the first musical work to have received this label. In any event, the opera stirred up a great debate between the lullistes (those who feared that Rameau's style would replace that of Lully) and the ramistes (supporters of his compositional techniques). Perhaps the most significant argument within this ongoing debate concerned the fact that, to the lullistes, Rameau's music overshadowed the text and in their view, the text should take precedence over the music.

The debate continued with the production of his second opera, Les Indes galantes (1735), which was inspired by a performance he attended in 1725 given by Native Americans from Louisiana. The subsequent works that he wrote in the 1730s also did nothing to diminish the debate. Despite this ongoing dispute, Rameau was successful as an opera composer.

Rameau had not, however, retreated from generating his theoretical writings and continued to produce both these and operas. Around 1737, for example, his theoretical work Génération harmonique was published and at the same time his opera Castor et Pollux was staged. Both were significant works. Concerning the former, the treatise appears to be the first time in writing that a scholar forwarded the idea of equal temperament. And in terms of the latter, during his lifetime the opera was considered his masterpiece. It was an unusual work in that the subject matter dealt with fraternal as opposed to romantic love.


Rameau's Association with the French Court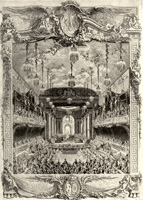 Rameau prolifically turned out his works. In 1745 alone he had four operas produced. The French court commissioned three of these works (La princesse de Navarre, Platée, and Le temple de la Gloire) and the Paris Opéra commissioned the fourth one (Les fêtes de Polymnie). It was also in 1745 that Rameau received the title compositeur de la musique de la chambre du roy – an honor usually reserved for those musicians directly employed by the king.

With this title came a closer relationship with the court and thereafter most of his stage works were written for performance there. Until about 1750, Rameau's overall popularity and his compositional productivity were such that opera management felt it necessary to limit production of his works to two a year so that other composers would have the opportunity to see their works staged as well.


Rameau's Later Conflicts and Theoretical Works

Starting around 1750, Rameau's relationship with the opera became less cordial, and through 1757 only one of his new works, Les Paladins, was staged there. It is also worth noting that during this time his productivity was lessening overall, probably due to increasing ill health.

Throughout these years, he seems to have concentrated on theoretical works. Perhaps his most noteworthy contribution from this time was his Démonstration du principe de l'harmonie (1750) on which he worked with the philosopher Denis Diderot and which was approved by the Académie des Sciences. Reaction to this theoretical treatise was positive, in part due to the fact that its prose was clear (thanks to Diderot) – in his earlier works Rameau was notorious for his convoluted style of writing which tended to confuse his readers. In fact, in 1752 the mathematician Jean d'Alembert, urged by Diderot, produced a text that clarified Rameau's theories (Eléments de musique théorique et pratique suivant les principes de M. Rameau). This text made the theories much more accessible and was later translated into German (1757), giving Rameau a wider audience.

Despite Alembert's respect for Rameau and the fact that Alembert had assisted Rameau in achieving greater recognition, the two had a falling out in the mid-1750s. Rameau, known for being contentious, became irritated with both Diderot and Alembert over articles written on music in the Encyclopedie by Jean-Jacques Rousseau, with whom Rameau had an ongoing intellectual feud. Moreover, during this period, due to the "War of the Buffoons," Rameau lost the support of contemporary intellectuals.


Rameau's Final Years and his Legacy

In the midst of the "war," Rameau's association with La Pouplinière ended. Rameau, who was now a wealthy man, turned his attentions to forwarding his family's ambitions and, to that end, purchased the prestigious title valet de chambre in the king's service for his son Claude-François. His final years were spent furiously attempting to finish his theoretical work, an undertaking that was proving more and more difficult given his physical deterioration. He died on September 12, 1764; the cause of death was a fever. It is said that, a curmudgeon to the end, on his deathbed he reprimanded the priest who was delivering the last rites for bad chanting.

By the mid 1770s only a few of Rameau's dramatic works were regularly produced. The public had shifted its attention to the operas of Christoph Willibald Gluck. However, Gluck and later composers such as Debussy were undoubtedly influenced by Rameau's compositions and style.


References

Ewen, David. The Complete Book of Classical Music. Englewood Cliffs, NJ: Prentice-Hall, 1965.

Grout, Donald J. A History of Western Music. 7th edition. New York: W.W. Norton, 2006.

Sadie, Stanley, ed. A History of Opera. Basingstoke: Macmillan, 1989.

Sadler, Graham and Thomas Christensen: 'Rameau, Jean-Philippe', Grove Music Online ed. L. Macy (Accessed 1 September 2005), <http://www.grovemusic.com>

Stolba, K Marie. The Development of Western Music: A History. Dubuque, IA: Wm. C. Brown Publishers, 1990.

Weiss, Piero and Richard Taruskin. Music in the Western World: A History in Documents. New York: Schirmer, 1984.