Franz Joseph Haydn
(1732-1809)
It is well known that Franz Joseph Haydn's most famous colleague, Wolfgang Amadeus Mozart, died in poverty. The exact location of his grave still remains a mystery. Haydn's case is completely different. When the older composer died in 1809, his fame was so great that phrenologists, seeking to discover the secret of Haydn's genius, took the composer's head for study. Haydn's head traveled around Europe for 145 years until it was reunited with his body in a final interment ceremony in Eisenstadt in 1954.


The Boy Soprano


Haydn was born in Rohrau, Austria on March 31, 1732. He was the second of twelve children born to Mathias Haydn, a wheelwright, and his wife Anna Maria Koller. The family enjoyed devoting their free time to musical pursuits and held frequent concerts led by Mathias, who sang and accompanied himself on the harp and encouraged the children to sing along. These activities resulted in several of the children becoming musicians, including Franz Joseph, Michael and Johann Evangelist.

Despite the family's interest in music, Haydn's parents hoped that he would enter the clergy. At the age of six, however, Franz Joseph was recruited for music school in the Austrian city of Hainburg. His exceptional voice set him apart from his classmates, and Georg Reutter, Kapellmeister at St. Stephen's Cathedral in Vienna, recruited the boy for the cathedral choir in 1740. Reutter also seems to have suggested that Haydn become a castrato, but his parents are said to have rejected the idea. As a choirboy, Haydn not only studied singing but also took organ, harpsichord and violin lessons.


Important Connections


In 1750, at the age of eighteen, Haydn left the cathedral choir. He spent the early 1750s giving keyboard and singing lessons and performing in serenade groups and orchestras. He also began to study composition in earnest. At the time, his goal was to provide keyboard sonatas as training exercises for his students.

While living in an attic apartment in Vienna during his freelance years, Haydn met the poet and librettist Pietro Metastasio, who paid Haydn's rent in exchange for keyboard and singing lessons for Metastasio's protégée Marianne von Martínez. Around 1755, Haydn met composer Nicola Porpora through Metastasio. It was from Porpora, the first composer Haydn knew well, that Haydn truly learned the craft of composition. Another result of this contact was that Haydn met other composers and many important patrons.

In 1759, at the age of twenty-seven, he was appointed Kapellmeister to Count Karl Joseph Franz Morzin of Vienna. For the first time in his life he was earning a decent salary and was being given free room and board. Along with this professional success came marriage. In 1760, Haydn married Maria Anna Aloysia Apollonia Keller. Interestingly, Haydn had originally preferred Maria's sister Josepha, but when Josepha entered a convent, Haydn's romantic hopes were put to rest. All indications are that Haydn's marriage to Maria was an unhappy one. There were no children and Maria had little interest in Haydn's talents.


Esterházy Years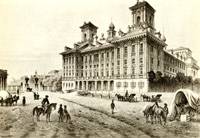 When the spendthrift Count Morzin ran out of money in 1761, Haydn began working for the Esterházy family. The employment likely came about because of his association with Princess Octavia Esterházy who lived in Haydn's apartment building. As Vice-Kapellmeister for the Esterházy court, he conducted the orchestra and composed instrumental music. In the end, he served the Esterházy court for more than thirty years.




1766 was a significant year for Haydn. In this year, the country palace of Esterháza was completed. For the next twenty-four years Haydn and the orchestra spent most of each year at the palace. At the same time, Haydn was promoted to the position of sole Kapellmeister of the Esterháza court. These combined factors marked the beginning of an extended period of compositional productivity.

In 1776 the Esterháza theater was completed, giving Haydn much more responsibility when he became the theater director. For the next fourteen years, he was extremely busy, putting on as many as 120 plays, operas, and marionette shows a year. He composed new operas (including L'isola disabitata, La fedeltà premiata, Orlando paladino, and Armida), revived some old ones, and gave performances featuring the works of other composers as well .

When Prince Anton succeeded Prince Nicholas I in 1790, the new prince, who was not the music-lover his father had been, reduced his musical staff to that of a small wind ensemble. As there was no need for a full-time composer, Haydn, retaining his title and income, moved back to Vienna to compose independently. His Esterházy income, paired with the royalties from his published compositions, ensured Haydn's financial security for the remainder of his days.

Another benefit of Haydn's move to Vienna was the opportunity to strengthen his relationship with Mozart, whom he had probably met six or seven years before. There was great mutual admiration between the two men: Mozart had dedicated a set of six quartets to Haydn in 1785, and Haydn reciprocated by telling Mozart's father that Mozart was the greatest composer Haydn knew. In 1790, Haydn and Mozart seem to have played string quartets together, and Haydn probably attended rehearsals of Mozart's opera Così fan tutte.


London and Success with the Public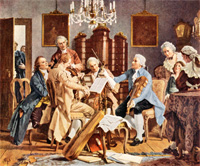 The sixty-eight-year-old Haydn, now working in Vienna, was well known throughout Western Europe. He had had repeated invitations to come to England and compose there, and in 1791 he decided to make the trip. While in London, he composed an opera, symphonies, and at least twenty other pieces. The English audiences adored Haydn and his concerts were wildly successful. Haydn also attended concerts by other composers. A famous anecdote relates that Haydn wept when he heard Handel's Messiah for the first time in 1791, stating that Handel was "the master of us all."

Of his first stay in London, Haydn wrote, "Everyone wants to know me...If I wanted, I could have an invitation every day; but first I must consider my health, and second my work. Except for the nobility, I admit no callers till 2 o'clock in the afternoon." The nobility came to call as often as Haydn could have wished. His busy social schedule also involved attending court balls and concerts as well as playing and conducting for King George III. In fact, Haydn was so popular with the royal family that the king and queen offered him summer quarters if he agreed to remain in London.

Haydn returned home in 1792. Traveling by way of Bonn, he met the young composer Ludwig van Beethoven. Haydn, impressed by one of Beethoven's compositions, encouraged the young composer to come to Vienna and be his student. Beethoven did in fact study with Haydn for a brief period.

Two years later, Haydn returned to London, on the same terms as before, and his stay was again triumphant. His musical legacy from that period was also a rich one. The twelve symphonies he composed during his two tours of England are perhaps his most famous. These works, the so-called "London Symphonies," include the "Surprise" symphony no. 94, the "Clock" symphony no. 101, and the "London" symphony no. 104.





Final Years in Vienna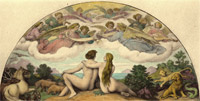 While Haydn was in London, Prince Anton Esterházy died and was succeeded by his son. The new prince, Nicholas II, a music aficionado, was re-establishing the orchestra at the family palaces in Eisenstadt and Vienna (having abandoned Esterháza). He called for Haydn to return to Vienna, and Haydn obeyed. Esterházy's demands were modest: Haydn was only required to write one mass every year. However, his compositional output from this time also includes string quartets and two oratorios.

Handel's Messiah inspired Haydn to write his own oratorio, The Creation, in 1798. The Creation was an instant and resounding success that was subsequently performed throughout all of Europe. Interestingly, The Creation is considered the first bi-lingual composition, Haydn having set it for both German and English texts. In any case, it became Haydn's crowning glory, and he composed The Seasons to fulfill demand for a second oratorio; this work was completed in 1801.

During his final years in Vienna, Haydn was respected, adored, and beloved by all, as attested to by the affectionate nickname "Papa Haydn." Publishing companies compiled volumes of his collected works, and three different men came to write Haydn's biography. Haydn continued to compose until 1803, when he formally retired. Thereafter, he continued to attend concerts, looking on as his former student Beethoven became the dominant voice of the Viennese musical scene. In 1808, Haydn attended his final concert, which happened to be his oratorio The Creation under the direction of Italian composer Antonio Salieri.

While Haydn lay dying in May 1809, Napoleon's forces invaded the city of Vienna. The composer was in no danger from Napoleon, however: Haydn's fame was so great that the emperor posted an honor guard outside of the composer's house. Haydn remained inside the house, protected by the guard, until his death on May 31. In June, Mozart's Requiem was performed in Haydn's memory.


References:

Landon, H. C. Robbins, and David Wyn Jones. Haydn: His Life and Music. London: Thames and Hudson, 1988.

Webster, James, and Georg Feder: 'Haydn, (Franz) Joseph', Grove Music Online ed. L. Macy (Accessed 13 September 2006), <http://www.grovemusic.com>