Suggested
Reading

Fanny Mendelssohn by Francoise Tillard


Letters of Felix Mendelssohn-Bartholdy (1833-1847) (2006)

Felix Mendelssohn(-Bartholdy)
(1809-47)
Nearly as gifted a child prodigy as Mozart, Felix Mendelssohn wrote one of his most brilliant pieces when he was only seventeen years old. The overture to A Midsummer Night's Dream, inspired by Shakespeare's play of the same name, was successful enough that Mendelssohn revisited it several years later. In 1843, he wrote incidental music (songs, dances, and choruses) for the same play, including a processional to accompany the wedding of the Athenian ruler Theseus and the Amazon queen Hippolyta. This piece is, of course, Mendelssohn's famous – and ubiquitous – Wedding March.


The Young Prodigy

Felix Mendelssohn was born in Hamburg, Germany on February 3, 1809. His father Abraham, a successful banker, was the son of the eminent Jewish scholar and philosopher of the Enlightenment, Moses Mendelssohn. Soon after Felix's birth, Napoleon's occupation of Hamburg (due to its strategic importance as a harbor) had rendered it an insecure place to live, thus in 1811 the Mendelssohn family moved to Berlin. After this move, in 1816, the parents decided to have their four children baptized as Christian Protestants, so that they would not suffer from the discrimination faced by Jews at the time.

Of the four children, both Felix and his older sister Fanny (born in 1805) showed an extraordinary aptitude for music at an early age. At the age of thirteen, Fanny gave a performance of the twenty-four preludes of J.S. Bach's Well-Tempered Clavier, which she had entirely memorized. Felix started to perform publicly as a pianist when he was only nine, and also learned the violin. Both children enjoyed sitting in at the weekly rehearsals of the Berlin Sing-Akademie, the conductor of which, Carl Friedrich Zelter, was a friend of the family and the two children's music theory tutor. Zelter was a Bach enthusiast who used the style of Bach's fugues, chorales, and figured basses as the foundation for the children's musical training. Although he was not even a teenager at the time, Felix dealt with these complex musical processes with remarkable ease. A highly intelligent youth, his interest was by no means limited to music: he was an eager student in mathematics, literature, classics, history, and geography and studied these subjects under the supervision of highly qualified private tutors. Furthermore, he was also a gifted artist, who sketched and painted throughout his life.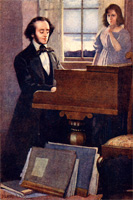 Fanny and Felix joined the ranks of the Sing-Akademie in 1820. By then, the young Mendelssohn had already composed a great deal of material. These works were not limited to small ones, evidenced by the composition of a Singspiel, Die Soldatenliebschaft, during the second half of the year 1820. His supportive father organized a production of the work at home for the boy's twelfth birthday in February 1821; it was fully staged and performed by professional court musicians. After this event, Mendelssohn devoted himself to composition. During that single year, he wrote two other stage works, along with choral works (some were performed by the Sing-Akademie), sinfonias and fugues for string ensembles, and piano works.

In November 1821, Zelter, who was a personal friend of Johann Wolfgang von Goethe, took the talented boy to the poet's residence in Weimar. This initial meeting was the beginning of an enduring friendship between the young composer and the great author; their exceptional minds and talents brought them together despite a difference of sixty years in age.

In 1822, at the age of thirteen, Felix Mendelssohn was writing enough music to justify the organization of a weekly concert at the Mendelssohn family's house, to which his sister also contributed as a composer and virtuoso pianist. The event quickly became a popular one, and the Berlin intellectual elite came to be amazed by the two young prodigies. However, while Felix was further encouraged by his parents to embrace a musical career, it was not considered proper for a young lady to do so, and Fanny's talents always remained limited to being displayed in private settings. It was also in 1822 that Felix's parents joined their children as members of the Protestant community, and when they converted they changed their name to Mendelssohn-Bartholdy.


Rise to Fame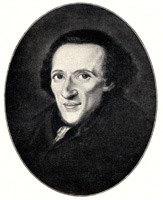 In 1823, Mendelssohn's Piano Quartet in C minor became his first published work. The following year, as Mendelssohn reached the age of fifteen, Zelter publicly declared that he had nothing left to teach him. The renowned pianist Ignaz Moscheles, who knew Mendelssohn as well, agreed that he was by then a "mature artist."

In the spring of 1825, Abraham Mendelssohn went to Paris with his son and took the opportunity to introduce him to Luigi Cherubini, the director of the French National Conservatory, and to obtain Cherubini's opinion of his son. Although Cherubini was typically difficult to please, he predicted a bright future for the young Mendelssohn. The same year, the family took up residence in an impressive estate. There the Mendelssohns welcomed the company of prestigious artists, scientists, and philosophers.

In August 1826, Mendelssohn completed the overture to A Midsummer Night's Dream, inspired by a new German translation of Shakespeare's play. After he finished writing it, like most of his other works, the overture was given a private performance at the family home, but it was also performed publicly along with his Double Piano Concerto in A flat. This performance took place in Stettin (today Szczecin in Poland) in February 1827. In the mean time, it had been arranged for his fifth Singspiel, Die Hochzeit des Camacho, to be given in Berlin at the Schauspielhaus. Due to a few unfortunate circumstances, among which included the principle singer's being sick, the performance was a disappointment. Additionally, the libretto was considered lacking dramatic interest. Thus, the work was removed after one evening. Despite its failure, Mendelssohn intended one day to write a new opera, but he never did. Thus, Die Hochzeit des Camacho remained his only publicly performed opera.



In the summer of 1827 Mendelssohn registered at the University of Berlin to continue his study of the humanities. Before entering the university, Mendelssohn proved himself to be an accomplished scholar. Two years earlier, he completed such a remarkable translation of a classical Latin comedy by Terence, The Woman of Andros, that his tutor was able to have it published anonymously. At the university, his education continued on its exciting path and the classes that he attended included lectures on aesthetics by the celebrated philosopher Georg W.F. Hegel.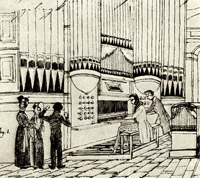 In the late 1820s Mendelssohn's interest in Baroque music (inherited from Zelter) resulted in the composition of several large works in the style of J.S. Bach and an arrangement of G. F. Handel's Acis and Galatea. This interest culminated with a revival performance of Bach's St. Matthew Passion on March 11, 1829 by the Sing-Akademie with Mendelssohn as the director. The performance was highly successful, and has since been considered a decisive moment in the "Bach revival" movement and the rediscovery of early music.

Between 1829 and 1832, supported by his well-to-do family, Mendelssohn engaged in a series of travels throughout Europe. He visited England, Austria, Italy, France, and then returned to England. He quickly grew fond of London and visited the city on eight other occasions. Interspersed with short returns to Germany, his stays abroad were lengthy, five to six months in England and France, and almost a year in Italy. Aside from making a name for himself, thanks to numerous private and public performances, the voyages gave Mendelssohn the opportunity to meet with other musicians including Hector Berlioz in Italy, and Frédéric Chopin, Giacomo Meyerbeer, and François-Antoine Habeneck in France.




Professional Life

Mendelssohn's first professional appointment was that of music director for the city of Düsseldorf. Starting in the fall of 1833, his duties included the programming and conducting of all official city musical performances, as well as for the Catholic Church services. It soon became apparent to Mendelssohn that his orchestra and chorus could not match his expectations. For the church services, he wished to schedule major works, not only masses by Haydn, Mozart or Cherubini, but also Renaissance polyphony, which neither the singers nor the assemblies seemed to have been capable of performing. Inspired by his trips to England, where Handel's oratorios had never lost their popularity, Mendelssohn also devoted his energy towards reviving this repertoire in Düsseldorf, programming works by Handel as well as Franz Joseph Haydn's oratorios The Creation and The Seasons. Additionally, he soon began to compose his own oratorio, St. Paul.

In the fall 1834, as he was returning from a visit to his family in Berlin, Mendelssohn had an opportunity to hear the orchestra of the Gewandhaus in Leipzig performing one of his works. The ensemble had many qualities that he felt unable, despite his hard work, to elicit from the musicians in Düsseldorf. Thus, when only a few months later an offer to take over the direction of the Gewandhaus orchestra came to him, he happily gave up his current position as soon as the season was over. He started to work in Leipzig in the fall of 1835. However, Mendelssohn returned regularly to Düsseldorf and some neighboring cities to guest conduct at the Niederrheinisches Musikfest. Fortunately the season of the Gewandhaus Orchestra ran from October to March, leaving Mendelssohn free for a good half of the year. While in Leipzig with the Gewandhaus orchestra, Mendelssohn met Robert Schumann and Schumann's future wife, Clara Wieck. As for the orchestra, under Mendelssohn's direction the Gewandhaus became one of the finest ensembles in all of Europe.

Along with his thriving work with this ensemble, Mendelssohn continued to enjoy success as a composer. In April 1836, the premiere of his oratorio St. Paul confirmed his status as a first-rate composer. Moreover, his personal life was flourishing. The following summer, Mendelssohn fell in love with and was engaged to Cecile Jeanrenaud. They married at the end of the following concert season on March 28, 1837. In the mean time, Mendelssohn had already started to work on his next oratorio, Elijah, which earned public acclaim at its premiere at the festival of Birmingham, England, almost ten years later, in August 1846.

Mendelssohn was a very busy man when a command came in 1840 from the Prussian King Friedrich Wilhelm IV that Mendelssohn work for him in Berlin. From that point on, Mendelssohn dealt with an extremely taxing schedule. Although beginning to work in Berlin in the fall of 1841, he did not resign from his position as the head of the Gewandhaus, but in time left the direction to an assistant. In Berlin the king appointed him director of all sacred music. His duties there also required him to compose new sacred music in accordance with the king's reforms and to conduct a series of orchestral performances. As a conductor, Mendelssohn was in demand all over Germany and was extremely popular in England; he was undoubtedly the most welcomed foreign composer there since Handel and Haydn. In July 1842, he was even given the honor of being received by Queen Victoria, and on this occasion, she sang some of his lieder with Mendelssohn accompanying.

While still being very productive as a composer, Mendelssohn spent the last five years of his life constantly traveling from performance to performance. He negotiated with his employers year after year in order to be able to keep offering his services to all of them. Despite his heavy workload, he found time to involve himself in another project: the establishing of a music conservatory in Leipzig. The institution opened in April 1843 and still exists today under the name Die Hochschule für Musik und Theater Felix Mendelssohn Bartholdy.

Mendelssohn was just returning from yet another trip to London in May 1847, when he was crushed by the news of the sudden death of his sister Fanny from a stroke. Mendelssohn found himself unable to write music for several weeks, but during the following summer, he engaged in the composition of both an oratorio (Christus) and an opera (Die Lorelei), which he did not complete. In September a visit to Fanny's tomb in Berlin put him into a state of shock. The following month he suffered in his turn several successive strokes. He died in Leipzig, on November 4, 1847 at the age of thirty-eight, but despite this death at an early age, he accomplished a great deal professionally and left behind him a substantial body of work.


References:

Jacob, Heinrich Eduard. Felix Mendelssohn and His Times. Trans. Richard and Clara Winston. Englewood Cliffs, NJ: Prentice-Hall, 1963.

Mendelssohn-Bartholdy, Felix. Letters of Felix Mendelssohn Bartholdy, From 1833 to 1847. Eds. Paul Mendelssohn Bartholdy and Dr. Carl Mendelssohn Bartholdy. Trans. Lady Wallace. Boston: Oliver Ditson, 1863.

Mercer-Taylor, Peter Jameson. The Life of Mendelssohn. Cambridge, UK: Cambridge University Press, 2000.

Todd, R. Larry. Mendelssohn and His World. Princeton, NJ: Princeton University Press, 1991.

Todd, R Larry: 'Mendelssohn(-Bartholdy), (Jacob Ludwig) Felix', Grove Music Online ed. L. Macy (Accessed 14 November 2005), http://www.grovemusic.com



Links:
www.felixmendelssohn.info