Suggested
Listening

Verdi: Aida (complete opera live 1951) with Maria Callas, Mario del Monaco, Oliviero de Fabritis, Orchestra & Chorus of del Palacio de Bellas Artes, Mexico City [LIVE]

Giuseppe Verdi
(1813-1901)
Giuseppe Verdi was not only a great operatic composer but also a symbol of an entire country's hopes and dreams. During the Risorgimento, or push for Italian unification, Italian patriots seeking independence from Austria used "Verdi" as an acronym for "Vittorio Emanuele, Re d'Italia," ("Victor Emanuel, King of Italy"). Verdi's popularity was such that when Italy eventually formed its new parliament in 1860, the composer was voted in. By his own admission, Verdi took little interest in his governmental duties, yet he served in the parliament until 1865.


Verdi's Youth and Education

Giuseppe Verdi was born on October 10, 1813, in Roncole in what is now Italy. His father, Carlo, was an innkeeper and his mother, Luigia Uttini, was a spinner. His musical education began before the age of four. At the age of seven, Verdi received a small upright piano, or spinet, which Verdi later described as a "wreck, which was already old at the time." Little is known about young Verdi's initial musical education, since later in his career he promoted the idea that he was mainly self-taught. In any case, Verdi began working as the substitute organist at the local church of Saint Michele at the age of nine, and it was not long before he was given the job permanently.

In 1823 Verdi moved to the nearby village of Busseto to further his general education. While there, he also began music lessons with Ferdinando Provesi, the maestro di cappella at Saint Bartolomeo and the director of music for the town. Verdi's musical ability soon caught the attention of a prominent local merchant, Antonio Barezzi, and in May 1831, Verdi moved in with him and began giving singing and piano lessons to Barezzi's daughter Margherita. The two fell in love and became unofficially engaged. When it became apparent that the musical opportunities in Busseto were limiting Verdi's talent, Carlo applied for a scholarship for his son that would give him the money to study music in Milan, specifically at the Milan Conservatory. Verdi was awarded the scholarship but the funds were not available to him until late 1833.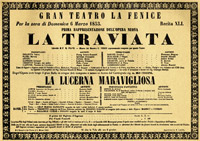 Because Barezzi felt that Verdi possessed significant musical ability, he agreed to pay for Verdi's first year of education until the scholarship money became available. With his financial situation secure, Verdi moved to Milan in 1833 and, at the age of nineteen, attempted to enter the Milan Conservatory but was denied admittance. Verdi was told he was four years older than the usual age of admission, was not a resident of Lombardy-Venetia, and lacked talent, particularly with regards to his piano technique.

The rejection by the conservatory made for a discouraging start in Milan. Nevertheless, Barezzi remained dedicated to his future son-in-law and provided more money so Verdi could pursue private studies. Although Verdi found his three-year stay in Milan to be "harsh," he did study with Vincenzo Lavigna, a conductor at La Scala. Lavigna encouraged Verdi to attend the theater regularly and introduced him to Wolfgang Amadeus Mozart's opera Don Giovanni. Verdi's association with Lavigna also gave him access to the influential musical circles within the city. Through these connections, Verdi secured two opportunities to work with Pietro Massini, the Director of the Milan Philharmonic Society. In 1834 Verdi performed on the keyboard in performances of Haydn's Creation, and in 1835 he co-directed Gioachino Rossini's La Cenerentola.


From Music Director to Composer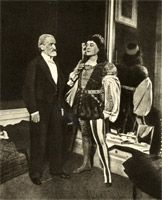 Provesi's death in 1833 left the post of musical director in Busseto open, so Verdi returned to the village with hopes of obtaining the position. Verdi ultimately shared the post with Giovanni Ferrari, who was named the organist at Saint Bartolomeo in 1834. Verdi was given the position maestro di musica, which entailed overseeing secular music, in March 1836 at the age of twenty-three.

One month later, on May 4, Verdi finally married his childhood sweetheart Margherita. Margherita gave birth to a daughter, Virginia, in 1837 and a son, Icilio Romano, in 1838. During the first three years of their marriage, Verdi not only served as maestro di musica in Busseto but also held the directorship of the local Philharmonic Society.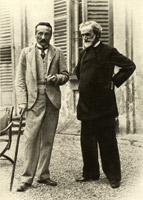 In October 1838 Verdi resigned from his post as maestro di musica and moved his family back to Milan in February 1839 in an attempt to begin his career as a composer of opera. Verdi's first opera, Oberto, premiered at La Scala the following November and enjoyed great success among Italian audiences. Bartolomeo Merilli, the impresario at La Scala, was encouraged by the success of Oberto and offered Verdi a contract for three more operas to be composed over the next two years. The first of these was Verdi's comic opera Un giorno di regno, which was a disaster at its opening in September 1840.




The failure of Un giorno di regno was related to a series of tragedies in Verdi's personal life. In August 1838, his daughter died of an undiagnosed illness, and his son passed away a year later. Soon thereafter, Verdi's wife died as well, during the summer before the September premiere of Un giorno di regno. Verdi wrote: "During the first days of June [Margherita] was stricken with violent encephalitis, and on June 19, 1840, a third coffin was carried out of my home. I was alone! … alone! … I had lost three loved ones. My whole family was gone…. And in this terrible anguish of soul, to avoid breaking the engagement I had contracted, I was compelled to write an entire comic opera!" Verdi was devastated and decided to completely renounce composition after these personal tragedies and his professional failure.


Verdi's creative genius, however, did not remain idle for very long. Eighteen months after Un giorno di regno, in March 1842, Verdi's opera Nabucco was premiered. Milanese audiences raved about it, and Verdi's confidence was restored. Between the premiere of Nabucco and the premiere of La traviata in March 1853, Verdi produced sixteen operas, including I Lombardi (1843), Ernani (1844), I due Foscari (1844), Macbeth (1847), Rigoletto (1851), and Il trovatore (1853).

After the premiere of La traviata, however, the pace of Verdi's operatic output slowed considerably. In eighteen years, Verdi only composed six new operas: Les vêpres siciliennes (1855), Simon Boccanegra (1857), Un ballo in maschera (1859), La forza del destino (1862), Don Carlos (1867), and Aïda (1871).

The success he achieved with his operas provided him with enough money to purchase property and land in Busseto. After time abroad in London and Paris to oversee productions of his operas I masnadieri and Jérusalem, Verdi returned to his Busseto home in mid-1849, at the age of thirty-five. He brought with him his long-time companion, soprano Giuseppina Strepponi. This relationship created a local scandal because the two had been living together for several years without being married. Hostility toward the couple grew so intense that they moved out of Busseto and to a farm in nearby Sant' Agata, which became their permanent home. Verdi and Giuseppina did not wed until 1859, after more than ten years together. The secret ceremony was performed in a village near Geneva, Switzerland.

Despite Verdi's popularity with Italian audiences, he was not immune to the censorship affecting the arts in Italy. Operas with religious subjects, such as Stiffelio (1850), were typically targeted first. In addition, after the 1848 revolutions, operas dealing with political matters, such as Rigoletto and Un ballo in maschera, were severely scrutinized. Because Verdi was known as a patriot who wanted to see Italy break away from the hands of Austria, the Austrian censors examined his works through every stage of his compositional process, from choice of libretto to final orchestration.


Verdi's Last Works

While Verdi is best known for his operas, he also wrote several notable religious works, including his Messa da Requiem. Originally Verdi intended to form a collaborative team of the most prominent Italian composers of the day in order to write a Requiem Mass to commemorate Rossini after his death in November 1868. Verdi contributed the final "Libera me," but the work was never finished due to administrative problems. It was not until 1874 that Verdi finally composed a complete Messa da Requiem in honor of the poet and novelist Alessandro Manzoni, to whom the work was dedicated.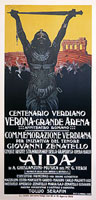 Verdi went through another self-imposed compositional hiatus after the premiere of Aïda, which was written in celebration of the new opera house in Cairo and the building of the Suez Canal in 1871. Like his earlier retirement, this break, said to have been initiated by Richard Wagner's growing popularity in Italy, did not last long. In June 1879, Verdi was approached by his publisher, Giulio Ricordi, and librettist, Arrigo Boito. They had the idea of composing an operatic version of Shakespeare's Othello, building on the composer's lifelong veneration for the English playwright. Otello subsequently premiered at La Scala in February 1887.

During the winter of 1889, composer and librettist paired up again during the winter on another Shakespeare-based opera. By the spring of 1890, the libretto of Falstaff was complete. Falstaff, Verdi's final opera, was first performed at La Scala in February 1893.

In November 1897, Giuseppina died at the family farm in Sant' Agata. Before leaving Sant' Agata for Milan in December 1900, Verdi made arrangements for his early compositions to be burned after his death, another reason why little is known about his early musical career. On January 21, 1901, Verdi suffered a stroke, and he died on January 27. He was initially buried in Milan's Cimitero Monumentale, but a month later his body was moved to the Cada di Riposo, a house for retired musicians that Verdi had established.


References:

Dubal, David. The Essential Canon of Classical Music. New York: North Point Press, 2001.

Parker, Roger: 'Verdi, Giuseppe', Grove Music Online ed. L. Macy (Accessed 4 October 2006), <http://www.grovemusic.com>