George Gershwin
(1898-1937)
George Gershwin is today considered the man who brought "jazz into the concert hall." On the night of this achievement, the premiere of Rhapsody in Blue, this was true of both the score he prepared and of his own solo piano performance. The concert for which Gershwin wrote this piece was put together hastily by Paul Whiteman and with just three weeks to complete the work, Gershwin was unable to finish a large piano solo. So, drawing on his considerable talent as a jazz pianist, he simply improvised it.


Youth

George Gershwin, the son of two Russian immigrants, was born on September 26, 1898 in Brooklyn, New York. Among Gershwin's siblings was his brother Ira, who became his chief artistic collaborator and lyricist.

Gershwin was not introduced to music until the family bought a piano in 1910. Originally intended for Ira Gershwin, the instrument became largely the domain of George shortly after its introduction to the home. Gershwin's affinity for the piano was clear and after studying with a series of neighborhood teachers, he became the pupil of Charles Hambitzer in 1912. Finding Gershwin to be exceptionally talented, Hambitzer commenced on educating him in the arts by frequently taking him to concerts and by encouraging him to learn the works of composers such as Chopin, Liszt and Debussy.


Tin Pan Alley and Early Broadway Years

In 1914 at the age of sixteen, Gershwin, who was not particularly interested in school, dropped out and became a Tin Pan Alley song plugger for the music-publishing firm Jerome H. Remick & Co. Gershwin later stated that being a song plugger aided the development of his talents as an improvisational pianist due to the fact that playing the same song over and over again was boring. Thus, he frequently embellished the pieces with his own improvisational contributions.

While working as a song plugger taught him a lot about American popular music, Gershwin nevertheless wanted to increase his knowledge of Western classical music, and, to that end, studied harmony, counterpoint, orchestration and form with Edward Kilenyi from 1915 to 1921. Under his guidance, Gershwin began to write fixed compositions. Among these compositions was the string quartet, Lullaby.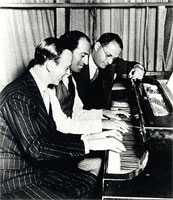 As he continued to learn, Gershwin set his sights on Broadway, which he considered to have more artistic merit than the song industry of Tin Pan Alley. In 1917 he left his position as a song plugger and became a rehearsal pianist for Miss 1917, a show by famed musical theater personalities Jerome Kern and Victor Herbert.

During this time his compositional abilities began to garner attention, and in 1918 Max Dreyfus of T. B. Harms publishing company paid him thirty-five dollars per week for the rights to any songs that he composed. From this arrangement, in the first year alone three Broadway shows were staged using his material.

While Gershwin's style of song writing remained within general contemporary conventions – a song in verse-chorus form often on the subject of romantic love – he strayed from the usage of strict diatonic harmonies and familiar rhythms in order to enhance the dramatic content of his songs. The compositional devices that he employed were the result of his studies of Western classical music and his exposure to jazz. By briefly using devices such as syncopation, unusual modulations, chromaticism and then quickly returning to familiar diatonic and rhythmic patterns, Gershwin's songs were both accessible to contemporary listeners and simultaneously musically adventurous.

By 1919, Gershwin's first complete Broadway show was produced, and on May 26, La La Lucille premiered. His renown grew even further with the 1920 recording of his song "Swanee" by the popular singer Al Jolson. This song became Gershwin's first major hit and afforded him considerable financial success.

From 1920 through 1924 he continued to focus on musical theater and his works saw premieres in both New York and London. Perhaps most significant during this period was the beginning of his collaborative relationship with his brother Ira. It was in 1924 that they first worked together on the musical Lady Be Good!, which starred Fred and Adele Astaire. Hits such as "Fascinating Rhythm" and "Oh, Lady, be Good!," now part of the standard American song repertory, were among the show's songs. It is worth noting, as a testament to Ira Gershwin's own remarkable ability as a lyricist, that his lyrics were often crafted after his brother had composed the music.


Moving toward the Concert Stage

In this same year, 1924, Gershwin branched out to the classical concert stage with the February 12 premiere of Rhapsody in Blue for piano and orchestra. Orchestrated by Ferde Grofé and conducted by the famous jazz-bandleader Paul Whiteman, the work was a major success. It was marketed as "An Experiment in Modern Music" and was a momentous event because it was considered to be the first piece to successfully bring jazz into the concert hall. Previously classical music critics and musicians had looked down on jazz, but from this point on critics began to write that vernacular idioms such as jazz could be used to create a unique American compositional voice.






With the success of Rhapsody in Blue, Gershwin became increasingly interested in composing for the concert stage. As such, he undertook composition lessons with well-known classical music personalities such as Henry Cowell. Pieces that were composed during this period include the Concerto in F for piano and orchestra (1925), which was commissioned by Walter Damrosch and the New York Symphony Orchestra, and the Preludes for Piano (1926), which premiered in December on a recital given by the contralto Marguerite d'Alvarez and for which Gershwin served as accompanist. At the same time, he studied the craft of orchestration. After having Grofé orchestrate Rhapsody in Blue, Gershwin was determined from then on to orchestrate his own works.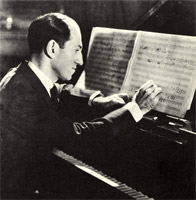 Gershwin's next work for the concert stage was the tone poem An American in Paris (1928). A piece that included three types of saxophone and a French taxi horn, Gershwin partly composed it while traveling in Europe where he was received as a major celebrity. During his travels, in the hopes of studying with a major European composer, he met with several leading figures including Prokofiev, Milhaud, Poulenc, and Berg. However, such lessons never materialized, in part due to the fact that these composers had great respect for Gershwin's talents. Previously, while still in America, Gershwin had solicited lessons first from Ravel and later from Stravinsky. Both considered him a more than capable composer and declined to take him on as a student. One famous story has it that upon learning Gershwin's income, Stravinsky instead suggested that he become Gershwin's pupil.

Although Gershwin was more and more preoccupied with works for the concert stage during this period, he had by no means abandoned American popular music and musical theater. In 1930 Girl Crazy premiered to popular success. Shortly thereafter, in 1931, Of Thee I Sing!, a political satire about the American presidential system, opened. The writers of the script, George S. Kaufman and Morrie Ryskind, along with Ira Gershwin, the show's lyricist, were awarded the Pulitzer Prize for Drama in 1932; it was the first musical play to receive this honor.

Gershwin's concert works culminated with his variations on I Got Rhythm for piano and orchestra. Completed in 1934, this final concert work was committed to paper for a concert tour of the same year, which began in Boston's Symphony Hall and, after traveling the country, ended in Brooklyn's Academy of Music.



Porgy and Bess and Final Years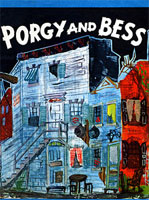 Five years later, on October 10, 1935, Gershwin's ambitious dramatic project, the opera Porgy and Bess, based on DuBose Heyward's novel Porgy, opened.


The opera concerned African Americans living on Catfish Row in Charleston, South Carolina. His work on the opera began in 1934, and that summer he went to South Carolina to observe local life. During that time, he lived on Folly Island and absorbed the local music practices by listening to the songs of the fisherman, the street vendors, and by attending revival meetings. Initially marketed as "an American folk opera," many now consider it a work that obfuscates the border between popular and classical music idioms.

Its original designation as a "folk opera," however, was problematic. At that time, recording and documenting that which was considered "authentically" folk music, particularly that of underprivileged American communities, was a prevailing concern of researchers. This opera, written by a Jewish man from New York City about African Americans in the south and using his own adaptations of African American musical idioms, brought into question its overall authenticity as a folk work. Additionally, Porgy and Bess was not seen as presenting American blacks in a positive light. Instead critics noted that the opera focused on the stereotype of African Americans as violent and indigent. Partly for these reasons and partly because audiences and critics were not certain how to classify the opera, it was not until much later that Porgy and Bess became an accepted work for performance in the great opera houses.

Not long after the premiere of Porgy and Bess, George and Ira Gershwin signed a contract with RKO films and moved to Hollywood. There they provided songs for films such as Shall We Dance (1937) and a Damsel in Distress (1937).

On July 11, 1939 George Gershwin died in Hollywood, California. The cause of death was a brain tumor.


Posthumous Achievements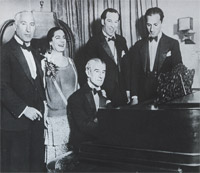 After his death, Porgy and Bess achieved commercial success in 1941 when recitative was removed from the opera and spoken dialogue was inserted between musical numbers, thus placing it more in the realm of the Broadway musical. It was not until the 1976 Houston Grand Opera production, with Gershwin's complete score restored, that the work was generally accepted in artistic circles. Finally, in 1985 it received its Metropolitan Opera debut – the venue for which Gershwin had originally intended it.

In 1998 George Gershwin was posthumously awarded the Pulitzer Prize for his contributions to American Music.


References:
Crawford, Richard: 'Gershwin, George [Gershvin, Jacob]', Grove Music Online ed. L. Macy (Accessed 15 August 2005), <http://www.grovemusic.com>

Gershwin Enterprises. Official Web Site of George and Ira Gershwin. 2004. 12 Sept. 2006 <http://www.gershwin.com>.

Grout, Donald J. A History of Western Music. 7th ed. New York: W.W. Norton, 2006.

Pierpont, Claudia Roth. "The Critics: A Critic at Large – Jazzbo: Why We Still Listen to Gershwin." New Yorker 10 Jan. 2005: 74-80.

Stolba, K Marie. The Development of Western Music: A History. Dubuque, IA: Wm. C. Brown Publishers, 1990.