Alex Shapiro
(1962– )
Youth and Education

Alex Shapiro was born in New York City on January 11, 1962, and spent her first 21 years in Manhattan. Her father, Ivan Shapiro, was a well-regarded commercial real estate attorney who devoted a nearly equal amount of his time assisting in matters of social justice. Her mother, Maria, was an amateur flutist who for eight years founded and ran a small airfreight company prior to the deregulation of the airline industry in the 1980s. Ivan had previously been married to an artist named Florence Walton (whose painting name is Goodstein-Shapiro) with whom he had a daughter, Lisa Kubiske, eight years older than Alex and now a senior diplomat in the U.S. Department of State. This extended family played a significant role in Shapiro's life as an only child.

Although contact with her half-sister was very limited, it was when the then teenage Lisa left her guitar at the Shapiro family apartment for a few weeks that young Alex– already a budding pianist– became fascinated with the instrument and taught herself how to play. By her mid-teens, Alex began to spend time with the only professional artist in the family, Florence, whose vibrantly colored pastels and oils echoed earlier studies with Hans Hoffman, and deeply influenced the teenage Shapiro's sense of color and freedom in life and in music.

Growing up in New York City offered tremendous rewards for an inquisitive child, and Alex took full advantage of Manhattan's diversity. To bolster a modest teenage allowance, Shapiro baby-sat to earn enough money for standing room tickets, perfecting the art of quickly finding a sole empty orchestra seat. The city's great concert halls, operas houses, ballet companies and jazz clubs were living classrooms.

Shapiro's parents were pleased to support her musical education, and she studied piano privately for ten years with recitalist Marshall Kreisler. Having begun writing simple pieces at age nine, Alex realized by age fifteen that she intended to become a composer. In 1977 she enrolled in the summer program at Mannes College of Music, where she was a student of Leo Edwards. Edwards was kind and highly encouraging, and it was also during this summer that Shapiro took her first class in electronic music, learning to build and program an Aries modular synthesizer and paving the way for her life-long involvement with technology.


Aspen, Julliard, and the Manhattan School of Music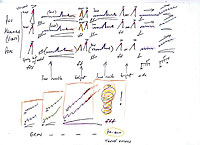 In 1978 at the age of sixteen, Shapiro was accepted as the youngest composition student at the Aspen Music School, where for that summer and the one that followed she studied composition with Michael Czajkowski and George Tsontakis, as well as electronic music on the Buchla that Czajkowski had borrowed from his friend Morton Subotnick. Some evenings Shapiro played guitar and sang at local restaurants for tips and dinner, others she worked as a chorus manager for the U.S. premiere of composer Peter Schat's opera Houdini, and throughout these summers she would take all opportunities to spend nights camping in the nearby mountains. Shapiro also participated in master classes with Elliott Carter, Erich Leinsdorf and Freddie Hubbard, and credits those two seasons as the awakening point in her creative life. It was at Aspen that Shapiro first heard her music performed in concert and on the radio, and received her first paid commission: $500 for a brass quartet. Those summers in the Rocky Mountains were also Shapiro's first experience in an adult environment that coexisted with nature, profoundly affecting her future life choices.

In 1979 and back in New York City, Alex entered the Pre-College Division of The Juilliard School as a composition student of Craig Shuler and Bruce Adolphe, and graduated the program in 1980. She entered the Manhattan School of Music in the fall of 1980, where she was a composition student of Ursula Mamlok and John Corigliano.

Through close studies with Ms. Mamlok, Shapiro learned about form and the efficiency of motivic and thematic development. In lessons with John Corigliano she learned to free her musical imagination from the initial confines of score paper, by using alternative notation methods including drawings, graphs and words to begin writing her pieces. Shapiro studied at the Manhattan School of Music (MSM) until 1983, and it was during this period that her own compositional voice began to emerge, favoring combinations of modal harmonies with very angular, chromatic ones, while always emphasizing pulse and rhythm.


The Move to Los Angeles, Film Scoring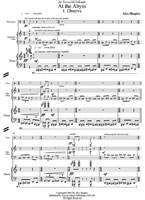 At the time Alex was studying with him, Corigliano had just returned from Hollywood where he had composed the experimental, challenging score to the film Altered States. Shapiro saw that scoring film music was an effective way to bring sophisticated music to the ears of people who might not ordinarily attend concerts, and decided that she would try her hand at the film and television scoring business. Shapiro took the only commercial music class offered at MSM, taught by Roy Eaton, the music director for New York's Benton and Bowles advertising agency. She assisted with jingle recording sessions that Eaton produced, scored a few documentaries for local cable television stations, and put together a demo reel of her music.

Soon after, in June of 1983, Alex, in order to begin her career in the commercial music world, acted on an opportunity to move to Los Angeles. She spent the next thirteen years composing scores for low budget films, television shows, documentary projects, corporate videos and CD-ROMS. Her clients ranged from Columbia Tri-Star, Turner Broadcasting, and Churchill Films, to the accounting firm Price Waterhouse and CD-ROM producers at Warner New Media. In the mid-1990s during a slow period of scoring work and inspired by a love of small ensembles that was rekindled when she was scoring the 1994 feature film, Horses and Champions, Alex began composing chamber music again. Her 1996 solo piano work, Piano Suite No. 1: The Resonance of Childhood, was premiered by Los Angeles Philharmonic pianist Zita Carno on a concert of chamber music hosted by the Pacific Composers Forum, and encouraged, Shapiro continued composing new chamber works. Increasingly, Shapiro grew dissatisfied with aspects of the film music industry and decided that it was time to explore the possibility of focusing her musical efforts entirely on her first love, concert music.


Composing, Publishing, and Performances

The timing of Shapiro's transition to a concert music career coincided serendipitously with the growth of the internet. The multidimensional website which she programmed proved to be an important tool for allowing her growing number of chamber music works to reach far beyond Los Angeles. Shapiro's scores can be found in libraries and universities nationwide and her music is heard weekly in concerts and radio broadcasts across the U.S. and internationally, with over one hundred live performances of pieces from her catalog each year on diverse concert series, conferences and festivals. Her works are published by Activist Music and are distributed by Theodore Front Musical Literature, Inc. and by TrevCo Music.

In addition to the many United States concert series on which her music is programmed, recent international performance highlights include concerts at the American Academy in Rome, MoMA of New York: the American Season in Berlin, the International Congress of Women in Music in London, and the CERN concert series in Geneva. In 2005 alone, Shapiro's music was performed at China's Beijing Modern Music Festival, as well as on programs in the capital cities of Cuba, Belize, South Africa, Iceland, South Korea and Brazil. Alex's music has been featured at specialized U.S. conferences such as the American Guild of Organists Convention, the World Saxophone Congress, and the International Double Reed Society.


Recordings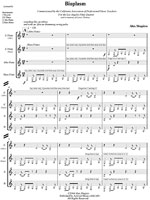 Alex was fortunate to have artists record her music early in her reinvented career in art music, and her works appear on many commercially released CDs. Alex's Trio for Clarinet, Violin and Piano, is featured on the 2000 Cambria Master Recordings CD, Clariphonia: Music of the 20th Century on Clarinet, recorded by clarinetist Berkeley Price, violinist Nancy Roth and pianist Deon Nielsen Price. Shapiro's Sonata for Piano was recorded by Teresa McCollough and appears on the 2001 Innova Recordings CD, New American Piano Music. Alan Baer, Principal tubist of the New York Philharmonic, recorded Shapiro's tuba sonata Music for Two Big Instruments in May 2005 with pianist Brad Haag, for his debut CD titled Coast to Coast. Other 2005 CD releases include pianist Teresa McCollough's Innova Recordings disc, Music for Hammers and Sticks, which features Shapiro's award-winning trio, At the Abyss, which McCollough recorded with percussionists Thomas Burritt and Peggy Benkeser. Of Breath and Touch was recorded by bassoonist Carolyn Beck and pianist Delores Stevens for Beck's 2005 Crystal Records CD titled Beck and Call, which also includes Deep, Alex's work for contrabassoon and electronics. Also released in 2005 was Alex's flute quartet, Bioplasm, appearing on the Los Angeles Flute Quartet's CD, Above and Beyond, and its shorter companion piece, Plasma, for the 2005 Capstone Records CD, 60 x 60.

In Italy, violinist Antonio D'Andrea and harpsichordist Maria Clotilde Sieni recorded Shapiro's comedic duet Slip for their 2005 DC Records CD titled La Discordantia, and German pianist Susanne Kessel recorded Shapiro's solo work, For My Father, from Piano Suite No. 1: The Resonance of Childhood for Californian Concert, Kessel's 2006 CD for the Oehms Classics/WDR label. Douglas Masek for his 2006 Centaur Records CD has recorded Desert Tide, a work for soprano saxophone and electronics.


Community Involvement

Social and professional activism has been a constant in Shapiro's life. By the late 1980s, Shapiro became deeply involved in her community on two somewhat unrelated fronts: music, and civil liberties. While pursuing her commercial scoring career, she volunteered her time on committees for the American Civil Liberties Union of Southern California. In 1990 Shapiro was elected to its Board of Directors and served three terms, one of which as vice president (under President Antonio Villaraigosa, now mayor of Los Angeles), and is the recipient of three awards from the ACLU honoring her activism, including being named the 1993 Chapter Activist of the Year. Her efforts included a great deal of public speaking for local radio, TV and live events as the chairperson of the State and National Legislative Action committee, and producing two conferences which brought community leaders and politicians together to discuss current issues. Shapiro enjoyed the high level of extra-musical activity, and since both music and social justice are passionate pursuits, one fueled her energy for the other.

In the early 1990s Shapiro became increasingly active with The Society of Composers & Lyricists, the non-profit professional organization of film music artists, and served three terms on its board, chairing committees, producing conferences and serving a term as vice president. Other national music organizations for which Shapiro served as an officer are The National Association of Composers, USA (NACUSA) (1998-2002) and the Pacific Southern Chapter of The College Music Society (1999-2002). Shapiro is currently President of the Board of Directors of The American Composers Forum of Los Angeles.

Shapiro has also become well known in Los Angeles as an engaging event moderator for countless panels and seminars. She's a familiar face to audiences at The Society of Composers & Lyricists, The Film Music Society and The American Composers Forum, for which she has interviewed over 70 composers for the Los Angeles Composers Salon Series, now in its fifth year. Additionally, Alex conducts American Composer Forum Composer-to-Composer interviews at Walt Disney Concert Hall and other Los Angeles venues with guests as diverse as Steve Reich, Don Davis, Gavin Bryars and Billy Childs. In 2004 Ms. Shapiro appeared on stage at Walt Disney Concert Hall with conductor Esa-Pekka Salonen and the Los Angeles Philharmonic to co-host the premiere of Steven Stucky's Pulitzer prize-winning Second Concerto for Orchestra for the sold-out First Nights series.

Alex's articles on music, technology, business and social commentary have been widely published and she is committed to sharing knowledge about the craft and the business of working as a musician, Alex has been profiled in numerous articles and interviews, and is included in the 2006 edition of Marquis' Who's Who in America. Shapiro's music has been the subject of two doctoral dissertations, and she is regularly invited to be a guest lecturer to composition classes at universities and music conservatories across the United States, several of which have produced concerts devoted to her music.––Alex Shapiro

Be sure to explore Alex Shapiro and her music at www.alexshapiro.org